With the snowshoeing close season fast approaching, the opportunities to get out and about and simply hike and explore are still so out there. One such area well worth uncovering is The Hanford Reach in the eastern half of Washington State.
The Reach is a free-flowing section of the Columbia River, almost 45 miles long. It was named after a large northward curve in the river's otherwise southerly flow, much of which meanders through a former nuclear production facility dating from WWII – the Hanford Site. Apart from small sections between the U.S. and Canadian border and part of F.D. Roosevelt Lake at Grand Coulee, the river is non tidal.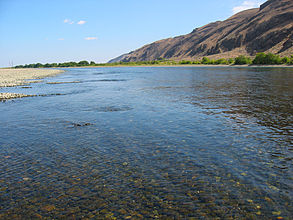 Priest Rapids Dam sits upstream and in the opposite direction lies the McNary Dam, which shuts off the lower parts of the Snake River – the Columbia's largest tributary. The Reach was once an historic Indian fishing ground with numerous camps like Wy-Yow-Na and Tah-Koot along its southern shoreline, near present day Locke Island. Here, evidence of ancient habitation is abundant, with remnants of obsidian arrow heads, scraping and cutting tools. The area is also home to the Hanford Reach National Monument, in what was the original Hanford Site security zone.
The Hanford Reach National Monument was established by Presidential decree in 2000, making it one of the State's more recent tourist sites. Forming part of the Columbia River plateau, it is one of just two National Monuments administered by the U.S. Fish and Wildlife Service. As with much of eastern Washington State, the stunning but stark shrub-steppe landscape is harsh and very dry. Yet despite its lack of rainfall – 5 to 10 inches per year – the area is a contrast of giant bluffs and delicate flowers and is home to a diverse variety of animal and rare plant life defying the wind, heat and draught.
Large herds of elk are often seen, their numbers varying seasonally and peaking in winter. Coyotes, great blue herons, bald eagles, white pelicans, badgers, bobcats and cougars are also found as well as the most abundant – varying species of mice. The Hanford Reach, due to its non-polluted waters, is also home to significant shoals of carp, trout and bass.
To get a closer view of the region's contrasting wildlife and scenery, try Columbia River Journeys. With over 100,000 miles experience on the Reach, their extensive itinerary is an ideal mix of national history, combined with the dramatic contrasts of the Hanford Nuclear Reservation and the National Monument.
Currently in their 15th season, they offer group, individual, school and business tours, as well as reunions and weddings. They also run customised land and water combination tours and land tours of local farms and wineries. With snacks, lunches and dinners provided, you'll be well catered for. Call (509)-734-9941 or visit www.columbiariverjourneys.com for more information.
The community of Richland, along with Kennewick and Pasco forms part of southern Washington State's 'Tri-Cities' region. One of the area's major events is the hydroplane racing at Kennewick's Columbia Park East. Organised by the Tri-City's Water Follies, the event takes place annually each July. Pulling huge crowds, it has become one of the Pacific Northwest's biggest weekend festivals. Featuring civilian and military air displays, games, music as well as the hydroplanes, there's guaranteed entertainment for all. Broadcast on radio, national and local television to over 3 million people, and via the internet, the Kennewick Races have received numerous prestigious awards.
If you're keen to land a prize catch or two, steelhead salmon fishing is a popular sport in the Richland area. Steelhead salmon are one of the most valued and prized fish in the Columbia River system and during their return migration from the Pacific can often yield catches of over 20 pounds. During the Summer, the best fishing occurs when steelhead return from the ocean, generally April to October. In Winter, the best yields are during the November to April migration.
One amazing sight not to miss is the Priest Rapids Dam. Spanning Yakima County and the southwest edge of Grant County, it sits 24 miles south of Vantage and 47 miles northeast of Richlands close to State Route 243. Originally a fast flowing, narrow section of the Columbia River, the Priest Rapids were flooded by the construction of the dam in 1956. Photo opportunities are many, and surprisingly despite this vast concrete invasion, the area between McNary Dam downstream, and Priest Rapids Dam provides one of the best salmon spawning grounds in the Northwest.
Clearly the Hanford Reach area is very much an outdoor enthusiast's paradise. Visitors currently have access to over 57,000 acres of wildlife-dependent recreation. Hunters can track down the occaisional elk and trophy mule deer. Anglers can pursue salmon, steelhead, white sturgeon, bass and many other sportfish. Spring produces colorful wildflowers and the abundant wildlife provides year round observation and photo opportunities.
Disused service and military roads open up miles of hiking possibilities, and the adventure seeker can just as easily head off cross-country on foot. So, whether you're interested in sightseeing, hunting, history, wildlife, fishing, or just enjoying an escape from the hustle and bustle of everyday life, the Hanford Reach National Monument and its surroundings has something quite definite to offer you.