Compared to a beach vacation, a snowy getaway is a magnificent holiday for those who love some adventure. Almost anyone will enjoy a stay at a snowshoeing resort – families, younger couples with toddlers, and singles travelling with a group of friends.
Here are our picks for Colorado, Vermont and New Hampshire–three top states for snowshoeing enthusiasts.
The Westin Riverfront Resort and Spa at Beaver Creek Mountain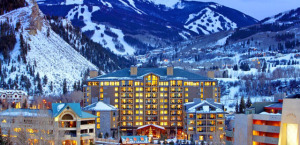 This resort in Avon, Colorado, offers salient services that any person on a holiday would enjoy. At check-in, you will get goodies for children. Families can also pick up all the childproofing supplies that they need. A valet will carry away all your gear when you return from the ski area. The valet will even warm your boots.
The ski area at Beaver Creek Mountain Resort has plenty to offer for everyone such as sleigh rides, ice-skating, tubing, and delicious cookie breaks in the afternoon. The resort also provides a heated outdoor pool, supervised club activities for kids, and crafts and movie nights. This resort chain is also known for their extremely comfortable Heavenly Beds in each of their rooms. This ensures that you are completely rested after a day spent outdoors.
As for snowshoeing, Beaver Creek offers a variety of options, including Nature Snowshoe Tours, Fit Tours, Beaver Creek Mountain Tour, Mamie's All Day Snowshoe and Lunch Tour, Nature Valley Complimentary Family Snowshoe Tour Private Instruction, and private instruction. For more info, click here.
Snowshoe Magazine recognized Beaver Creek as one of the top snowshoe-friendly ski resorts in North America.  Read more here.
For more information on the Westin Riverfront Resort, visit http://www.westinriverfrontbeavercreek.com.
Omni Mount Washington Resort
Whether you have a young family or are a group of friends desiring to spend some time enjoying the snow and snowshoeing, this is a sterling choice for you to make. Mount Washington Resort in Brettonwoods, New Hampshire, provides snowshoeing coaching for adults and children. The day-long skiing lessons for beginners ensure that even four-year olds soon master the snowshoe. The resort is also ideal for young parents, since an in-house nursery takes care of babies as young as two-months old.
There are plenty of activities suitable for people of all age groups such as scavenger hunts, tubing, Uno tournaments, ice-skating, and sleigh rides. Spend Christmas at this resort and take part in special activities that start a week before Christmas. These include snow painting, stocking workshops, and snowman building. Enhance the Christmas spirit by buying a potted fir tree for your room.
For more information on Mount Washington Resort, visit http://www.omnihotels.com/hotels/bretton-woods-mount-washington.
Jackson Gore Inn at Okemo Mountain Resort 
This resort in Ludlow, Vermont, is ideally located and quite near Okemo, which is a mountain for ski buffs that has 119 lush trails. If you are taking up skiing for the first time you will also benefit from the excellent ski school there, which provides gear and skiing instructions for all including kids as young as two years. Even those who do not ski can enjoy this snow vacation as there are other activities available at Jackson Gore Inn. Outside in the common area there is a huge snow mound, where kids can crawl and climb through the supposed "ant-hill".
Apart from that, there are tubing runs, and some of the snow tubes are linked together for a large group to slide down together. The resort has an outdoor rink where many group events are hosted, including broomball games. After dark, you can look forward to trivia contests, candy-bag bingo, animal track tours, and snowshoe treks holding glow sticks.
For more information on the Jackson Gore Inn, visit http://www.okemo.com/lodging/jackson-gore-village/.
Trapp Family Lodge
This Austrian-inspired resort in Stowe, Vermont, is a charming place that is attractive for groups visiting for a fun time. It was actually founded by the Von Trapp family of "The Sound of Music" fame, in 1950. You can expect activities such as sing-alongs, snow fort building, nature tours, and potato sack races in the snow. There are snowshoeing and cross-country trails on site. The resort ensures that the winter vacation includes plenty of time in the snow and provides the best of holiday cheer.
The Trapp Family Lodge is also known among snowshoeing enthusiasts for the 60+ miles of trails it has to offer. A retail shop within the resort ensures an ample supply of skiing and snowshoeing gears during the peak season.
For more adventurous tourists, an option of backcountry trails is also available. The resort also conducts training sessions for newbies who want to try snowshoeing and tackle the trails along the resort. There is also an option to go on guided snowshoeing tours. Those who want to venture out alone, they can receive some vital guidance from the local guides before engaging the surrounding environment on their own.
For more information on the Trapp Family Lodge, visit http://www.trappfamily.com.