Recently, I was asked to compile a list of top snowshoeing locations around the world for the Glenfiddich Explorers website.  This was a unique opportunity to place the sport of snowshoeing "front and center" on a premium brand's online community.  Sign me up!  After some careful consideration – and working with some of the best snowshoeing guides – I was able to construct a list of snowshoeing locations that I believe represent some of planet Earth's prime travel destinations.
To review the list on the Glenfiddich Explorers website, click here.
Here's the list with a few additions from Snowshoe Magazine:
l'Hôtel-Musée Premières Nations – Wendake, Quebec, Canada
http://www.hotelpremieresnations.com
http://www.hotelpremieresnations.com/musee/concept.php
Located near two historic snowshoe companies – GV Snowshoes and Faber Snowshoes – the l'Hôtel-Musée Premières Nations is a "one-of-a-kind" snowshoe destination filled with history and culture.  The hotel is uniquely attached to the Huron-Wendat Museum – and only 15 minutes away from Quebec City.  After a Museum tour, take a thematic snowshoe walk around the hotel property.  End your tour around a campfire in the Museum's Fall Cabin and sip on some hot herbal tea.  Cap-off your night at the Hotel's exquisite La Traite restaurant (the Red Deer Ribs, Duck and Kwe beer are highly recommended).

Sol Mountain Lodge – Monashee Mountains, British Columbia, Canada
Well off the beaten path, Sol Mountain Lodge sits in the Monashee Mountains among the most pristine backcountry snowshoeing in the world.  Accessible by a short helicopter ride, the Lodge offers visitors a unique dining experience and 30,000 acres of untouched Canadian powder.  End a day of snowshoeing in the Lodge's wood-heated cedar sauna and later sip on a glass of wine from British Columbia's Okanagan region.

The Belton Chalet – West Glacier, Montana, USA
Rugged.  Simple.  Genuine.  The Belton Chalet is the launching-point for an amazing snowshoe adventure into one of the few remaining true wilderness areas in the lower 48 United States: Glacier National Park.  The Belton's unique history shines through in its total lodging experience, which includes the Belton Grill Dining Room and spa treatment packages.  Nearby, the Glacier Outdoor Center's guided snowshoe tours will delight with exclusive Glacier National Park expeditions.
Mountain Top Inn & Resort – Chittenden, Vermont, USA
One of the first commercial cross country ski touring centers in the eastern United States is located on the more than 350 acres of the Mountain Top Inn & Resort.  With enchanting views of the Green Mountain National Forest and easy access to Vermont's famous Catamount Trail, the Inn & Resort offers families one-of-a-kind snowshoeing excursions.  Guests can also enjoy dog sledding, snowmobile tours, ice skating, horse drawn sleigh rides, and a sledding hill.
Igloo Village – Krvavec, Slovenia

www.eskimska-vas.si/en
The spirit of Slovenia's little-known Krvavec Ski Resort furnishes an once-in-a-lifetime snowshoeing experience with igloo accommodations carved from the surrounding ice and snow.  The Igloo Village consists of numerous tunnels connected via an underground system of corridors that combine a hotel, restaurant and a bar.  Snowshoe among Slovenia's untouched alpine landscape, and then return for a warm glass of mulled wine and an extravagant fondue dinner at your personal igloo.
Los Cauquenes Resort & Spa – Patagonia, Argentina
Located close to the world's southernmost city, Ushuaia, the Los Cauquenes Resort & Spa is the most coveted South American snowshoe destination.  The exotic Los Cauquenes is surrounded by some of the most remarkable natural phenomenons: the Andes Mountain Range, Patagonia and the Beagle Channel.  It's also anchored to the Cerro Castor Ski Resort – a new and innovative winter haven featuring epic snow conditions for the avid snowshoer.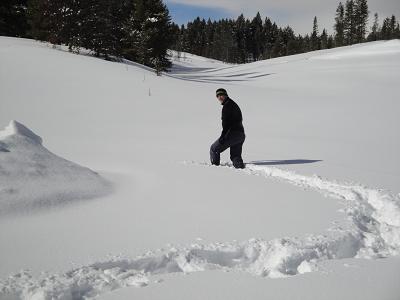 Rusutsu Resort – Hakkaido, Japan
http://en.rusutsu.co.jp/winter
Japan has snow…plenty of snow, thanks to the northern island of Hakkaido.  In addition to snowshoeing, the Rusutsu Resort's vast snowfields offer families an array of activities: snow rafting, dog sledding, orienteering, cross-country skiing, and nature tours.  Guests of the resort can choose to stay in one of several quaint log houses and cottages that can house up to 24 snowshoers.  For more posh accommodations, the 24-story all-suite Rusutsu Tower is the resort's foremost lodging choice for visitors.

Belvedere Bed & Breakfast – Chambons, Fenestrelle, Italy
http://www.belvederebedandbreakfast.com
There's nothing more comforting than an Italian B&B – especially one that offers beautiful scenery, local flavors, and access to some stellar snowshoeing trails.  The Belvedere is located in Alta Val Chisone Piemont: Off the beaten tourist trail and nestled under the wall of Europe's largest fortress at Fenestrelle (just an hour from Turin, home to the 2006 Winter Olympics).  Unwind with the Belvedere's snowshoeing packaged stays, offering incredible Italian mountain adventures in the heart of Europe.

Cheile Gradistei – Dracula's Land, Romania
Romanian Snowshoeing Guide, Florin George Bana (http://www.mountainleader.ro), suggests the Bran area: Known as Dracula's land and famous for the Bran castle. Located in the center of Romania, this awe-inspiring area is about 35 kilometers from the city of Brasov. The ideal snowshoeing hills are surrounded by the majestic Piatra Craiului Mountains and Bucegi Mountains. For accommodations, use the Cheile Gradistei holiday complex and bask in the hospitality of Eastern Europe's enchanting allure.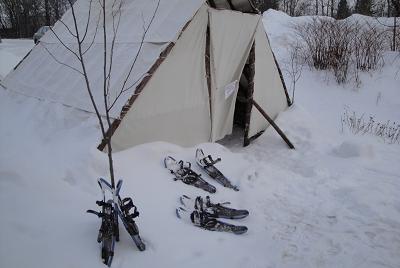 Vålådalen Mountain Station – Vålådalen, Sweden
Ski Instructor and Snowshoeing Guide, Sofie Jugård Löfgren (http://www.aktivut.se/), recommends the area around the mountain station of Vålådalen for its great snowshoeing. Close to the station you will find a fantastic natural environment and a nature reserve – both boasting wildlife and beautiful snowshoe areas.  For accommodations in Vålådalen, snowshoers will appreciate the independence of the Dalastugan and the Kockhuset: two traditional cabins featuring rooms with fireplaces and all the simple amenities snowshoers desire.
L'Epicéa Bed & Breakfast – Leysin, Switzerland
Local snowshoe and trekking guide, Ian Spare of SwissMountainLeader.com, recommends L'Epicéa Bed & Breakfast for a warm welcome and comfortable stay.  Located in the village of Leysin, L'Epicéa is at the heart of the Swiss Alps – between Montreux and Gstaad – high above Lake Geneva.  Surrounding L'Epicéa is a network of extensive marked snowshoe trails, ski trails, toboggan tracks, and sightseeing trips to vineyards and historic sites.  In past years, Leysin offered comfort to sufferers of tuberculosis – particularly due to its mild climate.  Today, it's the sought-after Swiss mountain resort for snowshoers.

Guthega Alpine Inn – Kosciuszko National Park, Australia
Snowshoeing Guide Bruce Easton of Wilderness Sports suggests using Guthega Alpine Inn as a base for exploring Kosciuszko National Park during the winter.  While distinctively charming and remotely located, the Guthega has a five-star resort feel with Australia's snow-covered outback at the foot of every snowshoer.  Where else in the world can you meander though gnarled snow gum forests with their unique colors and remnants of Gondwanaland?  Australia serves an experience with unique views over windswept valleys and high plains make for iconic experiences.