This summer I committed to day-hiking one of the Sierra Nevada's premier peaks. This would be a demanding hike and I wanted to prepare. Preferring the comfort and lightness of trail runners I was determined to get away with wearing them on this hike rather than my regular hiking shoes.
The conditioning hikes I chose in preparation for the climb were of course steep up and
steep down. I wore the trail runners on all of my preparation hikes to ensure their durability. Going up was fine, but I noticed that the miles of decent down these steep grades were leaving blisters on the bottoms of my feet. I figured part of this was just the simple fact that I needed to get my feet accustomed to descending mile after mile of steep grades, but upon inspecting the insoles of my shoes I noticed they were textured pretty aggressively which I suspected might be creating extra friction. Rather than get new insoles I figured I'd switch up my socks. The first time I'd sported a pair of cotton running socks, so I switched to a 100 percent Merino wool hiking sock on my next venture. The results were better, but I still had blisters afterward and this continued over the next couple of outings. Finally, with the hike a couple of days away I decided to head to REI and see what I could find. I remembered having seen blister free socks there before and hadn't thought much of it at the time.
After browsing the vast selection, I settled on a pair of Wigwam Ultimax "Hike" Cool-Lite Hiker Pro socks for two main reasons. 1. I've had good luck with Wigwam in the past. 2. The packaging actually reads: "No Blisters." Bonus features for these socks include: Odor free, Quick Drying and a two-year performance guarantee. The genetic makeup of these socks is really quite sophisticated: 61 percent Dri-Release 'TENCEL' (88 percent Polyester 12 percent Tencel), 21 percent Stretch Nylon, 17 percent X20 Acrylic, 1 percent Spandex. At this rate, I figured I could probably just skip the shoes altogether and these socks would still get me to the top.
Two days later we hit the trail and, after taking in the hard-earned views from the summit, began the journey down. Here would be the real test. Without poles to brace against the steep downhill there were many sections that were simply better to just run rather than try to fight the grade. There were also plenty of stretches of just downhill hiking. The socks would have to endure a little bit of everything.
By mile 10 my feet were beginning to ache from the mileage but I didn't detect any blisters forming. Upon returning to the car, having completed just over a 14-mile roundtrip, I reached for my sandals. Removing the socks, I couldn't find a single blister. I could certainly see where my feet had been rubbing the insoles all day but the socks had held their own.  The product had delivered as promised. With no foot blisters to tend to all I had to worry about was finding the nearest tavern to grab a cold beer.
I'll definitely be grabbing a couple more pair of these Wigwam socks.
Features and Specs: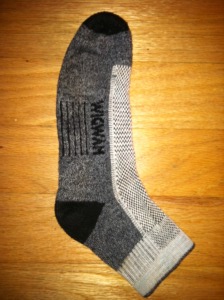 Price:
$14.00
Sizing:
Mens:                                Womens
5-9 ½ Medium                 4-7 MS
9-12 Large                        6-10 Medium
12-15 XL                            10-13 Large
Composition:
61 percent Dri-Release 'TENCEL' (88 percent Polyester 12 percent Tencel), 21 percent Stretch Nylon, 17 percent X20 Acrylic, 1 percent Spandex
Two-Year Performance Guarantee
 More Information: www.wigwam.com