Last season, I had a chance to test the Keen Targhee II and the Ochoco – very impressed. This year I get to test the Newport Trail and Growler. Although these are more like boots rather than trail running shoes, I fell in love all over again. The Newport Trail and Growler rank high in my snowshoe arsenal. Again, I'm impressed all over again. Keen just makes a great shoe/boot.
First, the Newport combines the benefits of Keen's Newport Sandal with a hiking shoe. The Sandal is perfect for summer bouldering and river sports. The Newport Trail hiking boot is a comfortable fit, providing an usual combination of fabrics: leather, wool and textile mesh.
Another surprising feature is the Newport's waterproof barrier. Keen uses a technology called eVENT. This allows the Newport to provide a breathable but strong layer of protection around your foot. Additionally, the wool isn't your everyday wool – it's water-resistant too.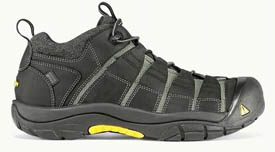 Other Newport Trail features, include:
*Razor sided multi directional outsole
*Compression molded EVA midsole
*Patented toe protection
*Metatomical low durometer EVA molded footbed
The Growler is my favorite from Keen yet. Perfect for snowshoeing, the Growler is more than just a hiking boot…it's constructed primarily for winter sports (hint, hint – snowshoeing). Its dual-climate rubber sole offers enhanced traction; it hardens in cold temperatures and softens in warm. In fact, the Growler is rated to keep your feet warm in –25F degrees temperatures.
I enjoyed having the Growler when I was snowshoeing. I didn't wear gaiters, which is something I never leave home without. Although the day's conditions were mild and the snow wasn't deep, the Growlers did their job – they kept my feet warm and the snow out.
Other Growler features, include:
*Waterproof barrier
*Thermal heat sheild footbed
*Carbon non-marking rubber outsole
*Dual climate temperature reacting rubber outsole
*Patented toe protection
*Dual density compression molded EVA midsole
*Torsion stability shank
For more information on Keen Footwear, visit http://www.keenfootwear.com.
To purchase the Newport Trail Boots, click here. To purchase the Growler Boots, click here.