"Bulletproof" is the word that keeps coming up when people talk about their Julbo sunglasses. My brother instinctively grabbed his and hurled them against a rock when a bee got under the lens; the sunglasses emerged undamaged. Never one to be easy on gear, this is an important consideration for me. I recently had opportunity to wear Julbo's Run and Bivouak models and found that, in addition to their durability, both have many other appealing features.
The first thing I noticed when I put on the Run sunglasses was the fit. With the rubberized nose piece and aerodynamic frames, they feel light and comfortable yet do not move around or fall off my face. The curved shape provides great coverage and a wide field of vision, preventing light from leaking in the sides, top or bottom of the glasses. All good, but the feature that really won me over was the Run's ability to adjust to varying light conditions, allowing me to move easily from sunny to shady conditions and vice versa. According to Julbo's website, the Zebra photochromic lens on the Run sunglasses can change from a light transmission rate of 40.7% to just 6.6%. To me, this means I can finally ditch my old sunglasses with the awkward interchangeable lenses. The anti-fog coating is also a welcome feature for snowshoers and others participating in high-intensity sports.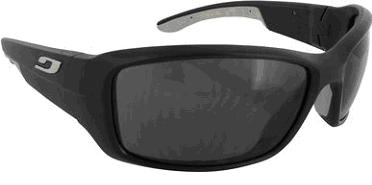 The Bivouak model, which is new this season, has many of the desirable features of the Run, but is designed especially for mountain conditions. Specific to the Bivouak is a magnetic protective side shield that keeps out light and wind. I found the shields easily removable when you don't need them, and non-distracting when you do choose to have them in place. These side shields, combined with the photochromic and polarizing lenses do an excellent job of eliminating glare in bright, snowy conditions. Although the Bivouak's Camel lens lightens and darkens depending on the intensity of the light, they felt a little dark for me in forest cover. The included neck strap keeps them conveniently at hand if you do need to remove them while snowshoeing in the shade. Like the Run, the Bivouak also has the anti-fog feature.
In keeping with the durability of the glasses, both models come with a very sturdy hard-sided case.
For more information: http://www.julbousa.com.
Photos: The first photo is the Run model and the second (with the side shields) is the Bivouak.
To purchase a pair of Julbo Run sunglasses, click the following link: http://bit.ly/3LuXgC. To purchase a pair of Julbo Bivouak, click the following link: http://bit.ly/H61eu.