Designed as a workhorse bag, the Brooks-Range Mountaineering Duffel Bag can carry just about anything in a snowshoer's gear arsenal. The bag is designed to not only be waterproof but also extremely durable. After packing multiple pairs of snowshoes in the bag (all with sharp crampon/cleats exposed) and my Kahtoola Microspikes, the material showed no signs of abrasion.
The bag is also large enough for snowshoes of all sizes – with enough room leftover for a day pack. And remember, snowshoes are always oddly shaped – especially with bindings and other straps flapping around. This bag handles it all, with ease.
As pictured, you can see that I stuffed the bag with three pairs of snowshoes and my avalanche shovel. I had plenty of room left for a backpack, tent, sleeping bag, and loads of other equipment. It's an impressive product, especially for winter sports enthusiasts. After taking this on multiple excursions, throwing it in and out of my vehicle, watching it being tossed around by airline workers, it still looks brand new.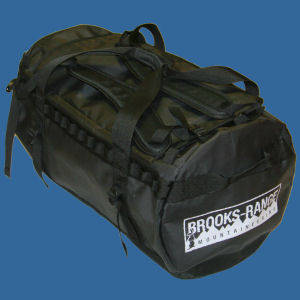 The Brooks-Range duffel bag is made from highly-rugged laminate material. To help with carrying, the bag has several options: shoulder slings, dual Velcro handles and backpack straps. From the outside looking in, the duffel is averagely constructed – no side pockets and over-engineered features. It boasts nothing but durability and hard performance. The bag also features the Brooks-Range Mountaineering logo, which enhances its prominence and distinctiveness.
The inside of the bag is similar in scope: tough, resilient and fully lined for impermeable. The large opening U-shaped flap – supported by heavy-duty zippers – is designed with an interior mesh pocket that holds smaller accessories. This helps confine and separate some gear from the other larger, awkward equipment in the main compartment.
Although not a carry-on bag, the Brooks-Range duffel is perfect for the rigors of airline travel and everyday use. Snowshoers have the choice of four sizes: small, medium, large and x-large. For my testing purposes, I chose the x-large bag. For snowshoers, it's an ideal way to carry all the important gear that matters on the trail (and off the trail).
Additional features:
Lightweight yet sturdy
Rugged construction with extra bartacks and double stitching
Features multi-compartment and pockets for the ultimate in travel organization
Hideaway padded backpack straps for hands-free carrying
Detachable padded shoulder straps
DIMENSIONS:
Small – 20″ x 12″ x 12″ (51 cm x 31 cm x 31 cm)
Medium – 24″ x 15″ x 15″ (61 cm x 38 cm x 38 cm)
Large – 28″ x 16″ x 16″ (71 cm x 41 cm x 41 cm)
X Large – 32″ x 19″ x 19″ (81 cm x 48 cm x 48 cm)
VOLUME:
Small – 2560 Cubic Inches (42 Liters)
Medium – 4200 Cubic Inches (70 Liters)
Large – 5600 Cubic Inches (90 Liters)
X Large – 9070 Cubic Inches (140 Liters)
WEIGHT:
Small – 2 lbs 12 oz (1250 g)
Medium – 3 lbs 8 oz (1600 g)
Large – 4 lbs (1820 g)
X Large – 4 lbs15 oz (2240 g)
For more information on the Brooks-Range Mountaineering Duffel Bag, visit http://brooks-range.com/duffel-bag.html.