It's an exciting time for the world of snowshoe racing. With improved traction devices and ski touring/uphill gear, many casual outdoor exercisers and elite endurance athletes don't really need to strap on a pair of snowshoes. Unless, however, they will be running or trudging through some deep snow or singletrack trails.
I used Atlas Race Snowshoes (which won Outside's Gear of the Year in 2013) for the first time during a Beaver Creek, Colorado, snowshoe race up at McCoy Park. The terrain started on groomed corduroy (where snowshoes are not ideal or even necessary to wear, especially while running), but then the course quickly led racers onto a trail that required extra underfoot support.
A few features stood out during my review of Atlas' Race snowshoes.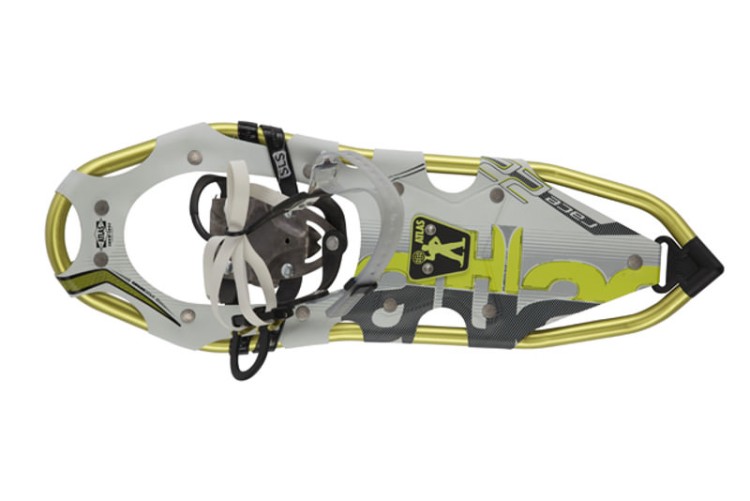 Some of the links in this article may contain affiliate links. When you purchase using these links, part of the proceeds go to Snowshoe Mag. Additionally, as Amazon Associates, we earn from qualifying purchases. Please see our disclosure for more details.
Lightweight
Atlas Race snowshoes are definitely lighter and smaller in diameter than the hiking-style snowshoes I have owned and tested. Made of 7075 aluminum, each snowshoe weighs only about 1 pound (0.45 kg) or 2 pounds (0.9 kg) for the pair.
Although I prefer to run on snow with microspikes (like Kahtoola EXOspikes or Yaktrax Run) on the bottom of my running shoes, Altas' Race snowshoes keep me above deep snow on technical strides when shoe spikes would allow me to fall right through.
Read More: How To Choose a Trail: Tips for When You Need Snowshoes
Support
The 5k McCoy Park course shifted from groomed to powder, and the snowshoes didn't falter beneath my feet. I like the light and tight bindings (an updated Z Space Race Binding on the newest model). They kept the balls of both my feet in place through a lot of fast stepping and leg lifting. If you prefer, however, you can remove the binding (using the included Direct Mount Guide) and direct mount your running shoe to the snowshoe.
Atlas Race snowshoes also have a titanium toe and heel crampon, so slipping into an ankle pain/ injury or knee injury was never a threat.
Read More: Choosing Running and Racing Snowshoes Starts Here
Maneuverability
The ease of each step (rather than a harsh and heavy hit) is created by the spring-loaded suspension in the shoes, so maneuvering seems almost as easy as it does with just my running shoes. The newest Altas Race model also has three settings for the suspension, so you can adjust the responsiveness as needed.
Gear like the Atlas Race Snowshoes allows athletes to move quickly through an unbroken trail — on a straightaway, heading up a mountain, or while descending.
Read More: Tips for Running Downhill
Overall
The shoes, though pricy, helped me place first in my age group (20-29) on the March 1 race in Beaver Creek, and I am looking forward to breaking that 5k time with these same snowshoes on the final race of the series.
You can purchase the Atlas Race Snowshoe on Amazon for approximately 300 MSRP.
Have you used the Atlas Race snowshoe? What has your experience been? Please share your thoughts with us in the comments below.
This article was first published on March 18, 2015, and was most recently updated on October 25, 2022. 
Read Next: Training Tips for Snowshoe Racing: Triathlete Brad Zoller Hits the Snow