It seems as though you can't pick up an outdoor magazine these days without reading of someone having a close call in the wilderness and being lucky to come out of it alive.
Being snowshoers, we are that much more susceptible to putting ourselves at risk because of having to deal with harsher winter conditions. To suddenly become immobilized due to injury is a scary and dangerous idea. That is why it's vital to take some precautions when planning your next snowshoe outing and adding a few basic items to your kit. It's best to be prepared.
Thanks to Adventure Medical Kits, the weight of some basic survival gear has come down significantly from what was previously available.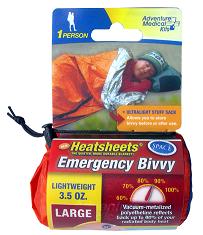 I was very impressed with the attention to detail and practical features put into each of the following items after having had a chance to bring them along on backcountry snowshoe runs recently.
The Pocket Survival Pak is one piece of survival gear that you should take each and every time you go snowshoeing. It is amazing how many little gadgets are in this package. Weighing in at only 3.9 oz and just slightly larger than the size of an energy bar, it is easy to throw in a pocket or pack. The list of items in the Pocket Survival Pak includes Signal Mirror, Spark-Lite Firestarter, Tinder Quick Firestarter, Whistle, Waterproof Survival Instructions, Duct Tape, Scalpel with Handle, Compass, Aluminum Foil, Waterproof Paper, Magnifier, Safety Wire, Sewing Thread, Nylon Cord, Sewing Needle, Fish Hook, Split Shot, Snap Swivel, Pencil and Safety Pins.
If caught stranded in the outdoors for an extended period of time, staying warm is vital to your survival. This is why you want to be sure to take an emergency bivvy sack with you. Adventure Medical Kits offer extremely lightweight, compact models that will give you added assurance while on the trail.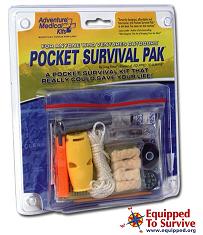 The Thermo-Lite 2 Bivvy is an excellent emergency survival bivvy for winter activities. It is designed to reflect up to 80% of your body heat, but can be opened at the top, bottom or side to allow moisture and body heat to escape if necessary. Windproof and waterproof, it has a strong and durable layer on the bottom to withstand rocky and hard packed snow conditions. At only 6.5 oz, it fits easily into a backpack. The included stuffsack has extra room to pack additional survival gear. The Thermo-Lite 2 Bivvy is also a perfect lightweight sleeping bag for summer camping.
If you are looking to travel extremely light, the Heatsheets Emergency Bivvy is an item that you should always have with you. At only 3.5 oz, it is super compact and easily fits into a pocket or waterbottle holder. Don't let the light weight fool you though, as the Heatsheets Emergency Bivvy is windproof and waterproof, in addition to reflecting back up to 90% of your radiated body heat. Another nice feature is that, unlike comparable models, the Heatsheets Emergency Bivy is re-usable. The material is made of a metallized polyethylene that stretches instead of rips and is much more comfortable to sleep in.
With these items, it is easy to bring along the piece of mind that you are now prepared for the worst. And in the words of Adventure Medical Kits, "If it's not with you, it can't save you!"
For more information on Adventure Medical Kits, please go to http://www.adventuremedicalkits.com. To purchase an Adventure Medical Kit on Backcountry.com, click here.
Derrick Spafford
spafford@healthandadventure.com