Most people don't think of New England as a great cycling destination, but the Kingdom Trails in Vermont yields some of the best bike trails in all of New England. These trails are also great for snowshoeing as the two sports go hand in hand. After all, snowshoes provide for great packed fat biking trails!
Here are some of the reasons why the Kingdom Trails should be next on your list of fall and winter cycling and snowshoeing destinations.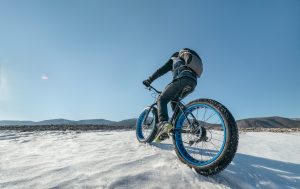 What Are the Kingdom Trails Like?
The Kingdom Trails are very unique from other trails because they're not located on a national park or a government property—several residents and business owners agreed to open up their private property for cyclists from across the country to visit. With over 150 miles of trails throughout East Burke, there is a trail for everyone.
How Long Is The Season, and How Expensive Is It?
The summer season at the Kingdom Trails begins in May and ends on October 31st.  The Yurt typically opens early December, and trails will open for winter as soon as conditions allow, and then end in April. As far as prices go, the Kingdom Trails are pretty cheap. It'll cost $15 to visit for the day, or $75 for the year. The year covers two seasons, so if you bought a pass in the summer you could use it till the end of the next winter season.
What Trails Are Available?
With dozens of trails to choose from, there's something for everybody at the Kingdom Trails. There is beginner as well as experienced trails, and a couple of trails to keep young cyclists occupied near the visitor's center. The Kingdom Trails are especially known for their sharp berms and winding woodland trails.
Winter—Groomed for Fat Bikes
Because fat biking is so popular, about 25 miles of trails are groomed each winter for fat bikes.  Additionally, there are trails for cross country skiers, snowshoers, and snowmobiles. It is asked that you do not walk on any of the trails unless you are wearing skis or snowshoes.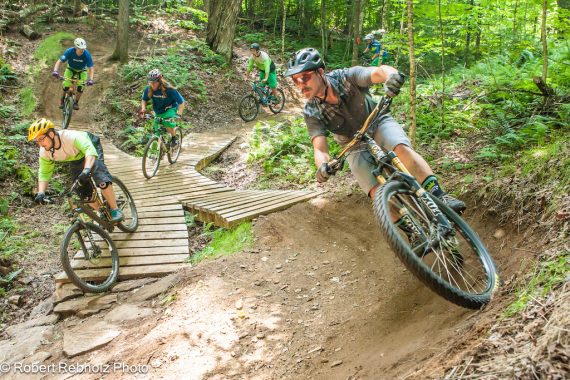 In fact, Kingdom Trails specifically asks snowshoers for help packing trails when conditions are ideal and the snow is not too wet or soft. It is recommended that snowshoers check in with the Nordic Adventure Center for trail recommendations.
Getting to the Kingdom Trails
By far the easiest way to get to the Kingdom Trails is to drive. The drive is easy for most people in New England. If you're flying into NE, you'll likely want to get to Boston Logan airport, although Portland ME's airport is a similar distance.
Where to Stay?
There are many options for you when choosing where to stay for your trip to the Kingdom Trails. There are numerous B&Bs in the areas, as well as some hotels like the Comfort Inn. If camping is more your speed, you'll have numerous gorgeous sites to set up your tent or park a trailer. The Kingdom Trails are right next door to the White Mountains, so it's an outdoor enthusiast's dream.
_____
Helpful Resources:
http://kingdomtrails.org/accommodations/
*This article was created Personal Injury Help (www.personalinjury-law.com), an organization dedicated to providing the public with information about personal injury and safety information. Nothing in this article should be construed as legal advice, and it is intended for informational use only. Be sure to review your local cycling ordinances to ensure you ride safe and legally!