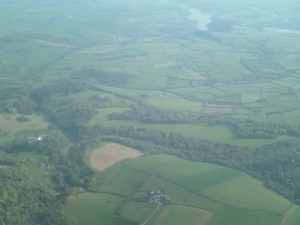 Exmoor, covering more than 260 square miles, is regarded as one of Britain's smaller National Parks. Despite this it covers an area that runs from Minehead in Somerset to Combe Martin in Devon, a region taking in some of southwest England's most rugged coastline, remote moorland, hills and woodland. Like any open countryside in winter, Exmoor undergoes dramatic changes, yet retains a stark natural beauty all its own. Even in this testing time of year, hardy Exmoor ponies can be seen grazing on any exposed grassland. This free-living breed, despite its "endangered" status, makes a sizeable contribution to conservation and control of the region's pastureland. Often referred to as "child of the moor," the Exmoor pony today has evolved as a direct consequence of its habitat. Almost synonymous with winter, herds of Red Deer are sometimes seen. This proud breed is possibly England's largest wild land animal, with the stag standing around 115 cm at the shoulder. Red deer have survived the wilds of Exmoor since pre-historic times and upwards of three thousand still roam the moor. But Exmoor isn't purely grasslands and wild animals. For the keen outdoor enthusiast, the area serves up plenty.
Surrounded by Exmoor hills on three sides, the picture perfect village of Porlock is a great starting point. A traditional Exmoor village in every sense with a warm Southwestern welcome guaranteed, Porlock is situated close to remains of stone age settlements and lies at the western end of The Coleridge Way. This is a recently established 36 mile walk from Nether Stowey in the Quantock Hills to Exmoor. As you would expect, footpaths are everywhere. Well signposted and maintained by the National Trust, it's possible to spend a whole week or more on foot, without using other means of transport. Amongst many is Britain's longest footpath – the Southwest Coast Path – a National Trail which stretches from Minehead, around the historic Cornish coast, taking in the wild and stunning Land's End and south Devon coastline, finishing at South Haven Point in Dorset. More than 600 miles in total.
For those keen on shorter hikes, the Tarka Trail stretches over a more sedate 70 miles. Named after Henry Williamson's famous novel Tarka the Otter, the trail sets out to trace part of the otter's journey through Exmoor, taking in North Devon's Heritage Coast. Starting in the market town of Barnstable, the trail winds gently through centuries old oak woodland and river valleys, till it reaches the coast at Lynmouth. The return to Barnstable takes in easily one of the most rugged and spectacular coastlines in Britain. Keep a look out for a wide variety of nesting seabirds on the cliffs.
One thing is certain, even in the harshest of winters, the contrast in scenery is breathtaking. Ideal for a long-term hike is the Two Moors Way which starts in Ivybridge on Dartmoor's southern edge and ends in Lynmouth. The trail runs for just more than 100 miles, so to fully appreciate the stunning diversity of the scenery, allow at least a week to hike it end to end. To rise above it all, head for Dunkery Beacon, Exmoor's highest point, in Holnicote Estate. It's here that you will find several Bronze Age burial mounds close to the summit. Like most of Exmoor's hills, Dunkery Beacon is gently rounded and therefore walks are safer and less strenuous with no sudden drop-offs. Because of Dunkery Beacon's elevation – more than 1,700 feet – it's an easily recognised landmark with superb views from its summit.
To get closer to nature and the heart of the National Park, the Exmoor Centre in the Hoaroak Valley is ideal. With direct access to the open moorland, the centre's dormitory accommodation sleeps fourteen along with camping facilities available for groups of sixteen upwards. From here it's possible to reach the source of the river Exe high up on the moor, as well as the Watersmeet Estate, with its wooded valleys, owned by the National Trust. The centre's social hub has to be its campfire, a perfect place to keep winter's chills at bay, socialise and enjoy the snow-covered scenery. For more information visit  http://exmoorcentre.co.uk  or call 07532-264184.
The Exmoor White Horse Inn at Exford in Somerset guarantees a warm welcome. Set in an idyllic location between Cleeve Abbey and Torre Cider Farm, its 28 rooms, all en-suite, have individual character, including some with a four-poster bed. Dating from the 16th century and cloaked in Virginia Creeper, the inn has been family owned for many generations. For details call 01643-831229 or visit www.exmoor-whitehorse.co.uk.
A great example of a traditional part coaching inn is the Blue Ball Inn near Lynmouth. Partly dating back to the 18th century, and full of "Olde Worlde" charm, the inn is close to seven circular walks and is well-known for serving real ale. The inn offers accommodation on a bed & breakfast basis for both families and hill walkers and all rooms have en-suite bathrooms. The inn is pet friendly and dogs are welcomed. For more details, call 01598-741263.
For those preferring self-catering winter accommodation, Exmoor Cottage Holidays in Challacombe is an ideal option. Full of charm and character, the rental cottages are comfortably furnished and "homely" with log fires to keep out the chills. The cottages are stone built with two to three bedrooms sleeping up to six. These delightfully appointed cottages are available all year including Christmas and New Year, and can cater for families, couples, and groups of up to twenty. Dogs are welcome. For details call 01598-763320 or visit www.exmoorcottageholidays.co.uk.
Set in the very heart of Exmoor National Park, you'll find Wintershead Farm. Offering self-catering accommodation surrounded by open moor and farmland, this is a great choice to escape the crowds. Though Wintershead is relatively remote, the villages of Exford and Simonsbath are between three and five miles away and you'll find several charming pubs and inns close by. There are plenty of hikes on the open moorland and even in the depths of winter, the area offers so much for the keen hill walker. For full details visit www.wintershead.co.uk or phone 01643-831222.
Managing to survive against the odds in such remote moorland in winter is no mean achievement. The survivor in this instance is the hardy snowdrop. It has evolved to adapt to the harsh conditions and grows in abundance in a small, privately owned reserve known as Snowdrop Valley near the River Avill. Part of the reason for its survival could be the in-built "antifreeze" in its leaves, preventing the water in the plant's cells from crystallizing in sub-zero temperatures. Whatever the reason for its survival, the sight of these vast numbers of plants growing together is stunning. Access to the reserve is available throughout February each year. For more information, visit www.wheddoncross.org.uk/snowdropvalley.htm.
Perfect for spotting winter wildlife on Exmoor is Dunster Forest. Open all year round, no matter the weather, the forest is on the edge of the National Park and is home to the tallest Douglas fir in England, towering 60 mtrs in height. Waymarked walks and trails are plentiful in and around the forest with an orienteering trail for those with a more adventurous spirit. It's recommended that visitors call in advance for admission prices and to confirm the Estate is open on 01643-821309 or by visiting www.dunsterestate.co.uk.
In all seasons and all weathers, Exmoor National Park is stunning. In the winter months, its beech trees silhouette against its mysterious horizons and its walks and rights of way – stretching for more than 600 miles – wait to be explored. With a thick blanket of snow, the region takes on a totally different ambience. Venture out, step back in time and simply switch off, there's plenty of space for everyone. For more details visit www.exmoor-nationalpark.gov.uk.