Canada's Cape Breton Island in Nova Scotia is known for its dramatic beauty, distinct cultural experiences and an Atlantic coastal mindset that draws you in and lulls you into slowing down, relaxing and enjoying life. While perhaps not the first destination that comes to mind for a snowshoe getaway, the island's Cabot Shores Wilderness Resort should top the list.
Located along the Cabot Trail on the island's eastern shore, this single destination combines all of the beauty, charm and attractions the island is known for. Tucked away on 55 acres, Cabot Shores itself offers abundant places to explore and roam. Trails leading right from the main lodge wind around the property's pond and from there to ocean beaches that stretch for miles in either direction. Along the way it is not unusual to find gorgeous ice formations or tracks left by moose and seal, perhaps the more unique of the island's natural inhabitants.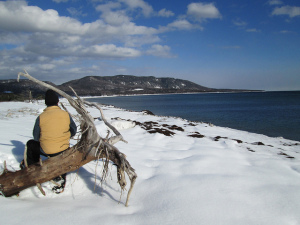 Other trails lead to a vantage point from which you can take in the whole of St. Ann's Bay or a peaceful arboretum sanctuary. Trails into the wooded highlands provide wonderful surprises including hidden and sometimes frozen waterfalls, and stunning vista views of the island's many beautiful water attractions and mountain peaks.
Residents of Cape Breton are known for their hospitality. Combine that with Cabot Shore's own unique take on community and weekends become an opportunity for group hikes organized and led by locals who have their own favourite destinations to share and tales to tell. There are many pet friendly trails around and this is one getaway destination where furry friends are welcome.
Around the island there are many beautiful sights to see, wonders to explore and cultural experiences to enjoy. While Cabot Shores is the perfect location from which to explore all the treasures the island has to offer, it is also the perfect place to stay and an ideal destination to return to should you decide to wander. The rustic main lodge features a great room with a beautiful stone hearth. Guests are often found relaxing on one of the comfy sofas reading a borrowed book or even napping, or engaged in a round of pool or ping-pong.
Beyond the main lodge and its five rooms, four private chalets sleep up to eight each and provide accommodation for groups or families wishing a little more privacy. For those more inclined towards a unique experience the property holds several insulated yurts – three Mongolian and one cedar – that are open year round. Solar and wood fueled soaking tubs situated just outside the yurts provide a little added entertainment.
Whichever style of accommodation you choose, Cabot Shores' own bistro beckons with home-grown, local delights. Meals are slow-cooked and intended to be lingered over. Dishes often include local fish and organic, fresh fruits and vegetables grown on the property. Even during the winter season, green tomato and apple chutneys, Swiss chard and kale are among the regular ingredients sourced straight from the land. Vegetarian and vegan option are always available and special diets can be accommodated.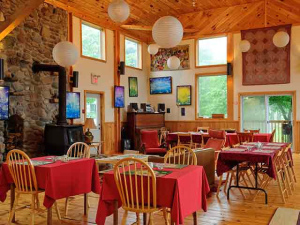 Cabot Shores' owners Paul and Barbara understand even the most devoted snowshoe enthusiast cannot spend all of their time on the trails so they have built-in activities that groups, couples and families can join in with, while providing ample opportunity for people to do their own thing as well.
Quieter activities including Qi Gong exercise sessions, Five Element Acupuncture and meditation. Whether guests are looking to energize before a snowshoe or relax after one, there is ample opportunity. An infrared sauna, the latest for detoxification and boosting health, is also available.
Truly a getaway, Cabot Shores does offer wireless in the main lodge but cell coverage is unavailable, providing an 'excuse' and opportunity to truly unplug.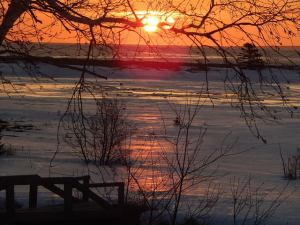 A big part of the island's Gaelic culture is the Ceilidh (Kay-lee). Cabot Shores has always been a destination for local artists and musicians, but they are also developing a dedicated artist in residence program. The lure of local musicians who come to spend time entertaining, engaging with and jamming with guests is a draw both for those who love music from afar and those who believe they have a touch of talent themselves.
It isn't surprising that owners Paul and Barbara recycle, compost and encourage guests to reuse towels to save water and energy. Going beyond that though Cabot Shores employs a solar hot water panel and a cansolair panel (a solar heating panel made from recycled beer bottles and pop cans) as sources of renewable energy.
Cape Breton has been called "One of 49 Journeys that'll Change Your Life" (CNN Travel 2013) and the "#1 Island Destination in North America" (Travel & Leisure Magazine 2011). From its location to its amenities to its attitude to living, Cabot Shores provides a true island experience.