In one of the most thrilling Dion USSSA Snowshoe Championships ever, dreams grew to reality with headline-type drama in every race.
Drama tangled with sentimentality when the exclamation "Finally!" rang out of Cedar Falls, Iowa, new men's national champion Scott Gall. With three silver medals to his credit along with a bronze and two more top-fives yielding national team memberships, gold proved elusive. Not this time, though; not the fifteenth annual national snowshoe championships in neighboring state, Wisconsin, competed at Eau Claire's Lowes Creek County Park.
Determining a winner of this championship at any point in the rambling, climbing, single-tracked-ladened course proved as difficult as winning a game of Three-card Monte. Times were super-fast among the leaders as the top six broke the 40-minute barrier. Five more were under 41.
Early on, the race for medals became a battle like no other between Zach Rivers, Victor, New York, reigning national champion Eric Hartmark, Duluth, Minnesota, and Gall.
Last seen in the 2010 championships, Rivers showed the force today predicted at Highland County Park, Syracuse, by two-time national champ Greg Hexum. He predicted then, "I think Zach Rivers turned the most heads (at the race) winning the bronze medal. He has clearly made a huge jump in fitness from his junior level racing. I expect that he will be a force to be reckoned with in many future USSSA Nationals." That came true in Eau Claire as the race between them suffered, as Gall put it, "Ridiculous surges" meaning that fight showed how "brutal out there" the national championship became. Lead-swaps between the three had as many twists-and-turns as the course itself. Hartmark described the action as he and Scott led Rivers: "Some of the trail had some scary parts." Not helping his cause navigating the narrow trails laid between trees and over bike obstacles, "My eyes started to freeze."
Gall passes, followed by Rivers, to nail a 37:18 national championship gold medal. 17 seconds later, 37:35, Rivers captures his first national silver while Hartmark takes bronze with a time of 38:02. The affable out-going national snowshoe racing leader, Hartmark seems to take everything in stride, a mark of a true champion. Always a smile, always willing to talk to anyone no matter where they finish . . . characteristics that seem to wrap snowshoeing enthusiasts in general like tight gloves.
After a just-out-of-the-money sixth in 2006's Vermont senior championship, but making the USSSA National Team with his  top-five in 2007's Minneapolis race, Gall captured his first overall medal, a bronze,  in 2008 at Ogden Utah; Josiah Middaugh, Colorado, won that gold.
The Sweet 16 of USSSA National Championships, coincidentally in 2016, returns to Ogden, Utah, with yet another new feature: a marathon distance to go along with the half marathon, senior 10 km and the juniors-and-citizens 5 km.
Once known historically as Junction City due to the transcontinental rail, Ogden now could be known as High Adventure City with its prolific choices of snow sports of all kinds like snowshoeing, skiing, and snowboarding, along with hiking, climbing, bouldering, kayaking, trail racing . . . take a break already! Go visit the Eccles Art Center, Ogden Nature Center, Utah's first, and Whitespace with its "unique venue for contemporary art." As a new campaign says, "Visit Utah for Life Elevated."
2010 once again found Middaugh winning in Syracuse, but Gall stepped up a notch, as Casey Kasem liked to say, to silver. In Wisconsin for the 2011 championships held at Lakewood Resort, Cable, Eric Hartmark powered over the moraines, known to all Birkie cross-country skiers, to an eight second gold-victory over Gall's second silver.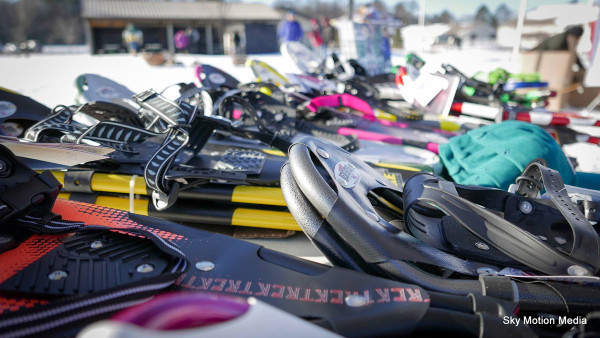 Middaugh raced 2012's Colorado championship to a gold in their high country, a time of 42:24. Hartmark captured bronze in an even 43 minutes as Scott Jared, Arizona, split the two, winning the silver. Gall, in fourth, earned another national team, number five and counting.
Bend, Oregon hosted 2013's championship when Middaugh took a commanding victory in 47:08 as Hartmark, a flat-lander, added another silver medal in 50:04.
Bennington, Vermont hosted the largest championship race so far. Hartmark and Gall renewed their racing rivalry as only 17 ticks separated Hartmark's gold from Gall's third silver medal.
Now, Eau Claire: the crowd-pleasing threesome of Gall, Rivers and Hartmark featured superb racing and finishes at the front followed by exciting national team performances like young Jeffrey Quednow, Ogema, WI, winning his way into that select group with a fourth overall. This is his second national team after snatching the last spot in 2014. Nick Nygaard, Duluth, won his first term as a national team member by finishing fifth, securing the last slot available, a mere nine seconds ahead of Adam Dohm of St. Paul.
Capping off his weekend, Gall won his second individual national championship gold in as many days, a first in USSSA's history, by snowshoeing the inaugural USSSA National Championship Half Marathon Presented by Red Feather Snowshoes in a resounding 1:28:13. That's a very swift, adjusted 10 km time of 41:39 per two loops for the national champion, which would have placed him twelfth for the senior one loop 10 km.
And what a course! Taking the senior 10 km map and adding the extra distance of 3/10ths of a mile for each of the two loops, yielded a whoop-de-do national snowshoe half-marathon championship course worthy of the fame. Though the course featured climbs, the key feature became the single-track forcing athletes between trees and edgy, side-of-steep hills for even more fun. One drop-off I called "killer"; if a racer made a boo-boo there, their race became toast. Held Sunday morning with the 4XRelays, a popular event itself, the crowd viewing the race and the racers alike enjoyed a rousing live rendition of the National Anthem. The strong registrations for the new half demonstrated the interest this race attracted, confirming the decision to include this new distance.
Once again Rivers chased Gall, though at a somewhat disadvantage against the fifth place finisher at the World Mountain Running Championships. Rivers crossed in 1:30:38. Quednow won his first national medal by holding off Hartmark for the bronze while Cole Crosby, Cortland, New York, wrapped the top five.
Though having raced the Olympic Trials Qualifier in 2:20:42, Gall, a true off-road racer, enjoys mountain biking, trail running and naturally snowshoeing from The Runner's Flat, the popular store he and fellow national team member, Sarah Gall, own.