Aside from – allegedly – finishing a game of bowls on Plymouth Hoe in the face of the advancing Spanish Armada, Sir Francis Drake's name is well-known in the Southwest of England, not least around his birthplace near Tavistock. This is where you'll find Drake's Trail, a 21-mile network established in 2009 which follows part of the historic Tavistock Canal, and stretches along the western edge of Dartmoor to Plymouth.
With wonderfully diverse scenery, heritage, wildlife and fresh "Devon air," Drake's Trail is part of the National Cycle Network Route and, although a shared route, is a perfectly safe walk for the whole family – including those with young children and dogs. During your walk you'll pass open moorland, river valleys and woodland, which in winter take on a haunting splendour all their own. For those keen on adventure, there are a number of spurs which will take you to the places which were so much a part of this historic seafarer's life. These include Buckland Abbey, a National Trust property and Drake's former home. You'll pass tiny villages and busy market towns.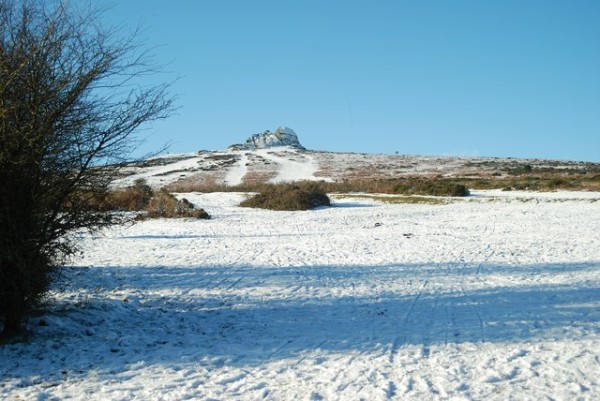 Quite close to the start of the trail is Grenofen Tunnel built in 1856. This passes beneath the main road between Tavistock and Yelverton. The tunnel, though lit, is a relatively long one which in winter, if it's raining, can be almost as wet inside as out, so appropriate clothing is well advised. A slightly newer section of the trail takes you over Gem Bridge. This is an iconic 1,000-foot long viaduct over the Walkham Valley – its river being one of the few that starts and ends on Dartmoor.
Drake's Trail also takes you along the Plym Valley Trail, an off-road cycle route. This has a gentle downward gradient from Dartmoor's scenic National Trust woodland and ends at Saltram House near the Plym estuary. Built in the mid-18th century, Saltram House has the distinction of being one of Britain's best preserved Georgian mansions and is National Trust owned. For more information on Saltram House, visit www.nationaltrust.org.uk/saltram.
If you're eager for an unusual variation in trail running, "The Delicious Drake's Trail"  could be the ideal solution. This will take you on a food tasting tour around Dartmoor's western flank with some healthy exercise built-in. The event in early October, takes place between Tavistock and Yelverton. The 15-mile trail running starts at Buckland Abbey, finishes at the Moorland Garden Hotel and serves up a wide variety of local food and drink on the way.
History buffs will be keen to learn that part of Drake's Trail follows sections of Drake's Leat. This water course – the first municipal supply of its kind – dates from the 16th century and supplied Plymouth with water from the River Meavy. What remains of the leat can be seen near Clearbrook and Roborough Down. One of many spurs on the trail will take you to Crowndale Farm just southwest of Tavistock. The farm was reputed to be Drake's birthplace, although the exact detail remains unclear.
For those planning a longer stay, there is welcoming and varied accommodation available. The Moorland Hotel on Dartmoor's southern flank offers some amazing views towards the wilds of Dartmoor and Plymouth Sound. The hotel is around an hour from the Eden Project in Cornwall and a short drive from Plymouth city centre. Well worth trying is the hotel's Phoenix Steakhouse serving mouth-watering Devon steaks. The restaurant is open to non-residents, but reservations are recommended. For details visit www.moorlandhotel.com or call 01752-839228.
The Boringdon Hall Hotel is a "Grade 1" listed Elizabethan Manor House minutes from Plymouth. Traditional with tapestries, suits of armour, and stone fireplaces, you'll find the warm Southwest hospitality and the hotel's burnt oak paneling and historic charm are a perfect mix. Add the distinctive and comfortably furnished rooms, and candle lit Gallery Restaurant, and you have a recipe for a unique and relaxing break. For more information, call 01752-344455 or visit www.boringdonhall.co.uk.
For more flexible B&B accommodation, try Overcombe House near Horrabridge. Historic – the house dates from the 1890s – welcoming and personally run, you'll find your stay relaxing and comfortable. The village of Horrabridge, in the Walkham Valley, as well as its two village inns and narrow streets, also has what is reputed to be the oldest bridge in Devon, dating from the 13th century. For details visit www.overcombehotel.co.uk or call 01822-853501.
Equally close to Horrabridge is the Old School Guest House. Dating from the late 1800s, you are guaranteed a warm welcome with hearty breakfast and an evening meal – bookable in advance. The Guest House has a large car park and allows its guests the freedom to come and go as you wish. For details, call 01822-852437.
Although Drake's Trail is mainly centred on certain aspects of Drake's life, the dramatic scenery of Dartmoor is, in itself, as good a reason as any to get out and about. The area has a rich wartime and industrial heritage, picture postcard villages, friendly locals and interesting stories. I guarantee you'll be talking about your visit to Drake's Trail for years to come. For more information, visit www.drakestrail.co.uk.