The inaugural season of the Dion Eastern Ontario Snowshoe Running Series was a tremendous success with top competition, three unique and very different race venues, and many first time participants trying out the sport of snowshoe running. Male and female series champions would be crowned after the third and final race with each receiving a pair of Dion Running Snowshoes. Random draws for Dion snowshoes and many other prizes would also be given out courtesy of our generous race sponsors.
Race #1: Dion Frontenac Park Snowshoe Race:
The series kicked off on January 16 with the Dion Frontenac Park Snowshoe Race held at beautiful Frontenac Provincial Park in the heart of the rugged Canadian Shield.
Frontenac Provincial Park features over 160km of trails to be explored and participants had the opportunity to get a good taste of what this bit of remote paradise has to offer.  The challenging 6.7km course over picturesque trails featured a combination of rolling hills, narrow single track trails and passing views of pristine backcountry lakes.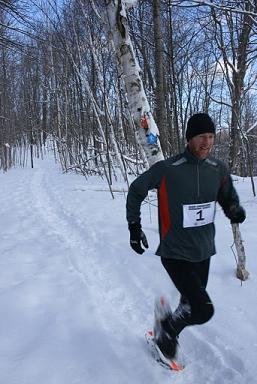 Snow conditions were good and the competition was fierce with Canadian Mountain Running Champion Taylor Murphy taking the win and Shauna Connaughton winning the woman's race.
Race #2: Dion Frozen Ass Snowshoe Race:
The Frozen Ass Snowshoe Race was held at the Batawa Ski Hill near Trenton, Ontario on February 6. While participants were not required to actually run up the ski hill, they still were treated to the toughest climbs in the series over the 8 km course. Heavy snowfall in the days leading up to the race also made for challenging conditions.
Carl MacDonald ran a strong race winning the men's race in a solid time of 46:33, while Angela Maciejewski won the woman's race in 54:07.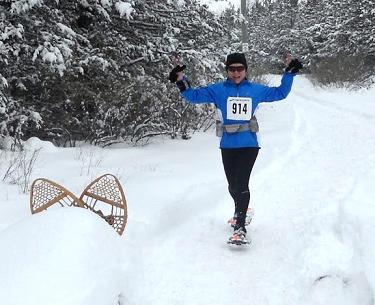 Race #3: Dion Switzerville Red Barn Snowshoe Race:
The third and final race of the Dion Eastern Ontario Snowshoe Running Series was held on February 20 on a private trail system in rural Ontario. With a combination of open meadows, forest trails, narrow single track and a rope assisted climb, this 6 km race had it all. With the series title up for grabs, it came down to this final race to see who was going to be crowned series champion and awarded their Dion snowshoes.
Taylor Murphy ran away from the field on the day with a convincing win to capture the race and the series title. Amanda Murphy (Taylor's sister-in-law) won the women's race, but only competed in the final event so was ineligible for the series. The women's title was awarded to Angela Maciejewski based on her top two out of three races.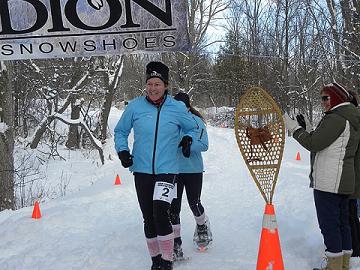 Bob and Denise Dion of Dion Snowshoes made the trip to Canada and were on hand to award Taylor and Angela their Dion snowshoes, as well as answer questions about Dion snowshoes and snowshoe running in general.
While snowshoeing has long been recognized as a favourite winter activity in Eastern Ontario, the sport of snowshoe running is still somewhat in its infant stage. With the enthusiasm and participation shown in this first year series, this area is bound to become a hotbed for snowshoe running in the not so distant future.
For complete results, photos and videos from the Dion Eastern Ontario Snowshoe Running Series, please visit www.HealthandAdventure.com.  For more information on Dion Snowshoes, visit www.dionsnowshoes.com.