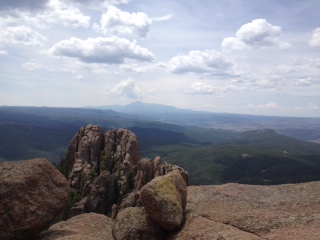 Have you seen the "Sleeping Indian" (Native American) land mass that seems to watch over the Front Range of Colorado just southwest of Castle Rock? This is a full disclaimer, I realize that it is not politically correct to name a mountain like that; let it be known that I have the utmost respect for Native Americans. This is simply a title that I have come to know as a long-term resident of Douglas County, Colo. The landmark's unique features and title have been popular for generations. We Douglas County natives are well aware of this landmark. The U.S. Forest Service calls this formation Devil's Head Lookout.
You can see this landmark on I-25 or Highway 85 as you pass over the Douglas County border. If you look over the western horizon you'll notice a large formation just over the Meadows neighborhood. Guide your eyes from the southern tip of this formation. It looks like a Native American sleeping on top of the Rampart Range. From the south, you will see his headdress, continue down and you will see his dramatic profile continue down to the tips of his moccasins. This formation may look far away, but in reality it's only about 43 miles southwest of Denver. It's also a local favorite hiking spot.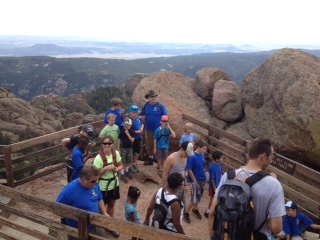 Devil's Head is located just off of Colorado Highway 67 on Rampart Range Road. To get there from Denver you take Highway 85 south to Colorado 67, take a right onto 67 for around 10 miles, take a left on Rampart Range, a washboard dirt road, follow that for around nine miles. Make sure that you follow the signs for Devil's Head; generally veer left during the nine-mile trek up Rampart Range Road. When you get to the top the campground is on the left, the lookout trail is on the right. The trailhead is visibly marked and has a picnic area.
The Devil's Head Lookout hike is relatively short, 1.4 miles up the mountain, 2.8 miles round trip. The fitness aspect of the hike is the steep incline. The hike gains 940 feet of elevation and is concluded by a 143-stair climb to one of two remaining operating fire lookouts on the Front Range, according to Firelookout.org.  If you're looking for endurance, this may not be your hike of choice. But, if you take a fast pace and long stride, this can be a killer hamstring and quadricep work out.
The way up to the top is beautiful and informative. The trail base takes you through shady groves of Aspen and Ponderosa Pines. As the incline steeps the trail is accented with awesome rock formations. It looks as if God was playing marbles with boulders as they are sometimes in inconceivable positions. There are several spots where these formations lend themselves to a view and photo opp. These sandstone boulders have an adhesive quality that makes them easy to climb for an improved vantage point. Be sure that these climb spots are on your path, it is never a good idea to stray far from the trail.
Devil's Head Trail and Fire Lookout is also a historic Colorado landmark. There are several trail markers throughout the hike that share the rich Pike National Forest history. The Lookout Tower itself is a historic landmark. The tower, built in 1912, is on the National Register of Historic Places. The first woman Fire Ranger, Helen Rowe, worked there from 1919-1921 and reported 16 fires, according to the Volunteer who spoke to a group of Boy Scouts the Saturday we were there.
One thing to be mindful when on this hike is people. Because this trail is relatively close to Metro Denver, and because of it's easy to moderate terrain, it is very popular. My hiking buddy and I went on a Saturday and we had to fight for parking. We also passed at least 25 people along the trail, not including the Castle Rock Boy Scout troop we saw at the top. This is definitely a family- and dog-friendly trail. However, some dogs do not appreciate the rickety stairs to the top of the lookout; if Spot is brave and too large to fit through the stairs then he should have no problem.
The stairs to the top of the lookout are steep and if you have a fear of heights they can be intimidating. The view from the top is well worth the anxiety, however. Atop of the Lookout Tower is a 100-mile panoramic view in every direction. To the south you see the awesome jaunt of Pikes Peak. To the west you can see the Continental Divide and peaks near Leadville. To the north you can see the Boulder Flatirons and Rocky Mountain National Park. And to the east you can see Eagle Mountain, Larkspur and beyond. Of course, you can see why this is still a prime fire lookout.
It's also a popular overnight spot because of its spectacular scenery and close proximity to urban areas. Devil's Head also has a campground area and several other good hikes and camping spots in the near vicinity. For more information on camping or hiking in the area visit http://www.fs.usda.gov.
If you go:
Approximately 43 miles southwest of Denver
From Denver:

Take Colorado Highway 85 south  to Sedalia
Right onto Colorado 67 9.9 miles
Left on Rampart Range Road (look for National Forest sign) drive 9.4 miles
Devil's Head Trailhead on right, campground on the left