Traveling east along the Trans Canada Highway from Winnipeg, Manitoba's capital, the wide-open prairie landscape, which dominates much of southern Manitoba, gradually gives way to Precambrian shield and boreal forest. You'll find yourself entering a land of lakes and rivers, rocky escarpments, and deep forests. Welcome to the Whiteshell Provincial Park – Manitoba's wilderness playground. And it is here along the south shore of Falcon Lake that you will find one of the province's finest wilderness retreats – Falcon Trails Resort.
Located next to the Falcon Ridge Ski and Recreation Area, Falcon Trails Resort opened its doors in 1996. I hadn't been to Falcon Lake since my teenage years (I won't tell you how long ago that was, but let's just say that Madonna was still a virgin back then), and never in the winter, so I really had no idea what to expect. What I found was far better than I had ever imagined.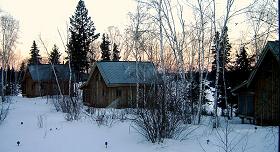 Departing my Winnipeg home early, I reached the Whiteshell by 8:30 on a frosty February morning, allowing for plenty of time to explore before my scheduled 4 p.m. check-in. I began by visiting Falcon Ridge Ski and Recreation Area. The ski and recreation area offers 20 km of trails for cross-country skiing, a designated terrain park for snowboarding dubbed "The Bear Pit", 11 groomed runs for down hill skiing, and a chalet complete with pro shop fireplace and licensed cafe. Falcon ridge is also home to the provincial biathlon team. And unbeknownst to most, it also features some of Manitoba's best snowshoeing.
After a couple of hours of snowshoeing at the ridge and a quick lunch at the chalet, I decided it was time to visit the resort. Falcon Trails Resort features nine lakefront cabins, a gorgeous welcome centre with three European inn-style rooms, and two eco cabins that are accessibly only by hiking in along a 2.5 km trail nestled among the jack pines and birch trees.
The post and beam chalet style cabins are kept in immaculate condition and contain virtually every amenity you could possibly need. Each cabin comes equipped with a wood burning stove, full kitchen, three-piece bath, deck area complete with propane barbeque and private outdoor three or four-person hot tub (a glorious way to spend a winter evening after a long day of snowshoeing), loft sleeping area, private main floor bedroom and TV/VCR combo.
But perhaps my favorite feature is the bird feeder on the deck and accompanying bird identification book (with the private three-person hot tub running a very close second). As I sat in my cozy cottage enjoying my breakfast as the sun rose over the escarpment on a chilly February morning (the mercury dipped to -29 degrees Celsius, not including the wind chill), I was visited by a pair of downy woodpeckers, blue and grey jays, a flock of common redpolls, male and female pine grosbeaks (a truly beautiful bird), and a lone chickadee.
And if it's wildlife that you're looking for, Falcon Trails Resort offers some of Manitoba's finest. In addition to the wonderful array of bird life, white-tailed deer, black bears (but not in winter), red foxes, moose, the elusive lynx, and on rare occasions wolves have all made their presence felt at Falcon Trails.
After checking in, I decided to strap my snowshoes back on and head out on to the frozen lake. Whether it was on the trails or out on the lake, the snowshoeing was fabulous and well worth the trip.
My only complaint was that my stay was far too short (which is why I'm currently planning a return trip next month with my wife and kids). It may sound like I'm gushing, but whether you are there to snowshoe or just want a little bit of winter rest and relaxation, Falcon Trails Resort and Falcon Ridge Ski and Recreation Area is truly a fabulous destination.
If You Go…
Falcon Lake is located in the southern section of the Whiteshell Provincial Park, 126 km east of Winnipeg. From Winnipeg take the Trans Canada Highway (highway 1) east into the Whiteshell. Turning right at the Falcon Lake turn off, follow South Shore Road for 12 kms. Weekends fill up fast, so it is recommended that you book early. Rates for one of the lakeside cottages begins at $119(CAN) per night. For reservations and more information, you can contact Falcon Trails Resort at 204-349-8273. Also, I recommend that before you visit, you check out their Web site: http://falcontrails.mb.ca/ – it is chalk full of useful information to help plan your trip.
Photo Captions
1. Lakeside cabins at Falcon trails Resort
2. Exploring one of the islands on Falcon Lake
3. An early morning visitor to the bird feeder