Fine dining at a backcountry yurt may seem like a bit of an oxymoron, but that's exactly what the Crested Butte Nordic Council (CBNC) has been able to pull off. Over the last three years they've turned their Magic Meadows yurt into the cozy setting for elegant dinners and brunches, as well as their annual New Year's Eve party. The winter of 2011-12 will include more yurt events than ever before, but the biggest innovation will be that a new chef is at the helm. Tim Egelhoff, formerly of Crested Butte's Timberline restaurant, has signed on and is helping the CBNC take their yurt offerings to the next level.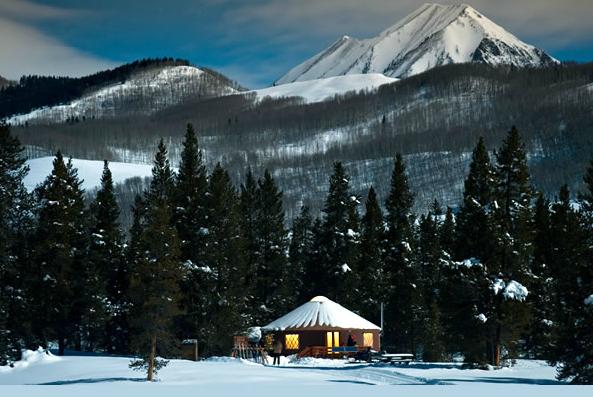 Tim began his career as a chef by working in nearly every restaurant in Crested Butte while a student at Western State College. He fell in love with the outdoor lifestyle, and cooking was one of the ways he could sustain it. When he seemed to reach a dead end in CB, he took off for the Front Range and Carmel, California where he solidified his career path. Returning to Crested Butte in 1989, Tim opened the Timberline Restaurant, and for 20 years he and wife Darlene served gourmet foods in a refined but comfortable atmosphere. Part of what he hopes to do at the yurt is to capture that same essence.
"It's going to be a very intimate exchange," Tim said of the yurt venue. While the yurt isn't someone's home or a fancy restaurant, it combines the warmth of the former with the class of the latter, and he wants to make the most of those qualities. He's aware that for many folks, skiing or snowshoeing into the woods at night, to go out for an exceptional meal, is a once in a lifetime experience. "This could be the only time someone does something this grand. It's a real opportunity to create a memory they will never forget," Tim said, "So how can we make it memorable?"
To start with, he's focused on food, and always has been. "I make food that's healthy, that's made from scratch. I use real ingredients and do it by hand. It's that real care and attention to make sure it's done well that makes the difference." As an avid skier himself, Tim is conscious of creating a menu and atmosphere that cater to both the local athlete and the visitor, the Nordic racer and the first-timer on skis. The meals at the yurt will be comforting and sustaining, as well as delicious. The service will be top-notch. "People are coming on vacation. They've saved their money for fifty weeks to make this happen. That puts some responsibility on me to be able to perform food-wise, and to share my culture with them," Tim said. In exchange he feels like he really gets a lot from the experience.
"Everybody eats, most everybody cooks," Tim continued, "It's a very relatable venue. It's a way of giving and sharing and teaching people, which opens the door to them sharing what they do and who they are." Working in clients' homes as a private chef he's been able to make a more personal connection with customers and their families, learning what they do with food and what's important in their lives.
This exchange of ideas is what inspires Tim in the kitchen. Having never gone to culinary school, he learned everything from the people around him, whether they were chefs, dishwashers, or guests. He continues to comb through magazines, listen to his clients, and take on new challenges that spark his curiosity and fuel his creativity. The yurt is yet another venue to reach out to more people and continue this exchange.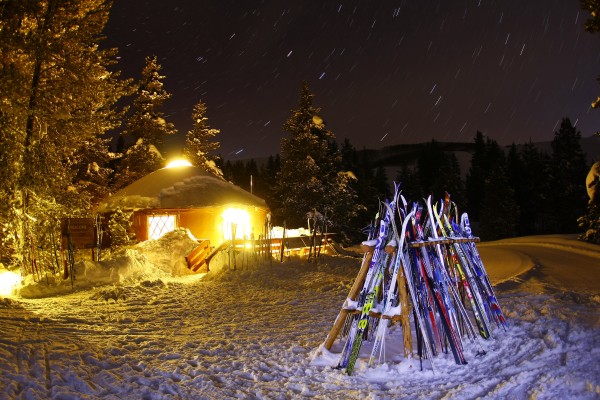 The CBNC received the yurt as a donation in 2007 and since then they've made annual improvements to expand its amenities. Last year the addition of a staging/storage area off the back of the yurt simplified logistics for staff while expanding the seating so that up to forty people can now enjoy a sit-down meal. This year, the CBNC is focused on improving the programs, increasing the quality of the experience and the number of people they reach.
With traditional wooden floors and canvas walls, a yurt is a portable shelter indigenous to the nomadic peoples of Central Asia. Here in CB, the yurt has been the perfect structure to tuck inconspicuously in the woods as a backcountry destination. Surrounded by the Magic Meadows trails in winter, the yurt has become much more than a warming hut (though it's good for that, too). It's available for rent for private parties and the CBNC hosts their own series of Moonlight Dinners and Sunday Brunches. Moonlight Dinners for this year will be held on December 23, January 14, February 7, 14, and 19, March 8 and 17. Sunday brunches will be January 1, February 5, and March 18. The yurt has also hosted Citizen's Series races, Junior Nordic Team fundraisers, and the now famous New Year's Eve Dinner and Party.
Poised at 8,885 feet and surrounded by the spectacular Elk Mountains, Crested Butte is a small ski town with a big character. It's known for its warm welcome and wacky spirit, exemplified by annual events like  the Al Johnson Memorial Uphill/Downhill race at Crested Butte Mountain Resort and the CBNC's Alley Loop Nordic Marathon, when costumed skiers fill the slopes and streets with festivities. Featuring ski areas for Nordic and Alpine, and an average of 300 inches of snow a year, CB is a perfect destination for skiers of all kinds.
For more information, visit CNBC's website at www.cbnordic.org.