The Get in Gear spring blizzard—on the way, forecast to begin just hours before the start—posed only one question. Would snow, sleet or a mix with rain dump on racers and volunteers in this 42nd Annual Rite of Spring? About a third of the registered field thought so by bracing for it behind closed doors, and as Charlie Rich sang, "Oh, no one knows what goes on behind closed doors."
Executive Director Paulette Odenthal exclaimed, "The outcome of the weather was almost surreal with what we all were expecting to contend with all week. The forecast never once budged and continued to get progressively worse, and yet, not a snowflake or raindrop. Yes, that was the most amazing gift of all."
The 10km Classic
The cool temperatures masked by overcast skies foretold breakthroughs in 2019's Get In Gear (GIG) 10km. Vicoty Chepngeno, Grand Prairie, Texas—a small town known for its 60 historical markers—needs to hammer a new plaque as she blew her own 2018 record of 32:40 out of the books with a swift 32:15.  That 2018 mark lasted over a quarter-century from where Dr. Janis Klecker etched a 32:52 here the same year she raced the 1992 Barcelona Olympics Marathon. Paulette added, "We waited for 26 years to have the female course record broken, only to have the champion return this year to once again break her own record by an additional 25 seconds."
Katy Jermann, Burnsville, winner of her first Minnesota Runner of the Year award in 2018, scored a 32:43 for second overall. 19-year-old Esther Wanjiru racing from Lansing, Michigan, won the last female podium step in 33:38. She edged Burnsville's Dakotah Lindwurm, winner of the 2018 Women Run the Cities 10-Mile, by just four ticks. Dakotah set a GIG record for F20-24 Class time 33:42.
A notable record of the day came from Dorothy Marden's time in the F80-98 Class. She managed to break her 2017 record here by 80 seconds with a 1:24:20.
Silas Kipruto, also Grand Prairie, won overall in 29:32. He was just five seconds to spare over Sammy Rotich, Minneapolis, GIG's 2018 winner. Elijah Kiptoo, Minneapolis, scored third in 30:03 over St. Paul runner Benjamin Sathre's 30:15.
Racing with Top Field Competitors
Paulette added, "This year we had a great field of top competitors in our 10km that included four of our Team USA Minnesota athletes: Danny Docherty (fifth overall), Dakota Lindwurm, Tyler (sixth overall) and Katy Jermann." 1,696 claimed a finish in the race's classic distance. First Minnesota Male and Female Finishers, Rotich and Jermann, garnered this annual special $250 award.
"As an amazing point of interest, Vicoty also ran the Kansas City Trolley 4 Mile Run the following day after Get in Gear for an overall winning time of  20:50. Also running were our top three overall 2019 male champions: Silas Kipruto placed second overall in Kansas City (missing the win by 5 seconds to James Wilson's sprint to the line), Sammy Rotich third, and Elijah Kiptoo fifth."
Other 10km Time records set at the 2019 race: Age 25-29 Benjamin Sathre 30:15, Mary Wangui 34:01; Age 55-59 John Van Danacker 35:01, Wanda Gau 41:17
The Half Marathon
821 completed the Half as Troy Koivisto, with a background on the U of M's Cross Country team, nailed the overall by handily clocking 1:14:14. A guaranteed Minneapolis sweep of the top three males came as Paul Swim edged Joe Arnold by one second in 1:15:02.
Although not inclusive, other notable finishes stand out in the men's official results. Take St. Paul's Jim Richardson, 69, notching a 1:48:35 in the top half of the field (147/418). Two M75-79 finishers, Tom Lyke and Phil Erickson of St. Paul, crossed respectively in 2:50:02 and 2:55:36. On the other end of the spectrum, Zachary Martin, 15, proved he is one to watch with his St. Paul Catholic Athletic Association background posting a 1:36:10 for 52/418.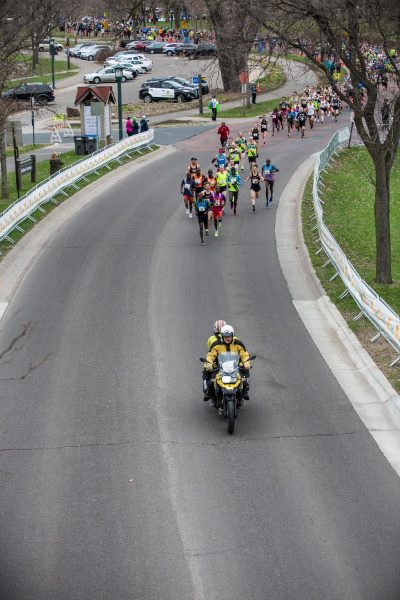 Minneapolis marathoner Lindsey Zimmer, nabbing seventh overall, won the Female Class with her 1:20:56, seven minutes ahead of Excelsior's Angela Kidd. A history of racing triathlons, Angela raced the MDRA 15K in 2018, a field overflowing with talent, to a 1:04:17, winning second in her W40-49. Megan Baertsch, Duluth, took the last podium spot with a 1:30 clock.
Constance Morley of St Paul, the first finisher in the Half's most senior F65-69, timed a 2:18:08 for a notable 279/401 ranking.
Jenna Stott (19), St. Joseph, collecting a 1:48:36, crossing 53/401 won the class, but just eight seconds ahead of a pursuing Macie Rodriguez (18). Macie, a Wheaton North High School speedster now on the U of M Spirit Squad, made up nearly 90 seconds from the six-mile mark for an exciting race and quick pair in the F15-19 bracket.
The 5km
Leading the 5km 1,094 finishers, Tremayne Collins of Collegeville zipped by in 16:22. The exciting race for silver became a Minneapolis contingent battling to the line. Ben Johnson's 17:34 took the position but with only one tick over Robert Sommers' bronze finish who crossed in a near-tie with Logan Wikstrom. Matthew Lindell claimed fifth just five seconds later as Evan Wigham, Alden Keller (age 14)  and Alex Baum closed out that 17-minute mark.
The only female notching a 19-minute finish, Claire Vukovics of Lakeville, won her class handily. Claire is 12-years-old. Minnesota Tri News calls her a "preteen phenom" after winning the women's 2019 Life Time Indoor Triathlon Winter Races.  They report, "she is a five-time Junior Olympic cross country All-American."
Diane Hessini earned the silver finish. Representing St. Paul, she was alone in the 20-minute marker, having picked up just under two minutes over her 2018 GIG.  Andover's Ann Erickson 21:30 edged Woodbury's Suzanne Schons by seven seconds, winning the last podium spot.
Younger Athletes Join the 5km
Note that preteen competitors continue to flock to the 5km. Osseo's Abigail Farley, 9, and Emersyn Everett, 8 of Minneapolis, tied at 31:50. Madelynn Mitchell, a 7-year-old, made Inver Grove Heights proud with her 51:45 while 5-year-old Dakota Iverson of Albertville finished in just over an hour. In the Boys class, Culley Flood, 8, Minneapolis, followed his 11-year-old brother's 24:42 finish just 5 seconds later. James Lewis, 11, managed an age class podium finish with third overall in 20:58. 84 girls and boys 14-years old and younger finished the 3.1-mile race.
The classic 10km race event was the origination of GIG in 1978. It expanded with the surging popularity of the 5km in 2005 and the Half Marathon in 2009, " which makes for a great morning of events," says Paulette. A family Fun Run kicks off the weekend on Friday night.
The 10km USATF certified route also doubles as the RRCA National Championship along with a selection in the Minnesota Distance Running Association's Grand Prix series.  
The Heart of GIG
The race organization partners with two entities. They match funds up to $5,000 contributed by race participants when registering for their race. One, Girls On The Run (GOTR), "inspires girls to be joyful, healthy, and confident using a fun, experienced-based curriculum, which creatively integrates running." Also, see Girls On The Run TC
A new partnership in 2019 adds the AUSA ROTC. This organization provides cadets "professional development, the opportunity for additional leadership along with supporting community and school projects". There is also recognition, scholarships, and other enabling programs. Cadets in the GIG 5km race to qualify for the 34th General Dynamics Army Ten-Miler October 13, 2019, in Washington, D.C., the second largest for this distance. 
Additionally, RRCA Kid's Run The Nation receives a $500 donation from GIG.
There is a heartwarming element to a participant in Get in Gear that last Saturday of April. The ritual run and competition morphed into something much more over the years. Just by participating, one becomes a part of an important charity aspect of foot racing. There is the opportunity for matching donations where, for example, $10 becomes $20. This opportunity is spread out over thousands getting their physical activity "in gear" as spring melds toward the remaining months of the year, meaning every entrant makes a difference.
Changes Over The Years
Paulette said, "Get in Gear is organic to this community as a running event and has been a staple since 1978. The continued development and inclusion of 'new' to the sport runners in our community is important for us. We strive for continued evolution from traditional finish chutes, all paper registrations, simple unisex cotton shirts that went to a field closer to 80 percent men and 20 percent females with a banana and water thrown into the mix.
Now we work with online registration companies to focus on analytics, a timing-and-scoring company that produces chip timing and mats to help determine placements on the course, gender-specific shirts for the oftentimes 60/40 female/male ratio, and more of a finish line cafeteria offering various post-run foods including medals and other swag offerings. From my 20-years of experience directing this rite, the comparisons from then until now are quite fascinating in how the industry and sport of running evolved over the years."
She is no slouch as an athlete either. Paulette's credentials include 95 marathons and ultras, and counting, including Boston, eight Rim-to-Rims, and the TransRockies three and six-day events. The goal? Achieving 100 in 2020.  She manages to squeeze in an annual bow hunt, and coaches as the Life Time Fitness Run Coordinator. She lists other accomplishments that would floor anyone else.
The Volunteers
Paulette describes their volunteers, the lifeblood of a significant happening like GIG, "as a dedicated team that includes 40 team captains in various capacities, community volunteers that work with the team captains from our partnerships, sponsors, and also within our community. All come together to help produce this Annual Rite of Spring."
Select groups of volunteers work with team captains for race-critical tasks such as aid stations. For 2019, the group roster consisted of Park Center High School Girls Fast Pitch Softball Team, Capital Running, the University of Minnesota 2019 Physical Therapy graduating class, St. Thomas Academy Swim Team, and both University of Minnesota and College of St.  John's ROTC Cadets. "At least $3,000 is given to our various volunteer groups in any given year."
Affecting lives of others in a positive way, while working time off one's PR or even scoring a medal, offers a post-winter cleansing at Get In Gear that fits oh-so-well at its Minnehaha Regional Park home.  With its "majestic 53-foot waterfalls, limestone bluffs, and river overlooks" as the Minneapolis Park & Recreation Board describes, Longfellow House and Garden, Song of Hiawatha Garden, Princess Depot, John H. Stevens House, and the deep-forested grounds, the grandeur of it all sings alive the sculpture of Hiawatha and Minnehaha in love overlooking the gathering. There seems magic to it all. Maybe that's really what an annual rite of Spring means. 
Register for Fall 2019 Races and GIG 2020
Save the date! 2020's race will fall on Saturday, April 25, with the Fun Run the day before along with the two-day EXPO. Find early-bird registration here.
Consider: Run The Ritter trail race in its inaugural year by RD Paulette Odenthal on November 16, 2019. Five-mile loops for three distances up to 15 miles in Lakeville, MN.
CONTACT: Phillip@UltraSuperior.com