I wrote in "UltraSuperior", the book, "Everybody needs a little Maynard in their lives," referring to Bloomington, MN's Maynard Lagace. Snowshoe races do, too.?
See how…
Maynard (See photo below . . . he's not the young one. That's Jeff VandenBusch ) is full of enthusiasm, excitement, amazement mixed with creative ability (like the canoe he crafted in the proverbial garage).
He can see the best in everything like a new snowshoe race in an area just south of the Twin Cities.
This event has the makings of a replacement for the Northwoods Championship, 150 miles North, that retired this year.
Run with a five and ten mile option, organizer Mike Millonig is considering a 20 mile choice in 2011, too, a nice long surrogate for the Northwood's marathon distance.
Plenty of races in the region, but the opportunity for distance events is limited. This will help.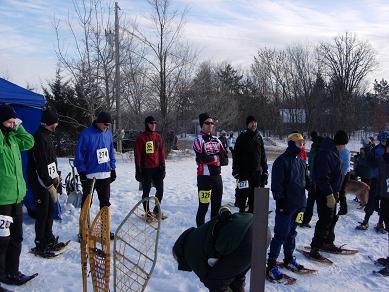 Maynard sent these words:
"Man o' man, you missed a monumental chance to witness the "birth" of a new snowshoe race.
I was looking forward to seeing you out there. Awesome, gnarly, tough, perfect, fun … trying to think of words to describe the event. Mike Millonig & Co. put on an excellant event on Saturday, January 23.
Mike and Larry Ochsendorf did most of the leg-work, (measuring, marking, etc.),
BUT the women were there to make sure it got started. His fiancee, Colleen and Barb Van Skike helped with registration, packet pickup and food afterwards.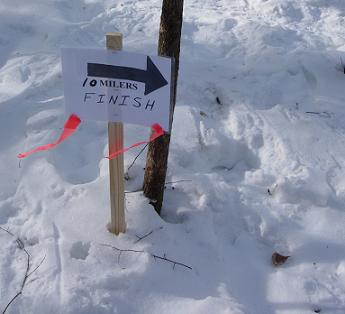 It had the same feeling as Northwoods. Its hard to describe, but it wasnt like one of those "packaged" runs. It had an amazing personality to it. None of that hoidy toidy "look at me" b.s.
There wasnt a huge turnnout, maybe 20 or so people showed up. Barb Van Skike (Northwoods RD) even showed up to pitch in at the packet pick-up. Nice touch! I'm already looking forward to next year.
It was all single track trail and in decent runnable shape, except for one section where some idiot went snowshoeing the week before when it was wet and soft, and left deep snowshoe prints that then froze over. It was a real ankle buster !
Two aid stations well stocked with hot broth, and the usual goodies. Chili and goodies in the heated building afterwards. The trail was marked very well also. Its my own personal opinion, but I think Mike and his crew did an excellant job. I see no reason why this wont be an annual event."
Also, note photo at top: plenty of wooden snowshoes at the start, too.
Braveheart Snowshoe Series: www.uppermidwesttrailrunners.com
USSSA: www.snowshoeracing.com
photo credits: Maynard
email comments: phillipgary@snowshoemag.com
www.iHarmonizing.com