Helly Hansen has done it again, offering some of the best base and midlayer apparel I've tried.
Midlayer- Ullr Jacket
It's Ullr Midlayer Jacket, a mid-layer zip-up jacket with a hood, is a spectacular addition to mid-layers ideal for snowshoeing and winter hiking.
The jacket is cunningly designed, with hand-warmer pockets, a chest pocket for the media of your choice, and two large interior pockets suitable for a wide range of items.
The sleeves offer thumb-hooks, one of my favourite features on a jacket. There is nylon reinforcing on the sleeves and shoulders to offer a little more wind and weather protection, and the hood fits exceptionally with nothing but some nylon stretch lining on the edges.
The hoody is warm enough to wear on its own down to the freezing mark or so with proper layering. It also sheds enough rain to be called water-resistant, which is a handy feature as well.
It's also light and thin enough to easily fit under a heavier, warmer jacket, totally living up to its billing as an essential mid-layer garment. My only grumble with the jacket for this use is that the thumb-hooks sometimes get in the way and interfere with the sleeves on the outer layer, but rolling them up is a quick and easy fix.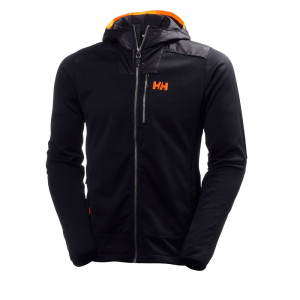 The material in the jacket is worth mentioning as well. It's a very different type of double-knit fleece, adding stretch to its warmth and durability.
The color was also attractive, although not essential. The Ullr came in a neutral grayish-green shade that didn't clash with anything else I wore it with.
The zippers on the jacket are better quality than average on such a jacket, with real teeth instead of just a coil. Helly Hansen could improve the jacket somewhat by adding a double-zipper to it.
The fit is snug, but not quite an athletic fit, and definitely not a compression design. I am "stocky", and found it a little tight on the torso to start with, but over a week or two, the jacket seemed to mould itself to me.
Baselayer- Dry Performance Crew
Adding to Helly Hansen's bragging rights is the Dry Performance Crew baselayer I tried with the jacket.
This is a simply awesome shirt, although I've tried it less than I would have liked. That's because my wife "appropriated" the shirt quite quickly, even though it's too big for her.
"This is the best shirt ever," she stated resoundingly and with a tone that didn't argue well for any debate.
She's worn it while snowshoeing and winter hiking in our unpredictable winter weather and found nothing to complain about at all. She's even worn it as a base layer when she goes to work at a school near us, where she is regularly outside for long walks with special-needs students, again with no complaints.
The Helly Hansen website referred to the shirt as an "A new, progressive design featuring HH®Dry construction with LIFA® technology", and as an "extremely breathable and super-lightweight performance baselayer. This long-sleeve provides moisture management during aerobic activities and is ideal for climbing, skiing, sailing and sports training. Comfortable and functional as an insulating layer for everyday use, featuring cuffs and a regular fit."
It certainly has lived up to that billing, reaffirming my opinion of Helly Hansen as one of my go-to companies when it comes to quality outdoor apparel.
I doubt anyone would be disappointed with either of these items. I certainly wasn't.
By Timothy Giilck