Designed with Batman in mind (not true), the Deuter Freerider Pro 30 is a pack that can stash a lot of stuff. Most importantly, it can stash a set of snowshoes to its front – protected by a combination of hypalon and Deuter Ballistic materials.
The Freerider can also handle a hefty set of backcountry skis to its strap-friendly side panels and has room for an ice axe or two. At a volume of 30 liters, the pack can handle it all with a little grace and a whole lot of "kick ass." That's why I classify it as Batman-worthy: Essentially good enough to replace a fully-equipped utility belt (and looks stylish underneath a cape).
"I'm Batman!"
My testing of the Freerider was a two-stage effort – primarily focused on seasonal activities. For the winter, it's a reliable day-pack for several back-to-back snowshoeing excursions. But during the summer, it's a sturdy commuter pack: bullet-proof, willing to take some abuse and offers a removable hipbelt to boot.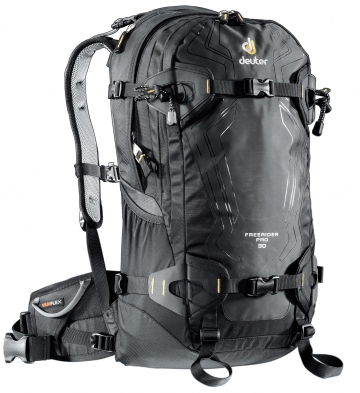 Its tough material combination, rigid zipper system and firm shoulder strap arrangement offer more than the everyday pack. The Freerider is "all business" on the city sidewalks and "means business" on the snowy trails. Extended backcountry journeys or day-long jaunts, the Freerider is set for whatever misadventure you put it through.
The pack's zipper system is top-notch. Each sturdy zipper has a pull tab that can handle the rigors of quick scrambling and the strains of weighty gear. There are no frustrating material snags to report when hastily accessing the Freerider's many compartments. Zip it!
More or less, the Freerider isn't over-engineered. It's just a good pack. It can even handle a hard, icy tumble down a hill when its user isn't paying attention. Which brings up a good point: The Freerider has several top pockets and compartments that are easy to pack with heavy items. Unless it's packed properly with more weight to its mid-section, the Freerider can become excessively top heavy. And when this happens, it seems to have a mind of its own (translating into suicidal tendencies and a penchant for rolling itself down steep ravines).
But it's all good. Batman would be proud of the Freerider's predisposition for danger. And that's its calling card: Deuter Ballistic. This proprietary material is a high density woven polyamide 420 denier fabric that's extremely strong and lightweight. When wielding an arsenal of flying scissor kicks and death punches, these features are important.
Additionally, the pack has a two-way zipped back opening to allow for access to the main compartment, while snowshoes or skis are fastened to its front. There's no reason to go through the frustrations of having to unfasten bulky gear to snag some sunscreen or a first aid kit. In fact, the entire back Veri Flex system can zip down and provide complete entry to the main compartment. Bonus!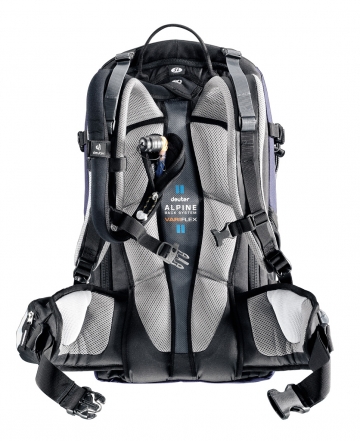 Learning from the users of backpacks over the years, many outdoor gear companies are designing their back systems with comfort as the primary goal. For Deuter, that external cushioning is called the Veri Flex Alpine Back System. The Freerider's internal X-frame system offers a curved profile with aluminum stays. What you get is exceptional flexibility and weight carrying ability.
The back, hipbelt and shoulder straps boast a lot of foam and padding. Remember, comfort is "key." But even better, the pack has a removable insulating sitting mat to help stabilize the back…and comfort a bruised backside (and ego).
As we all know, Batman needs to remain hydrated while he enforces justice with his fists. Lucky enough, the Freerider is "hydration system compatible." Deuter's hydration system/bladder includes a Helix Valve, which enables a constant flow of liquid without interrupting the flow of activity and hell-raising.
To protect the hydration bladder from freezing, Deuter sells a fleece-lined flexible neoprene cover that can be zipped on and off without removing the entire tube system. For convenience, the cover includes a shoulder attachment strap to keep it connected to the pack at all times.
Add all this up and you have a backpack suitable for any superhero. The Deuter Freerider Pro 30 advantage is an all-around, all-season solution for carrying an assortment of gear into the backcountry.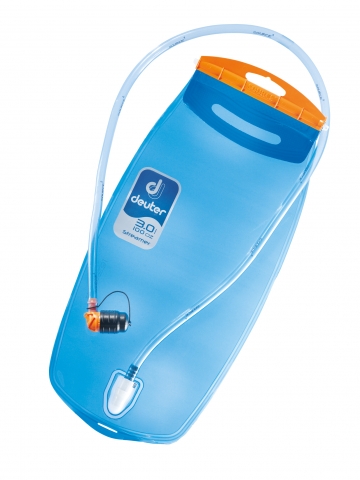 Can it flaunt weapons of ferociousness and righteousness? Quite possibly!
Fight crime at your own risk. Visit the outdoors at will.
For more information on the Deuter Freerider Pro 30, visit http://bit.ly/osnMZd. To purchase the Deuter Freerider Pro 28 SL Backpack (women's), click here. To purchase the Deuter Freerider Pro 30 Backpack (men's), click here.
For more information on the Deuter Streamer Hydration System, visit http://bit.ly/ncyXVN. To purchase the Deuter Streamer Water Reservoir, click here. To purchase the Deuter Streamer Helix Valve Kit, click here.
For more information on the Streamer Tube Insulator, visit http://bit.ly/qZrlPk.