When you think of luxury sports cars it's easy to see why Italians feel they have the market cornered. Fine Italian cars include the Ferrari, Lamborghini and Maserati. Just as automobile fans are in awe of the fine curves of a Maserati, snowshoe enthusiasts appreciate the sleek lines of a Miage snowshoe by Baldas. Baldas is a subsidiary of Ferrino, an Italian company that has produced stellar outdoor gear for more than 140 years.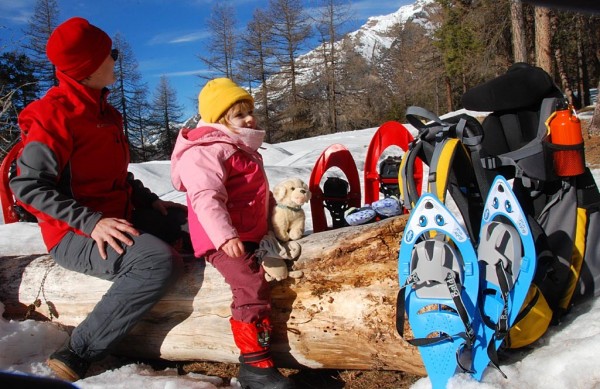 Like their Italian auto manufacturer counterparts, Baldas assures its passion for excellence, said Adam Mogelonsky, marketing consultant and spokesman for Baldas Snowshoes.
"All Ferrino products are ISO-9001 approved," Mogelonsky said. "Which guarantees a superior level of quality, workmanship and attention to detail that you might not find with other outdoor sporting goods and equipment companies."
Ferrino equipment not only maintains high Italian quality standards the design is true to Italian roots as well. Baldas snowshoes are imagined, built and tested in Italy.  Baldas developed a cutting edge snowshoe using their backyard, the Italian Alps, as inspiration. The result is a second-to-none snowshoe that focus on versatility, durability and panache.
One such innovation is the combination of materials for greater functionality in a variety of terrains and altitudes. Baldas was the first company to combine plastic and ceramic technologies to create a shoe meant for speed and endurance at any temperature or elevation, according to www.baldas.com. Another unique feature is their Castor binding. The Castor has a step-in frame and uses a ratchet system to secure your boot into a solid base plate.
Mogelonsky explained how the technologies such as the Castor play a part in your trekking enjoyment. "I like the mechanics on the heel lift, which helps me maintain a more fluid stride and better balance during a varied-terrain trek."
Baldas has three main lines of shoes, the Expedition, Trekking and Youth. Within those lines are several models, made to fit snowshoers of varied ability and terrain preferences. The Expedition is for the more advanced snowshoer, made for extended hikes or backpacking trips on varied or difficult terrain.
The Trekking line is the most diverse, made to fit almost any snowshoe level. The Miage Trekking style is for runners; it is very durable and allows for more vigorous snowshoeing. While the Nevada is more like a walking shoe, meant for casual snowshoeing. The Youth line features two models, the Andey and the Baby. Andey is meant for older children and the baby is for small children just getting their snowshoes wet.
While Baldas employs new technologies to create its assorted lines,  they are not willing to sacrifice style, true to the Italian philosophy, Mogelonsky said. "I am a casual snowshoer, but that doesn't mean I'm not without taste!"
Baldas snowshoes are available exclusively online at www.baldas.caribou.ca. They are not currently available in many North American stores, but a recent partnership with Caribou Inc. is expanding their snowshoe footprint. Caribou is a diversified outdoor supply company based in Montreal, Canada.
For more detailed information about Baldas and their shoes visit www.baldas.com.
Photo Captions:
Picture 1: Baldas makes snowshoes specially for kids so youngsters are never left out of the action.
Picture 2: Unique bindings on Baldas Snowshoes let you do some incredible stunts.
Picture 3: A closeup on the Baldas Trek snowshoe, designed specifically for long distance expeditions.