While many mountain areas have to wait until after the holidays before they see much in the way of snow accumulation, Grand Teton National Park near Jackson, WY, is usually blanketed with powder by early November providing a breathtaking winter playground for early season adventure seekers.
Although the majority of the main Teton Park Road that bisects the park closes for the winter on November 1st, the parking area at Taggart Lake Trailhead is accessible year-round, making this a popular area for snowshoeing. Although it is not plowed, a good portion of this road (up to Jenny Lake, another great snowshoeing spot) is groomed occasionally for snowshoers and skiers. Dogs are allowed on this portion of road as well (on a leash) although they are not permitted on the actual trails.
Located just two miles north of the Moose Entrance Station, the Taggart Lake Trail is a 3.8 mile loop featuring nonstop views of the stunning 13,770-foot Mt. Grand Teton, the highest peak in the Teton Range, and ample opportunities to view wildlife such as moose, fox, black bear, grouse and much more. Winter is an especially good time for spotting wildlife tracks in the snow, which makes for an entertaining game during your trek for hikers of all ages (this is an especially effective method of keeping kids engaged, however.)
On a recent snowshoe hike, we also found uplifting messages etched in the snow and posted at creek crossings–cheerful discoveries adding inspiration to an already delightful day blessed with ample sunshine and bright blue skies that the Rockies region is known for.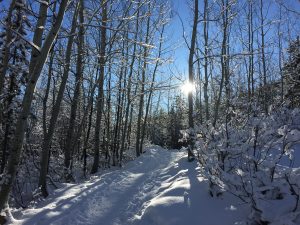 The trail starts out flat and wide from the parking area and slowly but surely becomes a bit more steep and narrow as it approaches the lake. The total elevation gain of the trail, however, is only around 500 feet, making it ideal for those still adjusting to the altitude (the trail head is situated at about 6,600 feet.)
The first half of the loop hugs alongside Taggart Creek, meandering through forests of frosted lodge pole pine trees and barren Aspen groves, with a gradual climb before reaching the shores of the expansive glacial lake. The terrain's gentle undulations over the creek and through forests also make it popular with back country and cross-country skiers, and often snowshoers will have to step aside to let them zoom through the downhills sections.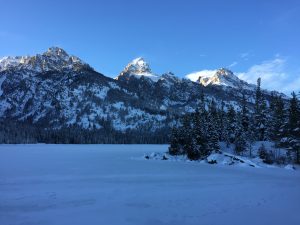 Plan to spend some time at the 305-acre lake to rest and take in the pristine views of the Teton Range–showcasing close up views of several peaks towering over 12,000 feet– and perhaps enjoy a snack or warm beverage on the rocky beach area.
Taggart Lake is one of six moraine lakes at the base of the Teton range, with Jackson Lake being the largest covering more than 25,000 acres. Although the trail is popular with locals and tourists alike, we had little company at the top and plenty of time and space to sit in silence and enjoy the white noise of winter. Sit long enough and you're likely to have the opportunity for bird watching, as the park is home to more than 300 species of birds. If the lake is frozen, take standard precautions if you choose to venture onto its surface, however snowshoeing on the lake in the winter is common. 
Although we were running out of daylight, those who wish to continue north to Bradley Lake from here will find a one-and-a-half-mile out and back trail skirting the lake's eastern edge. This can also be done as an additional three-mile "lollipop" loop by veering right at a fork in the trail just before reaching Taggart Lake, which will take you to Bradley Lake first. Note that this route is also sometimes referred to as the Valley Trail or the Beaver Creek Trail on various park maps. For an even greater challenge, or a winter camping excursion, many more miles of backcountry trails can be accessed north from Bradley Lake.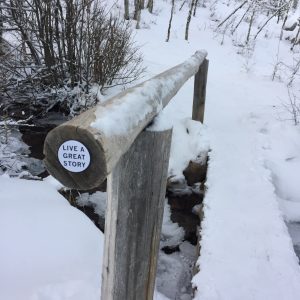 A handful of companies provide guided snowshoe hikes and nature walks in this area of the park, and many shops in town can provide snowshoe rentals if needed.
The park itself also offers free guided snowshoe hikes from the Taggart Lake trail head throughout the winter, usually beginning in late December. The program provides complimentary snowshoe rentals and is led by a knowledgeable ranger who shares information about the area's geography and wildlife.
Since much of this trail is located in the trees, it is highly recommended to wear a hat or hood to shield from falling snow and icy cold drips. Trekking poles are also recommended to assist in navigating the narrow wooden bridges at several creek crossings. Bathrooms are provided at the trail head. Dogs are not allowed on the trail.
Additional Information:
Location: Taggart Lake Trail, Grand Teton National Park, Wyoming
Typical Snowshoe Season: November- March
Snowshoe Rentals & Guided Tours: National Park Service