Follow the B4340 for around 13 miles out of Aberystwyth on Wales' west coast, and you'll eventually find a small hamlet called Ystrad Meurig. You may think there's nothing strange about that. After all, there are plenty of small communities dotted around this part of Wales. But this one is somewhat special. Partly because I have fond memories of it as an impressionable thirteen year old. Mainly because it has superb scenery, clear fresh air and some equally superb walks.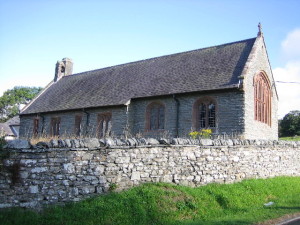 One I can remember in particular needed a fair bit of muscle power as there was a climb involved, but the reward at the end was a view south that seemed to stretch to infinity. Factor in early evening Spring sunshine, and you begin to understand why it's such a strong memory.
Setting off from the church yard, we passed the signpost and the stone-built house to our left – originally called "Bronllan" – and headed virtually back the way we'd come, until we found a gate. From there on it was a little softer underfoot albeit somewhat steeper. It wasn't long, however, before we reached a well trodden track which led us along what truly felt like the top of the World.
A little further and we were walking through a mixture of bracken and gorse until we reached the top of what looked like a disused quarry. A pause in the proceedings allowed us to take in the full panorama. And what a stunning view. No matter the direction, this was west Wales at its best. Gentle rolling hills, fields of varying shades of green, countless hedges and stone built walls stretching further than the eye could see.
Southwards, Tregaron and further still, Lampeter. Magical names and interesting places, far from just dots on a map. In Tregaron, an Eisteddfod is held each September – a tradition dating back 100 years. Lampeter has strong links with Welsh poet Dylan Thomas. Like Tregaron, it hosts an Eisteddfod over the August bank holiday.
Linking Aberystwyth with Tregaron is the 20 mile Ystwyth Trail, part of which follows the route of the disused Great Western Railway line. The trail is family friendly – including children and dogs – and perfect for walkers and hikers, though it does cross some highways. Experienced cyclists can enjoy a ride along its full length while some sections are suitable for horse riding.
For those keen on local history, the walk from Tregaron to Strata Florida Abbey is well worth tackling. You'll need to set aside around 5 hours for this 9 mile walk, and be prepared for some rough terrain and moorland, though it starts gently enough on a country lane. The walk is best suited for those with good fitness levels and experience.
Strata Florida Abbey dates from the 12th century, and though largely in ruins, holds a great deal of Welsh history at its heart. Tradition states that Dafydd ap Gwilym – the Welsh language poet – is buried in the Abbey's graveyard.
Lying close to Tregaron is Cors Caron – also known as Tregaron Bog. It dates back around 12,000 years and covers over 860 acres. The bog is a melting pot of different plant, insect, animal and bird life including falcons, buzzards and sparrow hawks. A boardwalk path circles it as well as a riverside walk and cycle path. For those keen on wildlife watching, there is a recently constructed bird-hide.
To the north lies Ysbyty Ystwyth with its tiny church which is said to date back as far as the 16th century. Close by is the Hafod Estate with its stunning landscapes. This historic estate offers visitors both guided and unguided walks which are way-marked. The walks range from 1-6 kms in length and guide maps are available.
Head back towards Aberystwyth on the B4340, and you'll find the Black Covert picnic site near Trawsgoed. This is an ideal spot to try the Ystwyth riverside walk or the steeper Birchgrove Walk which will take you to the site of Allt Fedw, the remains of an ancient hill fort.
No trip to this part of Wales would be complete without seeing the mysterious and forboding Devil's Bridge. This attraction – famous the world over – is unique, and its nature walks will bring you close to this impressive geological feature in the Rheidol Gorge. Pause for a moment and take in the three bridges, built one on top of the other. For the keen cyclist, Devil's Bridge lies at the end of the 28 km Rheidol Cycle Trail.
Closer to home, the university town of Aberystwyth has no shortage of walks. Close by is Pen Dinas, with its Iron Age hill fort dating back to around 400BC. It's a good uphill hike, but the views from the summit on a clear day are amazing, with the Cambrian Mountains and Rheidol valley.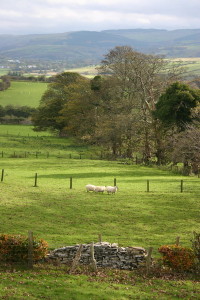 You can walk up Constitution Hill at the north end of Aberystwyth's Promenade and onwards along the scenic coastal path. This will take you into Clarach Bay and eventually Borth with its submerged forest dating back over 4000 years. This is the town's best kept secret as its visibility is largely sand and tidal dependent. Such is the way with this part of Britain. You never know what to expect next.
And that's what makes exploring this part of Wales such an adventure. Over every hill, around each corner, there's always something new. Whether it's a piece of undiscovered history or a show-stopping view, search long enough, you'll find it.