Josiah Middaugh doesn't leave much to chance when it comes to fitness, training and racing. In fact, this five-time National Snowshoe Champion, seven-time North America Snowshoe Champion, seven-time Mt. Taylor Winter Quadrathlon Champion and two-time USAT Winter Triathlon National Champion lives by this mantra: "Consistent training, consistent improvement. The key to consistency is motivation. Staying motivated is all about enjoying and engaging in the process of training." This made it all the more entertaining when we caught up with Middaugh after he won the third and final race of the Beaver Creek Snowshoe Adventure Series, amidst kids, a picnic, his wife Ingrid taking pictures of friends, spilled sodas and a raucous raffle. Even better? A laid back and relaxed Middaugh seemed to be enjoying every bit of it.
SM – For someone born and raised in Michigan, you seem to be at-home in the mountains. How did you end up in Colorado's Vail Valley?
JM – In the spring of 2000, within a month, I finished undergrad at Central Michigan University, married Ingrid and moved to Vail for a fitness internship at a health club. Once you're here it's pretty hard to leave. Plus, I was busy adding a new sport a year for the first several years we lived here.
SM – So the sports, based upon your record, this environment suits you?
JM – I was a runner in college and tried snowshoeing our first winter here. My first XTERRA race (Middaugh is a seven-time XTERRA USA National Champion) was the next spring. I loved it all and could tell high altitude training (Vail has an average elevation of 8,150 feet) worked for me. Plus, I can use a similar stride for running and snowshoe running. Snowshoe running requires more strength and balance, which is great for my other sports.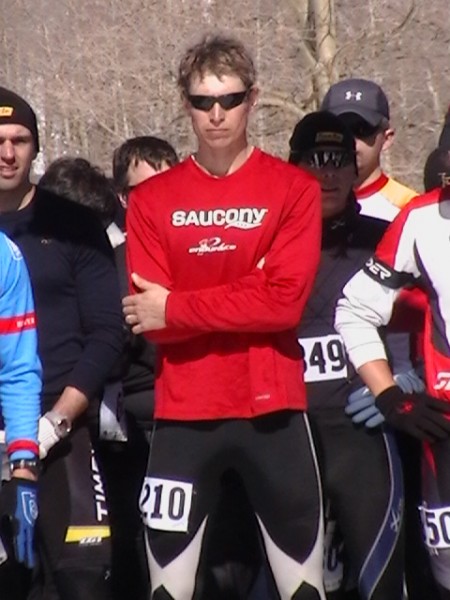 SM – Ingrid was on the podium for Beaver Creek's February 5K, and I've seen your kids in the Kids K. Your racing seems like a family affair. Do you all train together?
JM – With three kids, there isn't much time for Ingrid and I to train together. But we have embraced the racing lifestyle for our family, and races turn into family events. Most snowshoe races and the XTERRA series are very family-friendly. And the kids are just out on the courses having fun.
SM – You've done some snowshoe races overseas. What's the scene like?
JM – Things are pretty competitive in other countries. For the race I did in Italy, I was one of thousands of competitors. The good news is that the sport is growing, but more on a grassroots level. The ultimate goal, one day, is for snowshoeing to be an Olympic sport.
SM – How has the sport changed over the past decade?
JM – There are a lot more races and race participation has grown. And there is more national attention with the U.S. Snowshoe Association. But equipment hasn't changed much at all. In fact, I have my first racing set-up and still use it for about half my races.
SM – What snowshoes do you use for racing?
JM — I like Northern Lites snowshoes from Wisconsin because they're super lightweight, yet supple. My shoes easily attach to the shoe deck with three screws, and I simply have not found anything as light.
SM – Who are your sponsors?
JM – Dogma Athletica fitness center, AVIA shoes, Felt Bicycles, First Endurance and Profile Design.
SM – There's still snow on the ground, but I'm sure you are already preparing for the next race. What events do you have on your summer racing schedule?
JM – The snowshoe season has been great, but it's time to transition into other events. I'm training for the 2012 XTERRA National World Championships and the summer Teva Mountain Games.
SM – Any tips for beginners?
JM – It's all about getting outdoors and enjoying it, there really is something for everyone. Racing has a steeper learning curve, but if you can walk, you can snowshoe. That being said, my number one piece of advice is to get competent on the uphills, by training and training some more.
After our interview, Middaugh was standing in the top spot on the podium to collect his award. He was smiling, he was gracious and he was in his element.