John Muir said that going outside for a day is akin to "going in." According to the famed conservationist and explorer, backcountry endeavors are about submergence. On a three-day, hut-to-hut snowshoe trip in Yosemite National Park, two friends and I get in deep – real deep – with the wilderness and each other.
One thing we do not do, though, is sink into snow. The Sierra Nevada mountain range is a granite wonderland stretching north to south through most of eastern California. Every few weeks in winter, moisture-laden storms march off the Pacific Ocean and blanket the range in a foot or four of powder. Bring a snorkel if you seek to snowshoe in these squalls. Between storms, high-altitude solar radiation and California's mild temperatures manipulate the snow into what locals call "Sierra cement." Think of our snowshoe trip in Sierra cement as a supranivean exploration: We move atop the snow rather than in it.
I dive into the backcountry with two gingers, Bryon Powell (http://www.irunfar.com) and Gretchen Brugman (http://dailyadventuresgretch.blogspot.com). Lucky for me, my redheaded friends bring with them all of the zeal and energy for which their kind is known. We click off the 10 miles to our first night's destination, the Ostrander Ski Hut, with a combination of snowshoe running and powerhiking in just a few hours.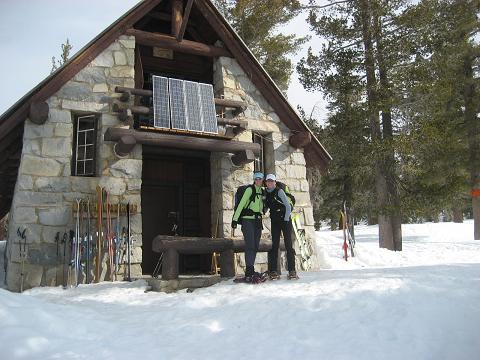 A 1941-production of the Civilian Conservation Corps, the Ostrander Ski Hut sits nestled in a glacial cirque at roughly 8,500 feet above sea level. The hut's rustic charm is best revealed in its kitchen; pinned to the walls are notes, journal entries, and menus that tell tales of the 70 years worth of adventurers who preceded us. This is a do-it-yourself hut with solar-powered lights, squeaky bunk beds, a hole cut the nearby lake for fresh water, a wood stove, and a kitchen filled with cooking pots and utensils. An on-site hutkeeper ensures that visitors to this historic structure care for it as much as he does.
The hutkeeper does a fine job of entertaining, as well. Into the night's wee hours, we 15 or so overnighters sing and sometimes dance, led by the hutkeeper's musical talent and instrument collection. I learn that Gretchen has a sweet set of lungs and agile fingers. When the hutkeeper offers up his guitar, she picks and sings a pretty folk song.
Morning's first light finds us sipping fresh-pressed coffee and watching the sky turn sunrise-pink then daylight-blue. A solid breakfast in our bellies, we don packs and set off on our second day's journey: Another 10 miles across Yosemite's winterscape to the Glacier Point Ski Hut.
We take a mostly leisured pace, meandering along the rolling Horizon Ridge. This ridgeline is well named, providing views to the highest reaches of the Sierra Nevada. I notice that, as we top a hill with a view, Bryon moves a bit faster. Scenery, it seems, is his rocket fuel. Here and there in the trees, in places that remain sun-obscured, we find leftover powder. Knee-deep and buttery, the snow makes us squeal and leap with joy. The last mile to the Glacier Point Ski Hut is a steep descent along a groomed track. We, literally, smell the barn as wood smoke from the hut wafts upslope and makes us dash downhill.
The Glacier Point Ski Hut is a full-service hut sitting at 7,200 feet above sea level on a point with a nearly 360-degree view. We gape-jaw gawk until the hutkeeper emerges to beg us inside for a hot drink. In front of the fireplace, Bryon, Gretchen, and I clink ceramic mugs of hot chocolate and cider to snow and friendship. Sitting still proves impossible, so we gulp down our drinks and head back outside for more views. Snow flurries float from the heavens and I tell myself to remember this forever: Half Dome on the right, Yosemite Valley at left, the Sierra Nevada until the earth curves away, and a winter wonderland everywhere.
As nighttime envelops the hut and this infinity of backcountry, the hutkeeper sits us and the other dozen hut-goers down to a family-style dinner of green salad, lasagna, chocolate cake, and wine. I marvel at the engineering feat of fresh vegetables and, with a wink, the hutkeeper reveals his secret: a weekly grocery delivery by snow groomer. We giggle our way through a couple glasses of wine and good conversation before tucking ourselves into cozy bunk beds.
Our third, return-to-trailhead day is one more 10-mile gallivant along a corduroy trail groomed last night as we slept. A small snowburst passed in the dark, leaving a one-inch dusting and a breathtaking cloud display. We climb the steep hill out of the ski hut while watching clouds and granite play tag. The grade levels out and we launch into snowshoe running at a good clip. Seven or so miles and just over an hour later, we stop in a wide swath of sunlight for snacks and to delay our journey's end.
When we do arrive at the trailhead, we find it bustling, brimful. On this Sunday, dozens of people are here, playing in Yosemite's winter. Everyone bears wide smiles of infectious energy that prove John Muir a wise man: we are all submersed.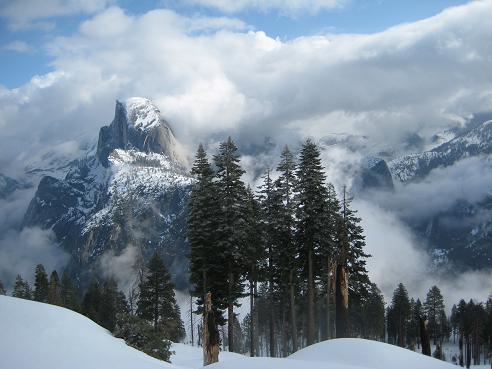 Resources:
Yosemite National Park (http://www.nps.gov/yose/index.htm, 209-372-0200)
Yosemite National Park, managed by the National Park Service, is a vast tract of wilderness encompassing a portion of the Sierra Nevada mountain range. 95% of the park is wilderness, and you can find a lifetime of winter and summer backcountry play opportunities there.
——-
Yosemite National Park backcountry permits (http://www.nps.gov/yose/planyourvisit/wildpermits.htm, 209-372-0200)
The National Park Service requires all overnight backcountry users to obtain a permit prior to beginning travel. Obtain the permits in the park visitor centers or by advance reservation. Cost varies and is based upon the number of people in your group. If you plan to travel during a winter holiday, reserve your permits ahead of time.
——-
Ostrander Ski Hut (http://www.yosemiteconservancy.org/facilities-reservation, 209-379-2317)
The Yosemite Conservancy, a non-profit organization that supports Yosemite National Park, operates the Ostrander Ski Hut. The hut's operating season varies each year based upon snow conditions. Because of the hut's immense popularity, a pre-season lottery process manages reservations. All winter holidays and many weekends will fully book during the lottery, but remaining spaces are available, first-come, first-serve, by telephone throughout the season.
——-
Glacier Point Ski Hut (http://www.yosemitepark.com/badgerpass_crosscountryskiing_glacierpointhut.aspx, 209-372-8444)
Delaware North Companies Parks and Resorts at Yosemite, Yosemite National Park's concessionaire, manages the Glacier Point Ski Hut. This hut is also very popular, so make your reservations well in advance. The hut's operating season varies a bit, as well, according to snow conditions.
——-
Winter safety and awareness (http://www.winterwildlands.org/resources/backcountry_safety.php)
Winter backcountry travel can be successfully achieved by the knowledgeable and well prepared. Anytime you venture out for one or more days, bring supplies to survive an emergency night out, including a sleeping bag, warm clothing, chemical warmers, and a fire-starting tool. Avalanches are a hazard of backcountry travel. Avoid avalanche terrain altogether or bring a combination of the knowledge and gear required to safely navigate it. Safe winter travel is also about body-heat management, with the goal of always staying warm and dry. To accomplish this, avoid significant sweating, maintain fast access to warm clothing, and add more and dry clothes before you start feeling cold.
Photo captions
Author photo- Author Meghan M. Hicks, atop Horizon Ridge between the Ostrander and Glacier Point Ski Huts, enjoys a far-reaching view (photo by Gretchen Brugman).
Photo 1: Gretchen and Meghan pose in front of the Ostrander Ski Hut in Yosemite National Park. Ten wilderness miles from any trailhead, the ski hut serves as a winter respite for backcountry foot travelers (photo by Gretchen Brugman).
Photo 2: The author nears the Glacier Point Ski Hut on the group's second day of travel as the view breaks open to reveal Yosemite National Park's famed Half Dome (photo by Bryon Powell).
Photo 3: On the third day, clouds and granite play tag, revealing Half Dome and the rest of Yosemite National Park's natural fineries (photo by Bryon Powell).
Photo 4: The author and friends celebrate submersion after completing their journey (photo by Bryon Powell).