The YMCA of the Rockies at Snow Mountain Ranch is a 5,000-acre property in Granby, Colorado, about 80 miles northwest of Denver. The facility offers affordable outdoor activities, dining and accommodations for all, with an focus on families and groups. The sprawling compound houses a dining hall, riding stables, Nordic center, recreation center and various types of lodging. A casual, rustic atmosphere allows guests to focus on the stunning scenery and fun-filled activities, from snowshoeing and horseback riding to playing cards and making campfire s'mores.
There is plenty to see and do here for weeks on end, but even a quick weekend getaway is sufficient for trying some of the on-site activities, breathing the fresh mountain air and making new friends.
Friday
2 p.m. – Arrive at the Snow Mountain Ranch and drive directly to the Nordic Center for a complimentary guided snowshoe tour to the Rowley Homestead, located about two kilometers away. Arrive early to rent equipment and grab a snack from the Skinny Ski Café.  On the trail you'll enjoy views of the Continental Divide, spot wildlife tracks, visit a historic cabin and listen to the guide tell stories about the area's history and legends.
Participating in the tour is a nice way to get an introduction to the terrain at the Nordic center and plan future hikes with the help of a knowledgeable guide. You'll also have a chance to mix and mingle with other visitors, many of whom you will likely see at other activities and in the dining hall throughout your stay. My group included exchange students from Singapore who had never seen snow in real life, so naturally we made frequent stops to build a snowman, have a snowball fight and make snow angels along the way to ensure they got a full winter experience.
3 p.m. – Check-in to your accommodations at either the lodge rooms or private cabins. The lodge rooms offer hotel-style amenities like housekeeping services, ice machines and mini-refrigerators. Cabins have multiple bedrooms and bathrooms as well as fully-equipped kitchens and living rooms. Campsites and rustic yurts are also available in the summertime. All rooms have outstanding mountain views!
4 p.m. – Stroll by the Craft Shop where a campfire is burning to make s'mores for a gooey afternoon snack. The Craft Shop is open daily from 9 a.m. to 5 p.m. and is stocked with an array of art supplies that guests can use on their own or during a scheduled project class.
5 p.m. – Dinner is served at the Schlessman Commons, a dining hall offering hot buffet items for a flat-rate per-person (discounted rates available for children). Look for familiar faces from your snowshoe tour or join in a board game or piano sing-along after eating. The dining room's location on a hill overlooking the Ranch is also a great spot for watching the sunset over the mountains.
7 p.m. – Movie night at the Program House. Some other activities are also available at the Kiva Recreation Center as late as 8 p.m. like the climbing wall, roller skating and swimming, just be sure to check the weekly schedule provided at the front desk upon check-in for exact activity hours.
Saturday
8:30 a.m. – After enjoying a buffet breakfast at Schlessman Commons dining hall, take a cup of coffee with you to the Doak Room for a presentation about dog-sledding. Before the presentation begins, be sure to check-in in at the desk right away to get a top spot on the waiting list for rides.
Here you'll learn about the history and techniques of the exciting sport. You will also hear entertaining personal stories from head dog musher and on-site pastor, Steve Peterson, who has completed a multitude of dog-sled races with his team of Alaskan Huskies.
After the presentation you'll head outside where the team of dogs is waiting to take you and the other guests on a thrilling two-mile dog sled tour through the woods and across snowy meadows. While waiting for your turn on the sled, you can warm your toes by a campfire and meet the extra dogs with their handlers. Crafts and a gift shop are also available inside. Spend some time getting to know the dogs and their handlers, who have a wealth of knowledge about the animals and the sport. Despite their endless excited yipping, the dogs are friendly and love getting attention in-between rides.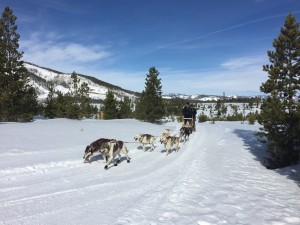 10:30 a.m. – Pop over to the Nordic Center and try a fat bike on for size. The snow biking trend is picking up speed at Nordic centers across the country, and Snow Mountain Ranch has an extensive network of groomed trails reserved just for fat biking. Bike rentals are available by the hour, half and full days.
12 p.m. – Located adjacent to the front desk area, the Buckboard Grill is open for lunch on weekends only with a variety of well-priced, hearty dishes like pizzas, salads, soups and sandwiches. There is also a small market here that sells snacks, drinks, toys and sundries.
1:30 p.m. – Spend a few hours playing indoors at the Kiva Recreation Center where you can sign up for supervised archery and climbing lessons, go roller skating, shoot hoops or participate in group games like dodgeball or "Human Hungry Hungry Hippos". A swimming pool and table games like foosball and ping pong are also available at no extra cost to hotel guests.
3:30 p.m. – Mosey out to the on-site Sombrero Stables where you can pet the goats and hope on a scenic trail ride. Day rides end and dinner rides begin at 4 p.m.
8 p.m. – When hunger strikes again, venture into any of the neighboring towns to find a good restaurant to satisfy your cravings. Some local favorites include Azteca Mexican Restaurant in Granby and Hernando's Pizza Pub in Winter Park. The closest, and also priciest, is the cozy Tabernash Tavern serving steaks, seafood and a fabulous wine list. Winter Park is also home to a movie theater, bowling alley, ski resort and a handful of bars and restaurants.
Sunday
9 a.m. – Spend a few hours exploring the Snow Mountain Ranch Nordic Center before heading home. The center has more than 100 kilometers of trails for snowshoeing, cross-country skiing and fat biking for all ages and ability levels.
The trails meander through aspen groves and pine forests, past scenic outlooks and historic attractions. All trails are well-marked and trail maps are available. Dedicated snowshoe and pet-friendly trails are also provided to reduce traffic and maintain serene, private adventures for all.
For a nice snowshoeing challenge try going to the waterfall, a four-mile out-and-back trail with a few steep portions and fantastic scenery. Private guided hikes pair you with a knowledgeable guide who offers information about snowshoeing techniques and information about the geography, flora and fauna of the region.
1 p.m. All of the Ranch activities are available to guests even after checkout, so stick around and try some of the other on-site winter activities like ice skating and snow-tubing before heading home. Be sure to consult the weekly activity program provided upon arrival for up to date activity days and hours, as they may change week to week.