Keeping your noggin warm is one of the first things outdoor adventurists learn to do, no matter where they call home.  The old wives' tale regarding heat escaping from the top of your body, whether a scientific fact or not, has created hundreds of types of warm head-gear that goes by many names.  Referred to as toques, beanies, caps, hats and bobcap–depending on your part of the globe–these most important gear staples have saved many an explorer for centuries.
In fact, in the 12th and 13th centuries, women wore embroidered toques (made of velvet, satin, or taffeta) on top of their head-veils to keep warm in colder climates.  In addition, they were more than likely quite the fashion staples, too.  There is nothing better than a fun, well-fitted, multi-purpose hat; Ambler, a family-owned hat company situated smack-dab in the heart of the Canadian Rockies makes just that (although they began making their hats in 1995, not the 12th century!).
With a catalogue of too many wonderfully bright-colored options to choose from, I opted for the heat beanie in the prism design since it was 1) designed with heat in mind and 2) incredibly colorful and festive, something that I think is important in the dead of winter.  The polyester microfiber
beanie has a thin fleece headband that keeps my ears and forehead warm and what I can only describe as a longer fitting hat completely covers my ears so nothing is left exposed to the elements.
With five different types of heat beanies for both men and women, these thin, micro-fleece lined beanies are sure to become your go-to warmth providing top layer to keep you toasty no matter what outdoor activity you're embarking on.
Don't be fooled by the seemingly thin hats, the fleece lining is heaven and is perfectly fit to keep you warm.  The hat stays with me throughout the winter and was a lifesaver when I was outside in frigid temperatures in Denver this winter.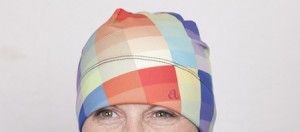 Although their beanies are incredibly useful and mine now spends most of its time in my purse so I have it with me wherever I go to brave the Colorado winter, the best thing is that the Ambler line is so diverse.  They carry festive hats for kids, men and women that are not only for braving the elements but also for just braving a bad hair day while out and about the town.
In addition, Ambler's work surrounds good deeds and noble causes.  The company raises awareness regarding human trafficking and donates beanies to kids in schools so they can enjoy their recess.
Running approximately $30/hat, Ambler hats are perfect for your wallet, your activities and your conscience.  To learn more about Ambler hats or to purchase one, click here.
You can follow them on Facebook too!