It's 7:22 a.m. and 15 degrees Fahrenheit on this February morning, and the sun is kissing the crest of the Wasatch Mountains, which lay like a buffet of rocky bowls, lolling ridgelines, and secret valleys. This first light is cherry pink on the peaks, but as the sun rises and the color washes down the mountains, it evolves into fireball orange. The snow yields underfoot with a squeak as I press my snowshoe into the firm, packed trail and climb.
*
Book a week's winter vacation in Park City, Utah, and you've likely done so whilst dreaming of downhill skiing or snowboarding at the city's three world-class resorts. Indeed, with the area's 9,300 plus inbounds acres and snow regularly falling by the foot, Park City and its Wasatch Mountains are alpine paradise.
Diverse terrain and superb snow, the same stuff that attracts downhill skiers and snowboarders to Park City, draws snowshoers, too. Three miles north of Park City's Old Town center is Round Valley and its almost 800 open-space acres. Though a lifetime of groomed tracks, pedestrian-packed trails, and off-piste snowshoeing opportunities exist in and around town, Round Valley floats fast to the top of the list. Park City owns Round Valley, and a local non-profit, the Mountain Trails Foundation, maintains its summer and winter trails.
Round Valley's sagebrush-studded hills provide home for deer, coyote, and fox. Here and there, dense stands of gambel oak trees and their lobe-y leaves dissect the shrubs, prized hideouts for both elk and moose. The westward horizon is drowned by the Wasatch Mountains and Utah's Uinta Mountains rise to their lofty heights in the far-off east.
*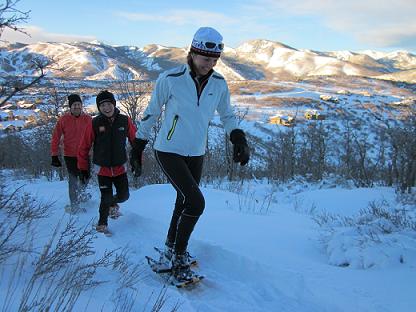 My snowshoeing destination this morning is a 7,000-foot hill, and I have about 200 vertical feet of climbing to go. Above me on the hill, I notice two large, brown blobs and the naturalist in me identifies them as a mother moose and her yearling calf. Not an uncommon sight here in Round Valley, these ungulate giants delight area users by dawn and dusk. I choose a trail that meanders away from them, granting them the wide berth they deserve.
*
By summer, a couple dozen miles of single and doubletrack trails meander through the space's varied topography and hundreds of hikers, mountain bikers, and otherwise explorers venture through every day. In winter, Round Valley becomes stomping grounds for Nordic skiers and snowshoers with its 21 kilometers of groomed track, many miles of snowbound singletrack, and acres of powder snow.
Pick your snowshoe poison here. Want to strap on a pair of ultralight snowshoes and run? Zoom through this cardiovascular challenge along the edge of one of Round Valley's groomed tracks. Of particular fun for snowshoe running are the Rambler Trail's rollers on the open space's east side.
Seek some snowshoeing solitude? Venture along a snow-packed singletrack and see perhaps more wildlife than humans. The west side's La Dee Duh Trail provides the epic dose of quiet you may seek.
Or, do you wish to go where no one else has yet gone (since the last snowstorm, at least)? Glittery, untouched snow is everywhere, so jump in and go! You can't go too far without intersecting a groomed track or packed singletrack, so you won't become lost.
*
In the pristine powder to the trailside right and left, two sets of tracks cross my trail and tell the story of what's preceded me. Mouse tracks, four tiny footprints that make a square divot in leaping succession connect one sagebrush to another, and another, and one more. Overprinting them are those of a fox, spaced close together. This fox must have meandered through slowly, curiously sniffing the mouse tracks as it traveled.
I hike uphill, past the story in the snow with a pounding heart . I arrive to its top, which is now awash in golden light and the long shadows of early morning. Squinting in sun as I take in the view, my heart recovers its regular rhythm. Of this morning snowshoe romp I am certain: I am alive.
Meghan M. Hicks is a writer and outdoor educator based in Park City, Utah who has traveled by snowshoes all over the American west's backcountry.
Beta
Locating Round Valley –  
Access Round Valley via one of its four trailheads. On the west side of the open space, begin climbing from the Old Ranch Road Trailhead. On the south side, use the Cove Trailhead off Meadows Avenue, the Round Valley Way Trailhead from Round Valley Way, or the Ability Center Trailhead on Ability Way.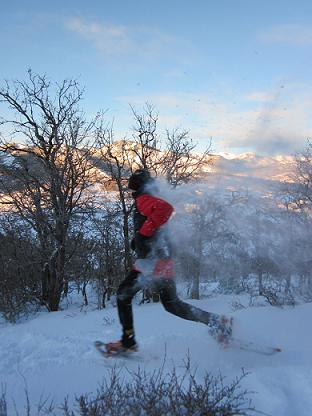 Winter Trail and Open Space Use Etiquette –
Round Valley's groomed tracks are prized Park City possessions. As a snowshoer, do your part to maintain the tracks for all users by snowshoeing out of the set classic Nordic track and at the edge of the groomed trail. Pooches rule Round Valley's roost, but city regulations require you to leash and clean up after them. Use the pedestrian-packed singletrack readily, as your passage via snowshoes further solidifies the trail for its multiple uses. When off-piste snowshoeing, avoid walking atop buried or partially buried vegetation.
Mountain Trails Foundation (www.mountaintrails.org, 435-649-6839) –
As Park City's trails non-profit, these great folks are in charge of making trails happen in and around the city. They build and maintain trails, educate the public about sustainable trail use, and advocate for protection of the area's open spaces.
Photo Captions
Photo 1: Bryon Powell, Nick Halliday, and Wendy Halliday climb the La Dee Duh Trail, an ungroomed singletrack trail in Round Valley, as the Wasatch Mountains are alighted by dawn (author photo).
Photo 2: Round Valley's 21 kilometers of delicious corduroy form several loops and figure 8's. The track is groomed a few times a week and after big snow dumps (author photo).
Photo 3: A Round Valley romp may not be complete without snowshoe running, as demonstrated by Nick Halliday (author photo).
Photo 4: Wendy Halliday, Nick Halliday, and Bryon Powell are also very alive after their early morning Round Valley snowshoe hike (author photo).