Packed by the previous cross-country ski race and marked by skijoring "dog doo" the inaugural King Boreas 7.5 km snowshoe race was a fast affair with early sections momentarily dipping into sub-6 minute mile pace. True to his snowshoe moniker, Mark "Burst" Brose (#302) burst off the wide start line and set a sub-7 min/mile pace trailing the likes of Jim "Braveheart" McDonnel ("The Winter Carnival snowshoe race today at Lake Phalen was a blast, my first race of the year, plus the weather was balmy"), Brad "Ambassador" Canham, Doug "Streak" Hubred, and Emi Yasaka.
Emi (#312) , second at the Whitetail Ridge Qualifier, Wisconsin, said, "I liked the wide and packed snow course; not too hilly, also!"
At the quarter mile mark the wide path split, and Brose headed right — then paused. The entire field of racers paused. After a moment of discussion, the group headed on the left path in an orderly fashion and re-started the race with Brose again in the lead. The point about snowshoeing is that this same scene would have played out similarly, no matter what region one races. If the St. Paul Winter Carnival is as in their motto, "The country's coolest celebration," then snowshoer racers are the coolest group going.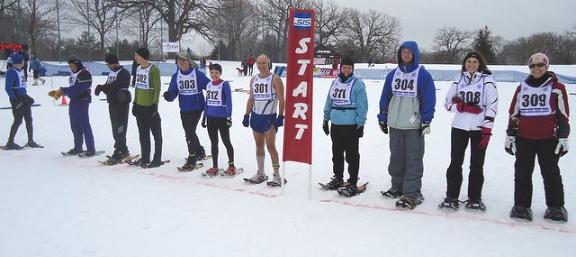 Besides, Brose was going to lead anyway as he burst ahead, once again showing the way.
"Braveheart" McDonnell, dressed in his trademark blue singlet and shorts despite the 25F-degree temps, assumed a steady second place followed by Yasaka, Canham, and Hubred. Brose drove the pace with long strides on his Northern Lites. "This was a very fast course, wide and flat . . . did I say fast, too?"
By the one-mile mark, Brose had widened his lead, and Canham moved into second at an 8-min/mile pace and held steady. However, Canham's fast start would take its toll. By mile-2 McDonne (#301)l, just back from an injury for his first snowshoe race, was chipping away and passed Canham about a half mile later. "I went out a bit too fast, rookie mistake but a great race overall," said Canham.
With her fluid and quick turn-over snowshoe style, Yasaka's snowshoes sound less like rhythmic "clacking" and more like an approaching "buzz." First, she passed "Ambassador" Canham at the 3.5-mile mark and then McDonnell at mile four felt the sting of "Snow Bee" Yasaka. Yasaka went on to take the second overall spot at 36:34, a couple of minutes behind "Burst" Brose setting the inaugural course record at 34:23. Braveheart McDonnel followed them at 35:55 and "Ambassador" Canham at 38.06.

CuteMoose, an invaluable web address for snowshoeing regionally, is the home for Tim Zbikowski who finished in a strong 40:33, exactly three minutes ahead of Hubred. Ms. CuteMoose, Carol Klitzke, finished with the most exciting finishes of the day with her 57:18. "The course was very beautiful." Minnesota Distance Runners Association racer, Heather Vietz, crossed at 57:12, telling me, "I had fun. I was so happy to see the finish," while Don Meck competed his loop in 57:26 and won oldest finisher for the day.
This first snowshoe race is a new addition to SIUS' race activities for the St Paul Winter Carnival, now in its 125th year. Ben Popp and the www.EnduranceAthlete.com
group, including Greg Rhodes, were there providing generous inspiration at the start/finish line. Ben forecast, "We want to grow this race and have it make an impact for the Winter Carnival."
Braveheart described some of the other activities of the day: "The race was not until 1 PM, but I got there earlier for some of the other events — XC skiing, ice bike racing, and skijoring. I've skied and skijored before, but the ice bike racing was new to me. Studded tires as wide as 3.8" were used. They cleared a tortuous snaking trail down to the ice on the lake, four to five feet wide. Part of the course had a pinwheel where they gradually circled in to the center, then did a tight turn, and came out on a parallel pinwheel. There were 20, 30, and 40-minute timed-races with laps counted.
The skijoring was a mass start of organized chaos. The energy of the dogs was infectious. The winning dog was part German shorthair and part Border collie and was eager to do another 7.5 km lap after beating out the second place skier by about 5 feet — who had two dogs!"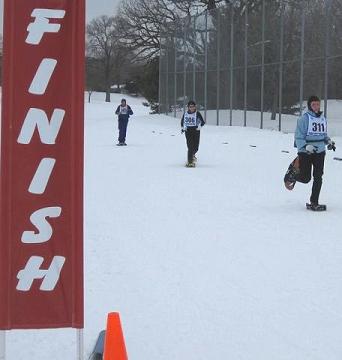 The late start had racers working on their nutrition package and timing. Wilderness Athlete performance products work for me. After a tough — and long — early morning lifting session, there was still plenty of time to eat my normal breakfast of scrambled eggs, chopped walnuts, and an oatmeal mix (with water, but sparingly) layered in what I call "egg pie." Most gag at the thought, but after years of having it all run together anyway, it occurred to add a little assist by stacking it.
Four hours before the start, I gulped a 20-ounce mix of the WA High Performance Meal Replacement vanilla shake — the flavor is that good. The shake insures I have enough calories and carbohydrates, along with a perfect supplement blend for me, to top off the tank before the race. Then, at about 90 minutes before the start, while driving to Phalen Park, site of today's festivities in the NE St. Paul area, I drank a 'Blaze.' We have adopted this name to represent the result of combining Wilderness Athlete's Energy and Focus pak with their Hydrate and Recover powder. That is about 16-ounces of liquid. That does it for the liquids.
Now I'm feeling really good as the Blaze's golden root kicks in. About 15 minutes before the send off, I consume a Wilderness Athlete Gel. Today I choose the Mountain Berry, which really excels in flavor in cooler temperatures. I am thinking of chilling some and dripping it on a scoop of ice cream like strawberry preserves on an ice cream sundae. Stay tuned for what I have planned to demonstrate how good their mocha gel tastes.
The King Boreas Winter Carnival Snowshoe Race was more fun than, say, a wedding at the Queen Mother's in May. The race is a natural to be included in the Dion Snowshoes Braveheart Snowshoe Series. Add a few more kilometers to the distance . . . and this race would be a drag strip of a course for a USSSA National Qualifier. Don't be surprised.
More photos of today's race: http://harmonizingkeys.blogspot.com/
USSSA www.snowshoeracing.com
Cute Moose: http://cutemoose.net/SnowshoeResults2011.htm
Race Information: http://www.zapevent.com/listactivities.aspx?eventid=1198
HARMONIZING: Keys to Living in the Song of Life
www.iHarmonizing.com
Write: Brad Ambassador Canham vientus@hotmail.com
Phillip Gary Smith: phillipgary@snowshoemag.com