Previewing the Dion United States National Snowshoe Championship race course at Lakewoods Resort — headquarters for all things championship like the reception, reunions, registration, race-start, rewards, relaxing — in Cable, Wisconsin the day before the big races brought on feelings of fun to be had and challenges to be faced.  The course was scenic and beautiful, lined with evergreens and a picturesque landscape on a great golf course.  But rolling hill after rolling hill let one know that fatigue could be a factor as the race went on and those two cliff-climbs let you know that the race course was no walk in the park.
The course was indeed designed to be difficult, though not as challenging as 2010's sugar-snow divot-marked ankle-busting snow in Syracuse.  Last year Syracuse had some long, challenging climbs, but this year Cable had more ups and downs with its roller-coaster landscape.  A few fresh inches of snow the day of the race led to a pretty packed-down course on the wet but firm track.  The temperature hung just around freezing (close to 30 degrees) with lots more snow coming down throughout the morning and afternoon.
The Juniors 5-kilometer raced first (9 a.m.), and then the Men's 10-kilometer championship ran an hour later (10 a.m.). By the time the Women's 10-kilometer race was underway (11:30 a.m.), the course was more hard-packed with some other parts chewed up. (photo Front Pack: L-R 79 Beck  114 Wenzel  110 Johnson  25 Hexum   86 Reneau   101 Hartmark)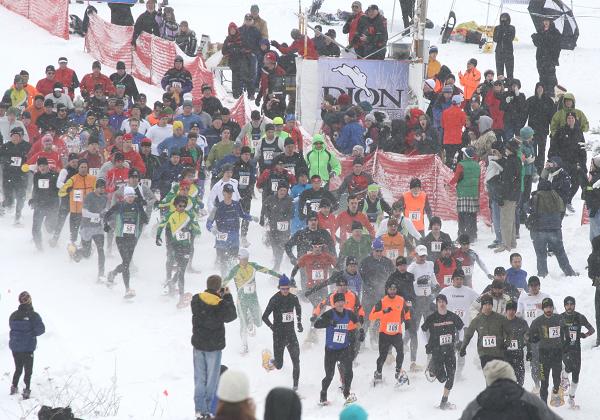 If one got out too fast on this 10-kilometer championship course, they paid for it going into an oxygen debt with struggles on the climbs on the dozens of hills encountered.  The start of the race was downhill and this led shortly to a tunnel of doom (well, if you started out too fast and got passed a lot after the tunnel, then this was the high-water mark of the race, going through its lowest point in elevation).
Going through the tunnel the first time was a unique experience, with a bit of sugary snow and a dark space met before seeing the hilly landscape on the other side of Highway M.
After about three miles of the loop on the south side of Highway M, racers passed back through the funnel that was the sugar-snow tunnel again, but this time, a quick left nearly straight up was in the forecast. (photo In Chase: L-R 50 Rubesch   4 Bolton   59 Sykora   37 Marietta   7 Brylski        71 Mischier   88  Ostrander   2 Jorde   54 Schuneman)
Some people tripped hiking up the first of the two cliff-climbs, but after a few dozen steps they were able to reach the top.  More rolling hills were faced on the north side of M and then eventually, after about 6 kilometers in, racers got to blast past the crowd on a downhill stride crossing the starting/finishing area.  Loved ones were able to cheer on their favorites who were around 60% into their competitive event in both time and distance
A second shorter loop led to perhaps the most daunting obstacle that most snowshoe racers ever faced, just over four miles into the race.  The second cliff-climb needed snowshoe cleats to be dug in hard like one was mountain-climbing and hands needed to be shaped like claws to pull oneself up that beast of a hill, where walking was nearly mandatory.
After this, the rest of the course seemed relatively easy, going on large switchback-style zigzags and more rolling hills.  Once this shorter loop met back up with the overlap of the original bigger outer loop, racers knew that they only had a few minutes left to make up ground on competitors before the finish.  Coming up the final steep hill before rounding about to the finish gave a feeling of accomplishment and joy, hearing the cowbells and crowd noise that led to a rousing finish with the great Mark Elmore calling out racer names and where they hailed from.
With this race being in Wisconsin, there were a significant amount of racers hailing from the dairy state, 92 of the 249 that competed, or 37%.  There was also a strong contingent from the Midwest overall (55 from Minnesota, 15 from Michigan, 8 from Iowa and 4 from Michigan) with 174 represented (70% from the Midwest).  Last year's proud state that held Nationals, New York, saw 28 strong racers make the trip (11%).  Colorado, Massachusetts, New Hampshire and Vermont made up the majority of the rest – there were other scattered parts of the country at this Nationals race, with most of the competitors generally coming from their own hot bed areas of snowshoeing.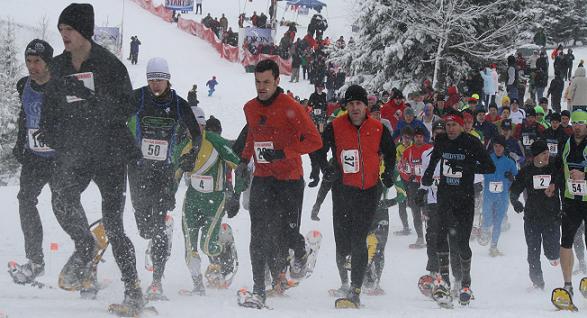 These tough competitors came from the plains and the mountains and other high altitudes.  Next year the Championships will be held in the Rockies, announced just hours after Cable's championship races to be in Frisco, Colorado, on March 10, 2012.  Frisco is known as the Main Street of the Rockies, where the elevation will be approximately 9000 feet, with tough climbs and low oxygen expected, and of course, an abundance of snow.
One knows the Frisco course will likely be difficult, but it would be tough to meet the challenging standards set at the Dion National Snowshoe Championships at Cable Wisconsin's Lakewoods Forest Ridges Golf Course on March 12, 2011.
Photos courtesy of Adam Speer including dramatic overview shot of Sr Men's Start
Additional information and results of these races are available at http://www.snowshoeracing.com/national_championship11.htm.
Any comments or thoughts about this race or story?  E-mail kris@snowshoemag.com.
For a free e-mail Snowshoe Magazine subscription, visit https://www.snowshoemag.com/subscribe.cfm.
This race was a part of the Braveheart Snowshoe Series, more information at www.uppermidwesttrailrunners.com and www.cutemoose.net.
See United States Snowshoe Association information at www.snowshoeracing.com.