A glorious and glamorous day dawned at the Snowbasin Resort, Ogden, Utah, for the running of the 2008 United States Snowshoe Association's Eighth annual PowerSox Championships. In a setting destined to be one of the all time greats for these races, and accommodations to match, racers from 19 states gathered to do battle on these pristine slopes. Adam Chase, Atlas Snowshoe Team Captain, quipped, "The site was beautiful and the lodge was almost too classy for the likes of us grungy snowshoer types."
Ah-Ha! The sport just graduated up another big notch with a major snow resort host and deep powder snow. Men are men, but the beautiful women of snowshoeing easily hold their own in the attractive resort crowd. "We were given top-notch service and it will be hard to match that in years to come." Mark Elmore, Sports Director and all-around-good guy of the USSSA, commented, "This year's Championship races were our best yet, combining the hospitality and beautiful venue at Snowbasin Resort along with the quality race management of Xterra Sports."
"It was a beautiful venue, set amidst snow-capped mountains in every direction," Jim Graupner, Minnesota's poetic snowshoer observed, "with the juxtaposition of an intense sun reflecting off the sparkling snow, while huge coniferous trees cast blue shadows over firm trails of crunchy ice crystals.
Snowbasin Resort, except for the massive-beamed chalet, avoids the commercialism de rigueur with most other ski resorts. It simply celebrates the pristine, natural reaches of the mountain range and provides excellent ski trails." Jim should know. He has likely visited more snowshoe sites this season than anyone.
Janet Clark, XTERRA President, reviewing the Championship weekend said, "We had a great time producing the U.S. Snowshoe Nationals at Snowbasin. Snowshoeing is a natural extension – a winter version – of trail running which is part of our fabric. We found that not only are the top (snowshoers) superb athletes, but snowshoeing is a great sport for all ages and abilities."
THE COURSE Described by BORAD member and past National Team member Cindy Brochman as a two loops, "a blue and a green course, with the green section a repeat of the XTERRA Winter World Championships held the day before. Having this much single track on the layout made it challenging, but a lot of fun, too."
Commenting for the Atlas Team (picture), Adam Chase: "The course was well marked and thought out so that we racers had plenty of everything, and it remained entertaining and challenging throughout the race. What made this year exceptional was the combination of the classy venue of Snowbasin and the cracker jack race organization and promotion of the XTERRA outfit and GOAL." Adam explained that GOAL is the acronym for 'Greater Ogden Athletic Legacy,' a regional group that pitched in with organizational assistance and volunteers.
"The 10K course was balanced between groomed ski runs and wild, technical single-track trails coursing circuitously up and down through the trees along the mountain sides," described Jim Graupner. "Although challenging, it certainly wasn't off-the-charts difficult. I thought it was nearly ideal and what one might expect for a National Championship." Some courses make it difficult for the talented racers to 'get away' if you will from us more modest in ability, but Jim felt "The long downhill orientation of the start ensured that elite runners could position themselves for the single-tracked portions of the course, which alternated periodically with groomed portions, inviting runners to break out to pass slower competitors."
Having a race course that has multiple loops, cutbacks, and returns where spectators and media can view the racers several times is key to a fan friendly layout. Eventually everyone will wear video chips so the race is broadcast in its entirety, but we're not quite there . . . yet. Racers times, though, were managed by chips. THE USSSA 2008 NATIONAL TEAMS / MEN As the senior men's and women's teams are made up from the top five finishers in their individual championship races, results begin with these two groups.
The 2008 overall Men's Champion, winning for the third time, is Josiah Middaugh of Vail, Colorado, with his sizzling time of 45:55. Josiah was the 2002 and 2003 USSSA Men's Champion and came within a ski flag of winning the prior day's XTERRA Winter World Championships.
This victory makes him the sport's only three time champion, now surpassing the two (2006 and 2007) Championships by Greg Hexum, Esko, Minnesota. Dave Dunham, MA (2001), Greg Krause, CO (2004), and Aaron Robertson, NY (2005) each have won a National Championship title. Jeffrey Beck (see picture), Fairport, New York, gave the East Coast great bragging rights with a strong second at 47:17.
This is Jeff's second runner-up finish in as many years, putting him in strong contention for winning the 2009 banner. Previously in the only other case of a runner-up finisher winning a championship, Dave Dunham's 2001 National Championship was followed in 2002 by a runner-up spot. At 26 years old, Jeff Beck has all of the earmarks to be a multiple year champion. Scott Gall, Cedar Rapids, Iowa, said at the Snowshoe Shuffle Qualifier in Minneapolis he felt his years living in Colorado had acclimated him to the altitude, and he had no trouble racing there. With a 47:32 and third overall, his performance proved him correct.
Now joining the National Team for the second time, Scott is a real ambassador for the sport (along with wife, Sarah, see below) as they race their Atlas snowshoes in numerous qualifiers in the Iowa/Wisconsin/Minnesota snowshoe triangle. Two time National Champion, Greg Hexum, said he was particularly impressed with Scott's effort, and felt that Josiah and Jeff were tremendously strong during the race. "All three are phenomenal competitors at any elevation."
Remember, National Team members past and present are seeded in the National Championships and as such are not required to race in a qualifying event. Many of the Team do enter and compete in those (and other) snowshoe races, and their efforts to do so should be applauded by all snowshoe enthusiasts. Scott and Sarah easily travelled several 1000s of miles driving to and from various races, often bringing friend Kasey Schmitt (class bronze medalist in Nationals) and others with them.
National Team presence at a race raises the level of competition and the level of expectation of the race, increases awareness of the importance of the qualifiers among the pack, race organizers, plus volunteers, and reflects the dedication and appreciation of the participating National Team members to their sport. All should thank the National Team members for coming out and participating at a Qualifier when you see them at a race. Go ahead, embarrass them – ask for an autograph on your snowshoe (bring your own Sharpie, though). Fourth place overall and the fourth member of the Men's National Team from Littleton, Colorado, is Greg Krause.
The 2004 National Men's Champion, this is Greg's second tenure on the Team. Logan Wealing (picture), Colorado Springs, Colorado, rounds out the team and was the last person to finish the race under 48 minutes. There were only 41 seconds separating 2nd through 5th place. This is Logan's first year on the National Team. Greg Hexum, now a two-time past champion, finished 8th in this Eighth edition of the National Championships at 50:02, just missing the 49 minute marker.
Greg spends a lot of time on snowshoes and climbing mountains; he raced the Northwood Qualifier in Duluth held on a bitterly cold day in January. Unless one has acclimation to altitude one's effort is going to suffer. Greg would never make an excuse but I know in talking with him privately that the mile high difference hurt his performance.
It is just the way it is. Since Duluth is the new Boulder, perhaps a deal could be worked out with city support that would benefit the coffers of the USSSA and hold multiple year Championship races at that locale . . . affordable, non altitude, lots of snow, plenty of opportunity to build a race 'following,' and, of course, the infamous spirits of Gitchee Gumee in the air. Longfellow might even reappear to encourage snowshoers in his famed forests. Bill Raitter, Reno, Nevada, 2007 Men's National Team member for the second time, finished seconds behind Greg for 9th place.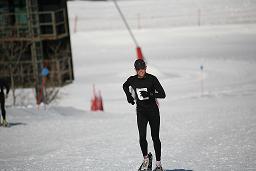 Kelly Mortenson, 2007 Men's National Team member, did not race. So the makeup on the 2008 Men's group is: two returning members from 2007, two former members rejoining the team, and one brand new addition. Special mention goes to Bernie Boettcher, Silt, Colorado, who just missed the cut at sixth place.
National Team member in 2003 and 2004, Bernie also finished sixth in 2007, just missing the team by less than a half minute, seventh in 2006, and ninth in 2002. For the Master snowshoe crowd, Bernie is the poster boy of accomplishment and is a factor every year.
THE 2008 USSSA NATIONAL TEAMS / WOMEN Looking every bit the champion she is, Keri Nelson, Grand Junction, Colorado, zipped to a comfortable 57:05 finish and won the Women's USSSA National Championship for 2008. Losing by only 43 seconds to famed snowshoer and four-time Champion Nikki Kimball at the 2007 National championship, and claiming the runner-up crown, Keri put everyone on notice. In the sport of snowshoe racing, she will be a force to be reckoned with for years to come.
Lindsay Krause, now featured on the intro page at the United States Snowshoe Association web site with her Atlas Snowshoe Racing outfit, captured 2nd overall and joined the National Team for the first time. Lindsay's home is Littleton, Colorado. Sarah Raitter, Reno, Nevada, now ranks as the most senior of the Women's National Team as her third place finish will earn a third time on the Team. She took third place at the 2007 Championships in Minneapolis and was fourth in Vermont's 2006 Championship race.
Avenging her sixth place 2007 finish, one spot from making the team, Sarah Gall joins the National Team for the first time. She just missed getting her Atlas Racers over the line in under one hour. A fixture on the Qualifier circuit, Sarah displayed the Atlas colors at Rib Lake's Snowshoe Adventure, The Iowa State Snowshoe Championships, and the Minneapolis Snowshoe Shuffle. She and Scott operate a popular athletic store, The Runner's Flat, in Cedar Falls, Iowa.
The new name, with both on the National Teams, may have to be changed to 'The Snowshoe and Runner's Flat.' In her first ever USSSA National Snowshoe Race, Sonja Wieck, Greenwood Village, Colorado, finished seconds behind Sarah to claim the firth and last spot on the National Team. 2007 National Team members Nikki Kimball, Bozeman, Montana, did not race (reportedly due to injury) and Erin Ward, St. Paul, MN was not in the field. Laurie Lambert, Austin, Texas, proclaimed by Snowshoe Magazine as 'Miss Texas Snowshoe,' an unofficial title based on her enthusiasm for the sport, relinquished her position on the team with a 7th place finish.
She was also a Team member in 2005 and is always a factor. So the Women's National Team for 2008 will have two returning members from 2007, Keri Nelson and Sarah Raitter, along with new Team members with freshman status, Lindsay Krause, Sarah Gall and Sonja Wieck – but with lots of snowshoe racing experience.
The tough luck sixth place finisher, Karen Melliar-Smith, Denver, Colorado, missed making the team for her second stint by one position. Karen was second to Nikki Kimball in the 2005 National Championship. Cynthia Brochman, Maplewood, Minnesota, 2005 and 2006 National Team member, rated a top ten finish at ninth, behind Myra Klettke of Lake Oswego, Oregon. Cynthia reported that she was "pleased with my finish.
Lots of cross country skiing with (husband and Olympic XC Racer) Kevin has been a lot of fun, and good training, this winter." As Race Director for the very successful Minneapolis 2007 National Championships, Cindy had nothing but praise for this eighth edition, exclaiming "It was a beautiful day and beautiful course." OTHER RACERS/RACES/OBSERVATIONS The Atlas team (picture) has several 'Uber Couples,' as Adam Chase, team captain, terms them: married couples who race snowshoes together. The happy couples include the Galls, Krauses, Raitters, and McMahans.
"Speed attracts, I reckon," Adam concluded. The XTERRA Winter World Championships, held on Saturday, the day before the Sunday USSSA Championships, drew a number of the snowshoe competitors including Keri Nelson Josiah Middaugh (both winning on Sunday), Greg Krause, Ross McMahan and Adam Chase, among others. Sarah McMahan won the snowboard 'dash for cash' on Friday. Adam lamented, "I was painfully aware . . . of the toll of Saturday's race . . . when it came to running up the first hill on Sunday morning."
It is only right that the guy who participated in the most Qualifying Races for 2008 (six or so), Jim Graupner, Lake Elmo, Minnesota, repeated this year as the Gold medalist in the 60-65 group for the fourth time straight, starting back at the 2005 Anchorage National Event. In doing so, he crossed the finish ahead of some younger-class gold medalists. Snowshoers as a group are some of the nicest people around – perhaps because we're often ignored? – but Jim is a ten on that scale.
His example of participating in multiple Qualifiers is one we all should support . . . maybe that's one reason he is so quick! Mark Elmore, USSSA Sports Director, doesn't get enough credit for all he does for the sport of snowshoeing. He has many masters to report to and so when you have an idea that doesn't get acted on immediately, perhaps there is a reason that is beyond his control. In a sometimes thankless position, this is a formal 'Thank You' from all of the snowshoe enthusiasts wanting the USSSA and its National Championships to grow.
Give credit for Colorado for having the most competitors at the National Event and taking home the bulk of medals. Recognition, too, for the Empire State, New York, for having a double digit contingent make the trek. It would have been poetic if next in line would have been the West Coast representative, California, so both coasts and the middle were represented in symmetrical order but tiny Minnesota crowded in.
Utah tied with California with seven competitors, and then Wisconsin and Nevada both had six, Michigan and Oregon four, with Iowa, Massachusetts and Vermont having three each. Antonio Holguin had the honor of not only being the only representative from South Carolina, he also represented his home country of Mexico and was the sole 'foreign' entry in the Championship race. Antonio travels to Minneapolis to qualify at the Snowshoe Shuffle on the last day of the season, having done so now for several years.
This year he brought along his fiancée. He finished 13th in Snowbasin. Several race directors of qualifying events also competed, including Patty Struve (Jazz Trax) and John Stauffer (Auburn Snowshoe Challenge). If others were there and I missed them, email and let me know. Snowshoe entrepreneurs, Denise and Bob Dion, Readsboro, Vermont, had a strong group racing with their snowshoes.
Bob won an age class silver medal and Denise raced well in a strong women's group. "It's clear that the XTERRA 'live more' philosophy is at work with this great group of snowshoers," says XTERRA President Janet Clark, "They were pushing their limits in magnificent conditions at Snowbasin. The races were fun to watch, inspiring and had a great vibe." Special recognition needs to be made for the efforts of USSSA webmaster, Stephen Cobb, in his many improvements and enhancements made to the www.snowshoeracing.com site in this race year. He is creative in his approach and comes up with the darndest ideas that upgrade the visual and informational use of the web pages.
The historical information is tremendous. Returning after a one year layoff, the sole Wyoming racer, Brent Weigner, scored a class bronze medal. Starting in 2003, Brent medaled each year, winning his class gold that first year and 2005. He qualified this year at the Colorado State Snowshoe Championships in Leadville. International snowshoer with many intriguing stories, Brent may share them with you for a glass of red wine.
Richard Busa, Marlboro, Massachusetts, was the oldest (and only) entrant in the 75+ class, with a gold souvenir for his great effort. He Qualified at the Camp Saratoga Snowshoe Race, Wilton, New York and the Sidehiller Snowshoe Race, Sandwich, New Hampshire. John Elliott, Columbia, Maryland, in his first National Championship race, won the gold in the 70-74 category. His Qualifier was the Pennsylvania Snowshoe State Championship. The most Senior Women's class was won by Chary Griffin, Cazenovia, New York, who Qualified at the Mendon Ponds Winterfest in New York, and was followed by Tina Oberheide, Frisco, Colorado. She used the Gold Run Swift Skedaddle in Breckenridge as her Qualifier.
Tim Dusick was memorialized with a scattering of ashes Saturday in a poignant ceremony, albeit low-profile, on part of the trail that included the National Championship route. Dave Sykora, Green Bay, Wisconsin, led a group of Tim's friends and arranged the observance. The breeze drifting through at the time was interpreted as a feeling of recognition from a higher power of the sense of the rite. "During the Award's Ceremony, Sunday afternoon," Jim Graupner reported, "Mark Elmore shared that moment by mentioning that all the runners had passed through that beautiful spot and suggesting that Timmy would have been very pleased." You can read about Tim Dusick at: www.leadertelegram.com/story-news_local.asp?id=BFO7P24HAGN and www.snowshoemag.com/view_content.cfm?content_id=390.
The USSSA 2008 Qualifying season was made up of 21 events throughout America's snowbelt. It is an annual ritual of winter, getting qualified for the next USSSA National Championship. It is important to recognize the entrepreneurial work these Race Directors perform, along with strong volunteer support, to pull this off. Then there is the yeoman's effort of the organizing committee who risk life and limb, metaphorically, to cast the moving target, the National Championship.
It is implicit in snowshoeing that we who enjoy also must be the 'we who volunteer.' The season also marked the first time race reports were provided for (almost) all of the 21 Qualifiers. The Race Directors have so much to do, and, get this; they live lives outside of snowshoeing (!); what gives? Yet they graciously forwarded race information, photos, provided valuable contacts and were the reason that you got to read about the race you just participated in, just like those big weekend sports events.
Thanks, too, for Stephen Cobb for arranging the USSSA site so one can latch on to the race reports. Thanks to Steve, this is the second year the National Championship Race Report will be available at the USSSA for you to read.
Ryan Alford, Snowshoe Magazine publisher, is all for growing this great sport and sharing his content. You don't think there is variety in snowshoe racing? Go back and read these accounts. You'll get the snowshoe bug to hang it all up, get the van, and spend next winter travelling from Qualifier to Qualifier. Starting with the new Rib Lake Adventure Snowshoe Race, as the first race of the season it can morph into our 'Daytona' in a way, you can travel all over the country enjoying beautiful terrain, great people, and snowshoe race to beat-the-band! Just what the Doctor would order . . . .
Some of the best races occur back in the pack in both fields, although the National Team / Men's Race for the top five positions would be hard to beat. Others in the men's event were: Positions 7-9, Aaron Robertson, Greg Hexum and Bill Raitter separated by 40 seconds. Positions 24-25, John Kann and Mark Rickman, separated by a couple of ticks. Positions 26-30, Bob Dion, Jason Reed, Edward Myers, Jim Graupner, Peter Wood, separated by less than 55 seconds (and note that Jim Graupner edged Peter Wood here after the roles were reversed in a tight finish at the Rail Trail Utah Qualifier) . 33-36, Scott Hull, Steve Heil, Brent Weigner, and Chris Miller, separated by less than 15 seconds. In the women's race: positions 9-11, Cynthia Brochman, Sarah McMahan, and Rachel Cieslewicz, separated by less than 45 seconds. # 21-22, Cindy Cain and Andrea Kinzey-Wheeler, less than 4 seconds.
Leave it to Greg Hexum to put snowshoe racing in its proper perspective. He was the one who pointed out at the ultra frigid Northwood Qualifier "There is nothing like the weather to remind me that I am alive," a particularly adept comment as the field chiseled the cold off. How about giving up the Championship? "There is something special about getting beat down in a competition while wearing the #1 bib on one's chest. I always appreciate how blessed I am simply to be able to compete, sweat, and be fit after having to swallow my ego and recognize the men who were my betters.
Taking the crooked with the straights is a part of the endurance life." A core group of Junior snowshoe racers lined up for their 5km Championship event but the field was thin at this level. The under 19 age group requires a different effort to fill the field, as Cynthia and Kevin Brochman did in Minneapolis, but the group that raced has a lot of experience. Zachary Rivers, Victor, New York, won the overall Junior Gold after winning runner-up in 2007 and placing 4th in Vermont in 2006. Joshua Courtright, Blanchard, Michigan, took runner-up. Alyssa Smith, Rochester, New York, won the Junior Girl's Championship.
Gretchen Nace, fifth place in 2007, won the runner-up slot, edging 2007 runner-up Michayla Heil, Medford, Wisconsin. Now, to get ready for the 2009 Snowshoe Championship, March 7th, destination to be announced later, all are invited to do their cross training on the trails this summer. For the race results, visit www.snowshoeracing.com/national_championship08.htm. United States Snowshoe Association – www.snowshoeracing.com Phillip Gary Smith – www.ultrasuperior.com
Photos by Gene Murrieta.