Landing in Lukla, one of the world's most dangerous airports, is an experience I won't soon forget. Flying amongst the tallest mountains in the world in a tiny Twin Otter plane, we soon spot the airstrip that Edmund Hillary built in Nepal's remote Khumbu Valley. When you're landing, the alarmingly short airstrip slopes upward so gravity will help slow you down. It's a good thing as there's a hard stop at the end, the side of a mountain.
My husband and I are here to fulfill a lifelong dream, to follow in the footsteps of Hillary and others who have felt the pull of Mount Everest, the highest point on the planet. As a child, I was fascinated by stories of big adventures, especially if they involved mountains. I revered Edmund Hillary and Tenzing Norgay for being the first humans to stand on Everest, and later for their humanitarian work in the Khumbu Valley that leads to Mount Everest.
We will spend the next two weeks hiking through villages, meeting local people and visiting monasteries, our destination being Everest Base Camp. Everest evokes a wide gambit of human behaviour and I am unsure where we fit in. Its snowy face has witnessed heroism, stupidity, egotism, athleticism, adoration and spectacle. I do know that we have a strong respect for both the beauty and power of Chomulungma, as the local Sherpa people refer to Everest. We can't wait to get started.
In Lukla, we join our fellow trekkers, support crew and the yaks who will carry our gear. Walking is scenic and enjoyable as we follow the Dudh Kosi River through a valley studded with small villages. All is idyllic and wonderful for a total of two hours. Then I start projectile vomiting. It's been just long enough for my digestive system to register that I've eaten in Kathmandu. Kathmandu food is notorious for wrecking havoc with Western stomachs. After an ugly death march to our camp, I crawl into the tent and sleep in my dusty hiking clothes for the next 14 hours. I fear my trek is over before it's barely begun.
The next day I'm shaky but determined to continue. Encouraged by our first views of Everest, we settle into the rhythm of a world away from cars where all travel is done by foot. We ascend 2700 feet to the Sherpa village of Namche Bazar where we'll spend an extra day for acclimatization. Ascending slowly and taking rest days is key to helping our bodies adapt to the reduced oxygen levels.
I'm feeling stronger two days later when we start the long slog out of Namche before descending slightly to the village of Khumjung. Situated in a basin-like valley, Khumjung is a neat and orderly town of stone fences and potato fields. The most prominent grouping of buildings is the school built by Edmund Hillary. Several of our Sherpa guides grew up in the Khumbu Region and walked many hilly miles from other villages to attend school at Khumjung.
After visiting Khumjung, we ascend steadily, stopping frequently to gasp for breath as the air becomes progressively thinner. The toughest part of the day is our final hour-long climb to an elevation of 13,000 feet, where we have lunch on Moung La Pass. I lay down on a stone fence at the top to recover my breath.
After lunch we descend to a riverside campsite. Since it is warm and beautiful when we arrive, we decide to soak our feet in the river. Wow … refreshing! They become numb instantly upon touching the water. At least I can now say I've washed my feet in Everest's glacial runoff.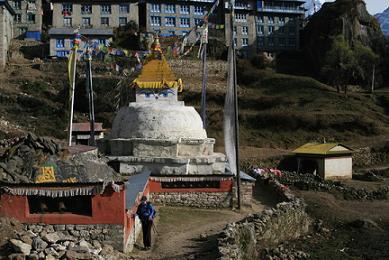 In the days that follow, our expedition moves farther into the Khumbu to Dingboche, a cold and windswept town where we will base ourselves for two nights for more acclimatization. Everyone on our team is suffering from some type of minor affliction, which is normal at this elevation. I am now eating well but, along with others, have succumbed to the Khumbu Cough, a dry hacking cough caused by over-exertion at high altitudes. I have taken to wearing a bandanna over my mouth and nose to provide protection from the cold air and the dust kicked up by the yaks.
As we climb higher, the nights are getting progressively colder. Water bottles and towels freeze solid in the tents. One evening as I am coughing hard and can't shake the chill from my body, I briefly wonder why I subject myself to such punishment. The answer comes quickly as I watch the sun set over Lhotse, the peak immediately adjacent to Everest. The clouds shift and glow with a bright pink light in contrast to the stark white glaciers on the mountain.
Leaving Dingboche, we continue across a long saddle of alpine scrub and yak pastures. Far below on our left is a river fed by a blue glacial lake, and we see the peaks of Pumori and others against the cloudless blue sky. It is cold all day and, at over 15,000 feet elevation, we are moving so slowly that I don't get warm. I am wearing two hats and a hood to combat the cold and wind.
On a bleak windy ridge we encounter a memorial dedicated to people who have died on Everest. It consists of a row of simple stone cairns, each with a small plaque stating the climber's details. I am reminded of Jon Krakauer's well-known book Into Thin Air, that describes events surrounding the 1996 snowstorm on Everest that killed several people.
The following day we approach Everest Base Camp, following the course of the massive Khumbu Glacier with its huge crevasses and glacial moraine. Base Camp, at an elevation in excess of 17,000 feet, is empty when we finally arrive, as it is off-season for climbing. The site is a vast and irregular jumble of rock and ice. To me, this spot represents everything that is difficult, uncomfortable, charismatic and beautiful about Everest. As the wind howls across the broken landscape and the peaks shimmer overhead, I think about this as the launch point for so many human dreams and tragedies, especially for those who will attempt that ultimate goal, the summit of Mount Everest. I wonder how I fit into this drama. I feel physically weakened but strangely exhilarated in this place. Although I have trained hard to achieve my own goal of reaching Base Camp, I find myself completely at peace and in awe of my surroundings with little thought of personal accomplishment.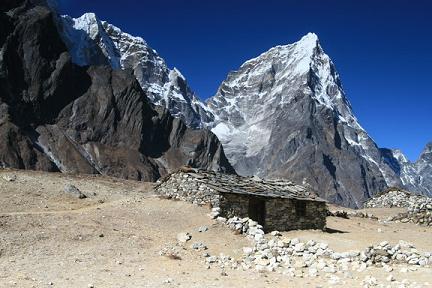 In the days that follow, we slowly descend to warmer and more oxygen-rich air. I never tire of the dramatic terrain that continues to dominate our views, while we also embrace opportunities for cultural interaction. We camp at Tengboche, a small village whose main reason for being is the Buddhist monastery located here. We feel honoured to have an audience with the Rinpoche of the monastery who blesses white scarves for each of us and places them around our necks. We feel our expedition has been a success.
We waken to the sound of gongs calling the monks to prayer at Tengboche Monastery, and later in the day arrive back in Namche Bazar. We left Namche ten days ago to travel deep into the Khumbu, and it seems large and bustling to us now. To celebrate, we buy a yak bell.
Two days later we are in Lukla and enjoying the warmer weather we have been craving. Our bodies are slowly recovering and finally we feel some sense of satisfaction for having done what we set out to do. Strangely, this is mixed with an odd feeling of loss for me. I have been reading about and planning to go to Everest for my entire life, and. now that I have experienced it, I must replace that anticipation with memories.
Practical Information:
We organized our trek with REI Adventures (http://www.rei.com/adventures), who also efficiently managed our flight arrangements as well as gear and training advice. Even when our homebound flights were cancelled due to political unrest in Bangkok, REI's U.S. and Nepal staff worked tirelessly to book us on alternate flights at minimal cost to us. Nima, our trip leader, speaks excellent English, and our entire crew were helpful, courteous and friendly.