Nothing is more important to me when snowshoeing that I have the proper gear and that I stay warm. Living in an area where temperatures are commonly -4 Fahrenheit, I have to make sure I am properly insulated and not overdressed. After years and years of trying out different gear from socks to layers to coats to boots this winter was finally a success in terms of being comfortable, dry and most importantly warm!
There are a few key items I couldn't have lived without this winter; from head to toe.
My Quebec City Original Hat
I never did quite realize how important hats were until this year. I have been getting away with my old faithful hat that is at least 10 years old and never thought twice about why it didn't keep me particularly warm. That is until I got a new hat. Lucky for me, I was given this hat on a press trip to Quebec City and once it was on, I didn't take it off. Soft fleece lines the inside of the hat as the base layer with another layer on top. The fleece ensured that my ears stayed warm during those 60mph winds I faced all year. The pom-pom on the top was just an added bonus. Where you can buy this; I have no idea but you can probably only find it in Quebec.
My Bambool Thermics Base Layers
This new company from Colorado is currently producing my favorite base layers on the market. Made from a combination of bamboo and merino wool; hence the name Bambool, this fabric is host to a number of superior qualities I haven't been able to find elsewhere. Hypo-allergenic, anti-bacterial, moisture-wicking and incredibly soft are just a few of my favourite things. The fact that these layers don't feel like anything once they are on is amazing. My biggest pet peeve about base layers is that they are often heavy and not as slim fitting as I want them to be; or they cause me to sweat and therefore I get cold quickly. Bambool Thermics surprised me and I can't wait to try them out more next season. Find out more at www.bamboolthermics.com.
My Montebello Canada Goose Jacket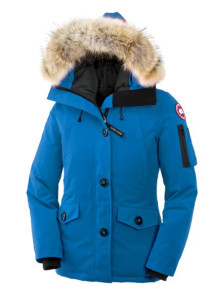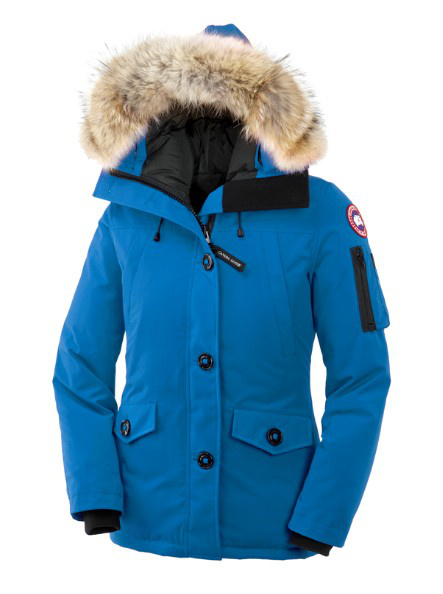 This jacket literally saved my life this winter; okay maybe not literally but truth be told I am not sure I would have ventured into the outdoors as much as I did if I didn't have it. Canada Goose is close to home for me and not only do I love supporting local companies, but I love the openness and honesty that this company has. For those who have never heard of them, do a quick Google search of them. This particular jacket I have was perfect for cold -4 days when the wind was whipping around and the snow was falling heavily, but I am also still wearing it when the weather is warming as I don't sweat it in. The fleece lined pockets kept my hands warm in case I forgot gloves. The inside pockets kept my cell phone and snacks from freezing and the outside arm pocket was perfect for my lip gloss. I got the coat because it is bright blue and I like to make a statement and the colour is perfect without being too much; enough that people compliment me on it but not over the top. The fur-lined hood wraps around my whole face to keep me snuggled in and warm and without this coat I don't know how I would have survived. Find out more at www.canada-goose.com/.
My Snowshoes….the many pairs
My favourite part about winter is the amount of time I get to be out on my snowshoes and this winter disappointed in terms of snowfall. I had three new pairs of snowshoes just mocking me from the door where they sat for a lot of the season. But low and behold the skies opened up and snow started falling and I got the chance to get out on these more than I thought.
Up first are my TSL Symbioz; a hyper flex unique snowshoe with an ergonomic binding. I had the opportunity to take these snowshoes out a lot this winter and they travelled with me across the country to Oregon. Not only are these snowshoes comfortable but they are easy to get on. I love the fact that I can adjust the binding to my foot size and it remains like that. A couple quick buckles to tighten and you are up and on your way with these bad boys. The crampons at the front and along the sides provided the ultimate grip when I was going up or down hills and the heel lift is just an added bonus. These are the most flexible snowshoes I have ever worn and one of my favourite. See more at http://www.tsloutdoor.com/en/symbioz.php.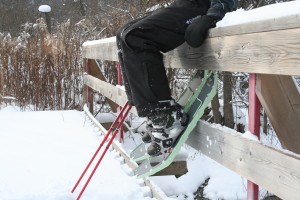 Next up were my new MSR lightening Ascents; an extremely light snowshoe designed specifically for women. And they didn't disappoint in terms of lightness. It barely felt like I had anything at all on my feet even after wearing these for a full 6 hours. Speaking about being in these snowshoes for so long not once did I encounter binding problems. They remained secured and un-frozen every time I took them out, regardless of how long I was on them. They performed extremely well in moderate snow levels and I love the fact of how portable they are. Find them at http://www.cascadedesigns.com/msr/snowshoes/ascent-snowshoes/lightning-ascent-snowshoes/product.
Lastly I was privileged enough to have a pair of Fimbulvetr snowshoes that I couldn't wait to take into the deep snow and feel like I was part of the Norwegian Army; as this is their choice of snowshoe. Unfortunately, we didn't get quite the snow we are used to here but I decided to take them out a number of times to get a feel for them. These are almost double the size of my TSL's in terms of width and I was quite concerned I would have a hard time as my stride isn't exactly large. These snowshoes surprised and delighted me though. They are durable, super easy to secure on, lightweight and fully recyclable. I can only imagine how well they perform in the deep snow of the backcountry and I will find out for sure next year when I go searching for that perfect powder. For now though; these already have exceeded my expectations and the company itself is based on values and principles I agree with and thus although I love to support local I also love to support people who are making a difference in this world. See more about them at http://www.fimbulvetr.no/.
My accessories
I am outdoor lover who doesn't care about getting dirty. I may be known to skip a shower every now and again, but it doesn't mean I don't love my accessories. In particular I have a thing for travel mugs and water bottles. Call me crazy, but having the perfect water bottle to sling around with me when I am out for a day's trek just makes me life a lot better. So let me tell you, I was overjoyed when I found the perfect water bottle. A company located in Oregon is making bottles called Hydro Flask. These amazing stainless steel double walled vacuum insulated bottles seriously changed my outlook on water bottles. They are BPA-free, made of a food grade stainless steel and the best part; they are sweat free. The most aggravating thing to me is when I throw my bottle in my knapsack only to pull it out hours later and it has sweat on all of my stuff inside my bag. Solution=Hydro Flask.  Did I mention they come in fun colours like bright pink, they are available in numerous sizes and they have a charitable program? Stop reading this and go and purchase one now. You won't regret it. Find out more at http://www.hydroflask.com/.
There you have it; my most favorite products this year that I wouldn't want to live without! Do yourself a favor and invest in them before the next winter hits.