(Note: This article was co-written by Luke Harris.)
After transitioning from roads to trails, one of the more important pieces of advice we learned from our trail running experts was that your shoes matter. Unlike road shoes, trail running shoes are specifically designed to take a beating.
The technique, of course, is important too. However, the right shoe can help you navigate loose rock and scree, splash through puddles, and stay on your feet in all kinds of mucky terrain.
This fall Anna took to the sunny (and quickly snowy) trails in the Pacific Northwest while Luke hit the hills in Nevada. And while there's no such thing as the perfect shoe for everyone, here's our roundup of the ones we found pretty great.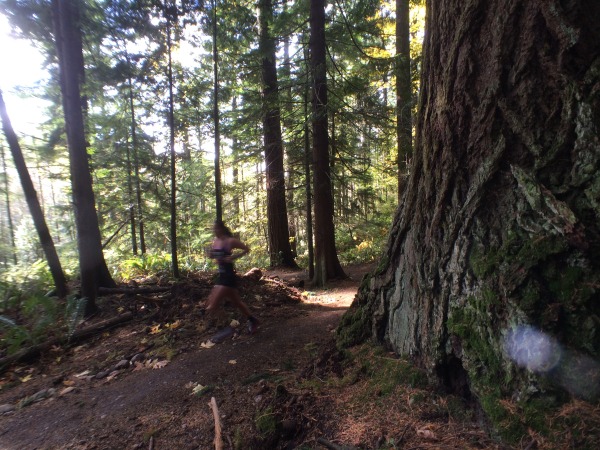 Women's Trail Running Shoes
HOKA ONE ONE Mafate Speeds
9.6 OZ, $170, hokaoneone.com
If you haven't already, it's time to let go of how Hokas look and start focusing on how they feel. While running this year's Leadville Trail Marathon I passed a pair of guys at mile 20 running in them – they couldn't believe how great they still felt. The Mafates don't feel as cushiony as you might expect when you first put them on, but they were designed for long trail runs and that's where they really excelled. Our tester (who broke every bone in her ankle last spring) raved about them after running a fall ultramarathon on frozen trails. She praised the stability of the platform and the roomy feel, noting that she felt in control at all times. "And the quick laces didn't loosen up even after seven hours out on the trail – which they can be known to do." The shoes rubbed a little on the achilles, so be sure to wear high socks until you've broken them in.
NEW BALANCE Leadville 1210v2*
8.7 OZ, $125, newbalance.com
The second version of the Leadville features an improved sock liner and the same great gusseted tongue that keeps out dirt and debris. The shoe is sturdy on unsteady terrain and feels secure on the foot. It's not a cushiony as the Fresh Foam, but it's equipped to take a beating. The Vibram outsole and solid toe box are designed for both traction and protection, which makes sense as Leadville terrain is brutal. We tackled loose rocks and scree without thinking twice in these.
NEW BALANCE Fresh Foam 980 Trail
8.1 OZ, $110
The trail edition of the popular Fresh Foam road shoe provide a pillowy feel and a stable ride. Our tester wore these during a rainy and mountainous half marathon in the Pacific Northwest. The seamless upper made her toes feel freer, while the lightweight shoe made dodging rocks and tree stumps easy even with tired legs. "Even though it was a more-cushioned shoe I didn't feel unsteady on uneven terrain and found it to be pretty stable for a neutral shoe."
ASICS Gel-FujiPro*
8.7 OZ, $120
The FujiPro is a light and fast shoe, and new for Spring 2015 (as is the Attack, below). It's built to mimic the Gel-DS Trainer series in Asics' road shoe line, and it feels that way too. The materials proved tough, but also quite thin (in a good way). I took this pair out for a seven-mile run on muddy trails with some patchy snow and found them secure on both kinds of terrain. The mesh panels are breathable, but also do a good job at keeping out the spray from small puddles and melting snow. The solid toe box was helpful when speeding through rocky terrain. All in all it's a fast shoe for comfort and stability in a wide variety of surfaces and conditions.
ASICS Gel-Fuji Attack 4*
9.5OZ, $110, asics.com
I broke the rules while testing the Fuji Attack by taking them straight from the box to the start line of a trail 50k that had 5,500 feet of elevation gain. The shoe performed well on the rolling terrain, from frozen mud to loose scree fields, and didn't give me any blisters. At 9.5 ounces the pair is slightly heavier than some of the others on this list, but it was negligible; this shoe was plenty agile. And while It's not as cushiony as the Fuji Trainer 3 (one of my all-time-favorite trail shoes), it provided more stability on rough terrain. The Attack is a good go-to trail shoe for a variety of conditions, and proved good enough for a fourth place finish.
MERRELL All Out Rush
7.2 OZ, $120
The All Out Rush feels light and minimal on the foot, but has some serious traction. I felt minor discomfort in the arch, but our other testers did not have that problem. "The All Out Rush performed well on my favorite mountain loop," said one of our testers. "It was durable and I felt secure speeding through unstable terrain. I haven't run trails in a shoe that felt this light before." We liked the protective toecap (for when we scrambled over rocks) and the breathable and lightweight upper.
SALOMON FELLRAISER
5.5 OZ, $110, salomon.com
I ski almost exclusively in Salomon products, but had never run in their shoes before so I didn't know what to expect. The Fellraisers look intense and boast a performance to match. The most serious and the lightest in the bunch, this shoe was also among the most rugged and comfortable shoes we tested. The tooth-like traction gripped terrain without slipping and had plenty of mesh for breathability. This would be an excellent shoe for trails that are on the verge of requiring running crampons, as they kept me sure-footed on an icy December run. Like the Hokas, they have a pull-tie lace system that stayed tight and didn't need readjusting. In short, these shoes ripped on messy, rugged, and technical terrain and were easily one of my favorites.
MEN'S
New Balance Fresh Foam Trail
10.3 OZ, $110, newbalance.com
The sole on this shoe looks like something from a Science Fiction movie, and in a good way. The Fresh Foam clung to the slickest of rocks. I took my first run in them during a downpour and had no trouble on a notorious slick stretch of flagstone rock. These were seriously cushiony and lightweight enough to feel fast. And if you want to look good setting that PR, they're also quite stylish. You might feel a little under-gunned on especially long runs, but these shoes are excellent for a variety of terrain and offer a good deal of protection.
New Balance Leadville MT1210V2*
10.3 OZ, $125, newbalance.com
If you're headed out for a long run on technical terrain (say the Leadville 100) then this is your shoe. The Vibram sole felt sturdy enough to use for anything from ultramarathons to weekend backpacking. It wasn't as cushiony as the Fresh Foam, but made up for that (and then some) in durability. The toe protection feature was excellent when I accidentally rammed my toes into an unforgiving boulder at the end of a long run.
Asics Fuji Attack 4*
11.4 OZ, $110, asics.com
Full disclosure, Asics have always been a favorite of mine. The comfort and durability of this brand have kept me coming back and the Attack 4 is no exception. This shoe provides the same classic comfort Gel Technology that Asics are known for, and also manages to be lightweight while boasting a durable sole. I found these shoes to be both fast and secure on the trails outside of Reno.
Asics Fuji Pro*
10.5 OZ, $120, asics.com
The Fuji Pro was the most comfortable of the bunch, providing excellent cushion. This shoe is designed for runners with a neutral stride and also transfers momentum to the front of the shoe, which gives you a noticeable boost as you push forward. The Fuji Pro is stylish and provides plenty of ventilation to keep your feet cool even on the hottest of days. The slipper-like comfort stood out immediately and my feet felt great after 15 miles in them. The sole wasn't the best for extremely rugged, rocky trails, but this is a great all-purpose pair.
Merrell All Out Rush
9.3 OZ, $120, merrell.com
I noticed this shoe's feather-like weight right out of the box. If you've ever considered trying a minimalist shoe, but never actually committed from fear of not having at least some cushion especially on rocky terrain, this would be a great choice. The UniFly technology is designed to absorb impact and transfer the energy back into the stride for quick rebounding. The M-Select Grip sole provided remarkable traction mile after mile whether you're climbing a steep dirt slope or going full throttle over rocky terrain. You'll probably want to break this one in on a couple of shorter outings just to get yourself acquainted with the unique feel on your feet, but this will certainly be my next racing shoe.
Happy trails!