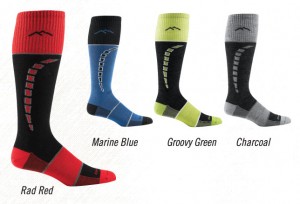 Cabot Hosiery Mill in Northfield Vermont, has weathered some death-defying business challenges over the last decade or so, to emerge as the leading manufacturer of socks — and come with a lifetime guarantee. Continuing long-held family high standards, third generation co-owner, Ric Cabot founded Darn Tough Vermont sock brand in 2004, a "premium all weather performance sock …from the finest possible materials," and literally saved the company.
Today, Darn Tough Vermont [DTV] is THE sock to wear, considered so by outdoor athletes all over the world. The seven-year-old brand keeps two hundred machines busy putting out 24,000 to 30,000 socks a day, "one sock at a time, with fine gauge knitting," Ric explained. Seamless toe technology, and Merino wool and Coolmax, backed by the lifetime guarantee, have shot the company ahead of other competitors in the hosiery market.
The company managed to keep everyone employed through the period of crisis when the mill nearly shut down, and today, "while we're relatively small, but we employ 150 people in three shifts," and in a small rural Vermont town, that matters. Owner Ric Cabot, said it was important throughout, "To make the best product as good as or better than anywhere else, and we have the best people involved [working in the] family run business."
Always looking at ways to improve the product and processes, with hands on management, and constant research and development of materials, design and milling, the DTV brand has maintained its lead in the high performance sock market.
DARN TOUGH HISTORY
The third generation family owner, Ric Cabot explained, "My father started [Cabot Hosiery Mills in Northfield] in 1978… [The family having had mills in the Carolina's and New Hampshire previously]." With a background in journalism and publishing, "I moved to Vermont in 1989." Then 25, he began working in the mill.
Cabot said he had "bought [his father's] share in 1993," when the hosiery mill had shifted its focus almost entirely to knitting socks for the private label market, with major customers like Gap, Banana Republic, Old Navy, Talbots and various big box outlets. When those companies started outsourcing their needs overseas, and the USA sock business all but disappeared in 2000, something had to be done.
Fortunately by 2000, Ric Cabot was starting to have some ideas about how to turn it around based on what he had learned working in all aspects of the mill from floor to research and development and design and buying materials.
Darn Tough Vermont germinated then and came of age in 2004.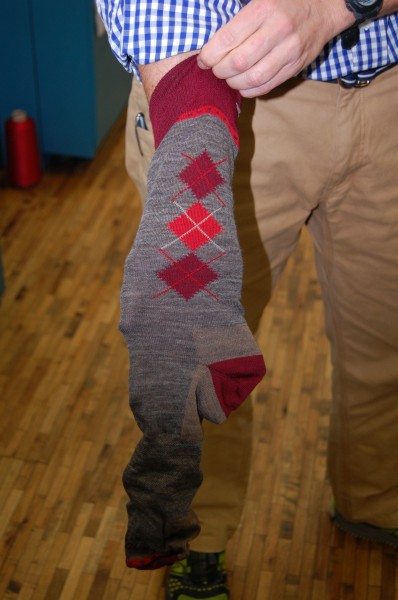 WHAT'S IN A NAME
"[The name Darn Tough Vermont] has many little roots," Ric explained, deriving mainly "…from our surviving." All along, he said, "I felt that the culture here at the mill, the people who worked here, the management team, myself, and father — we were darn tough!" Ric said he knew that "A lot of socks in the market were nothing great. It was a good entry point for the durability story. It was aspirational," he smile.
"Who doesn't want to be darn tough? In a darn tough pair of socks, you can do anything." Ric quipped, "It adds a sort of a supernatural-super friend and an above and beyond quality – when there's nothing you can't tackle no matter what you go through [if you're standing in] stick-by-you socks."
Ric said in 2003 and 2004, "Nobody was really marketing that simple story of an active lifestyle sock. Nobody was talking the mechanics of how it was made or the factory [shut downs] and surviving outsourcing [and making brands in the US]."
"So it was really good timing and there was a need in the market, and if you have the product…," Ric trailed off.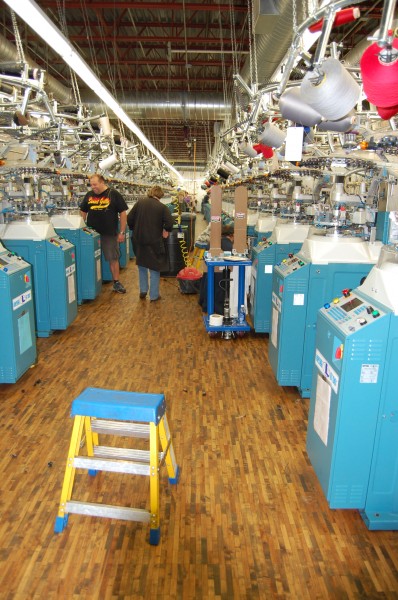 THIRD GENERATION LEADERSHIP
R&D Director Harvey Stabene, who was the first employee hired when the mill opened production in 1979, said, "Even though he was Marc's son, he just had to learn [the hosiery business] from the bottom up…he learned to do it all,"
"He was always asking questions," Stabene recalled. "To this day, he would rather ask a question and listen than tell people what to do."
Ric recalls his father had "a lot of good contracts with outstanding companies in New York. He was always traveling, out getting orders." When Ric bought out his father and became owner in 1993, his father's work ethic still carried on.
Ric said he knew that if a sock fit but was not durable, "That doesn't work" with the darn tough aspiration. Conversely "If it was durable, it had to fit really well, and it started there. We wanted a very comfortable sock that was durable and fit well." Active wearers are hard on socks and experience showed that having a sock that lasted all season was rare.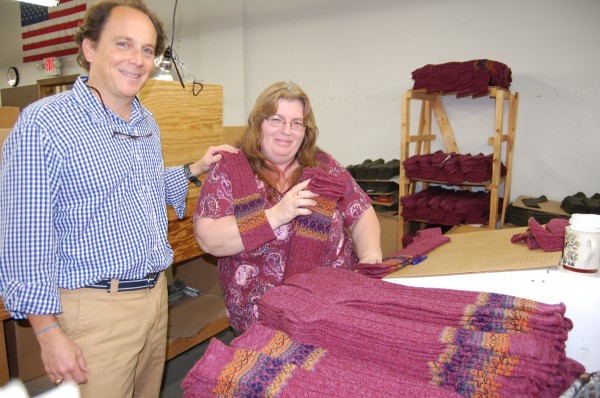 "The bar has always been set at quality," Ric emphasized. "If you can identify what that means to your market and make [the product] to that standard and then surpass it, that's good." Ric knew that "…what is great is the ability to maintain that over the long haul. That is what keeps us at the top."
"We produce our product and our goal is that once we get that right, we maintain and continually improve to a better, more efficient product.  Then — how can we can take redundancy out of the process," Ric explained.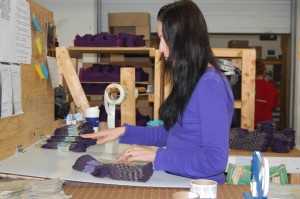 When the crisis hit in early 2000, Ric said his knowledge of the process of making Cabot socks informed his move to find more economical ways to do so. "We have always made the best socks out there," Ric said. He knew he had the team in his employees to make something new, and something beyond the pale.
He netted Poppy Gall, a Stowe designer, to help with new pattern designs. He worked with the research and development team to design a high density knit sock, introducing "full cushion socks [that] have dense terry loops that surround the entire foot creating maximum cushioning and warmth without bulk." More recently, Cabot introduced the seamless toe, importing machines found only in Europe, to his knitting floor.
He looked into who had the best Merino wool, introduced an exclusive Coolmax  blend "…because wool is not for everyone …to create a sock with exceptional softness, durability and superior moisture management [with] open knit mesh construction [that] is lightweight and extremely breathable. It's one fast sock."
TODAY
Today, the Cabot family and family of employees takes pride in producing a sock with a "lifetime guarantee," for men, women and kids who like to ski, hike, run, or hunt, as well as lifestyle socks, in ever-changing designs.
Technician, Jim Cannon will celebrate 30 years "in March", and speaking on the floor of the mill, said his favorite sock is the Micro Crew Merino wool sock with the cushioned soles. "It's a great sock if you have to be on your feet all day." He laughs and says that his wife gets one pair a year that she "lives in. She wears them like slippers at home."
It's clear that the people who work there take pride in their product. That they also like the product says much.
A socially conscious company interested in sustainable business communities, Ric said that he started hiring refugees arriving in Vermont from Bosnia-Hergovenia in 2006. A Bosnian gentleman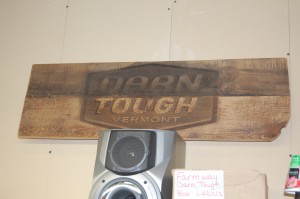 greeted us with a big smile, introducing himself and shaking hands from his station in the warehouse where he was packaging socks for shipping. "We have quite a few Bosnians working for us," Ric said. "They like being here and they are good workers."
Darn Tough Vermont is also involved yearly in charity work such as the Appalachian Trail Conservancy, and many outdoor races and events throughout the country, priding itself on its product made entirely in the USA.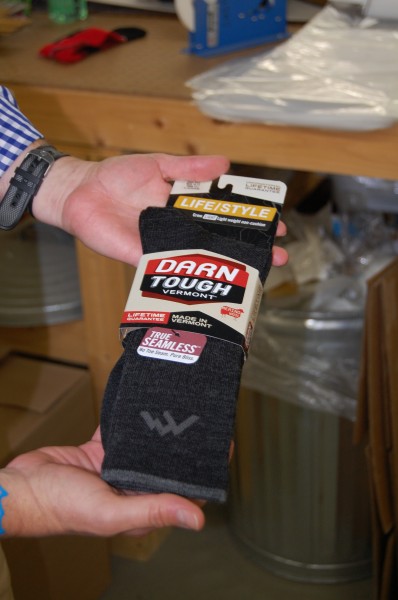 RIC RECOMMENDS
For snowshoers, Ric Cabot recommends for racers, "A lightweight sock because you're going to get sweated up: the 1805, 1908 ladies, or 1905 or 1418 for men."
"For a jaunt of three to five miles," he recommends style 1803, ladies, or 1415 for men.
"If you are going to just walk around in snowshoes, just going 30 yard, you're feet are going to be freezing the whole time so you need a heavier sock, the 1906 for ladies, or the 1440 men's."
Located in Northfield, Vermont, you discover where you can buy Darn Tough Vermont socks near you at: http://darntough.com/index.html.
To purchase Darn Tough products, click here.