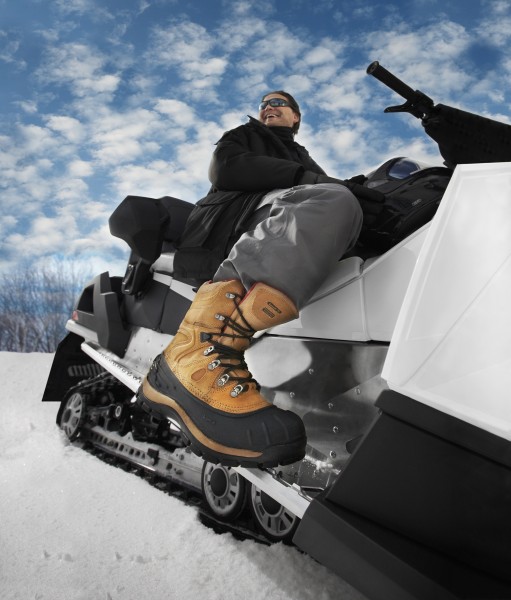 There's no room for cold feet when you're growing a family business like Kamik.
The Canadian boot-building juggernaut has been in business for a century now, in one form or another. Best known for its line of rugged and durable snow boots, the Montreal-based company owes its current incarnation to the Cook family, and specifically to its patriarch, William Cook.
It was William who purchased the Charron Manufacturing in the 1930s, recounted current president Rick Cook in a telephone interview. Charron's pedigree dates back to 1898.
His grandfather had emigrated from Beirut, Lebanon to Europe due to "uncertain times," Rick said with more than a touch of understatement.
"He came to Europe when he was a pretty young lad," Rick continued, "with a bit of money."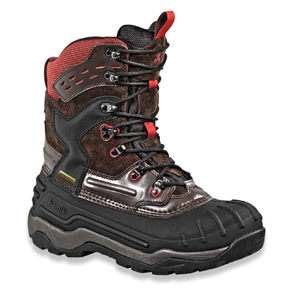 From there, William headed overseas to Canada's Maritimes, settling in New Brunswick for a time.
"He had some entrepreneurial talent," Rick continued, continuing to be understated. William entered the retail sector there, gaining some valuable experience in the industry.
It wasn't too long before the opportunity to buy Charron came up, and William and a friend jumped on the opportunity. The company then by no means resembled what it's evolved into today.
"Back in the day there were felt carriage boots for riding in horse-drawn buggies," Rick explained. "It was a women's fashion product."
William began to change all that, and changed its direction completely to making modern footwear. In the process, the company's 200 jobs were saved and the foundation of the contemporary snowboot style was laid.
Interestingly, he had basically no background in the footwear or shoemaking business.
In 1946, the company became known as General Footwear, a title it holds to this day. The Kamik division was to come later.
William retired in 1957, passing the mantle of leadership on to his son Gordon, who continued to develop the company, a budding corporate giant.
In 1965, the company purchased a Montreal factory, where it continues to be headquartered. It also operates a facility in New Hampshire, and another in Ontario.
Kamik was introduced in 1972. The name is derived from an Inuit term for foot covering.
In 1979, the company made another key move, purchasing the Hamburg Felt Company Ltd., located in the hamlet of New Hamburg, Ontario, close to Kitchener. Hamburg, like Charron, made its debut on the market in 1898.
"It became a critical component in our boots," said Rick. That was likely the final catalyst in the evolutionary rise of the company, he added. "In time the company metamorphosis into what it is today. There was no big bang. We kept our manufacturing basis flexible and adaptable."
The company now employs around 450 people in North America and more overseas. Rick said Kamik management has always made it a priority to maintain a strong domestic manufacturing component.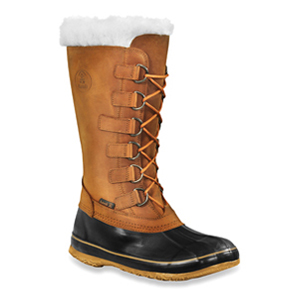 Much of the work, about 70 percent, of building the boots is still done at home, he said, and that emphasis was renewed after the oil crisis of the 1970s led to problems for rubber manufacturers.
"At one point we were doing a lot of cutting and sewing internationally and kept the more labour intensive activities to the Far East," Rick said. "The pendulum has swung more to the middle today in keeping North American activities high."
"Having flexibility in North America has allowed us to be able to adapt to changing conditions," he continued. Making products close to the market has made better use of our resources, and there are some real advantages to making things in North America, so from the business perspective it makes sense."
Interestingly, Kamik has thrived where a long-time competitor, the Kaufman family of Sorel Boots fame, went under more than a decade ago. They operated out of Kitchener, Ontario, not far from the Hamburg Felt Company Ltd., and made somewhat comparable products to Kamik.
"We were disappointed to see the Kaufman family having to sell Sorel," he said. "We had always been in competition."
Columbia Sportswear snapped up the Sorel name, and continues to make boots under that label.
Rick said he attributes much of Kamik's success to its remaining a family owned business.
"There is less bureaucracy, and we retain a certain amount of flexibility when it comes to customer interaction," he said. "We are not driven by quarterly financial results as a public company would be. Instead, we can make decision for the overall benefit of the company even if it impacts the short-term."
The strategy has been slow and steady growth, he added.
"We're looking at a managed process so things don't overheat or flame out. We offer competitive prices with good value. When we price our products, we make it comparable pricing, with more bang for the buck, better features and benefits."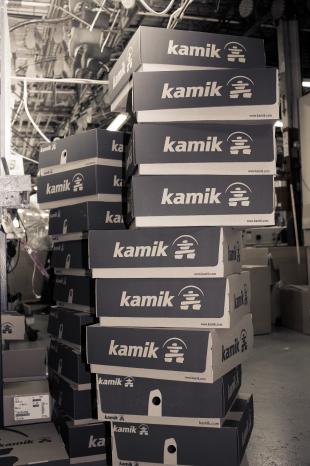 Europe is also a good market for the company, where a Made-in-Canada label conveys a certain marketing panache that's hard to beat.
"There's a level of prestige with a made-in-Canada stamp on winter boots," Rick said. "We're very proud of the product we make. We pay a lot of attention to quality and performance, and we pack a lot of features and benefits into our product."
Currently, the Kamik Snowcliff boot is their top-of-the line product for snowshoers, Rick said.
The company's main competitors are Columbia Sportswear, Brooks, the Canadian Baffin brand, and assorted others.
Many of Kamik's products are also recyclable, he noted with pride. Biodegradable rubber is one key aspect in that process.
"Recycling is something we're very proud of," he said. "It's bigger in Europe than here, but it's coming. For us it makes good business, as well as being true to our roots as an outdoors company."
It looks like there could be a fourth generation of the family on the way into the family firm as well. Rick succeeded Gordon as president in 2003, and anticipates sticking around for a while, along with his siblings. The new generation is currently attending college and university, and several have expressed interest in the family business. Rick said they will be welcomed at the proper time, once they've earned their way into the firm.
"The family has a big responsibility to a lot of people, including people involved in the business," he said. "The next generation will have to earn their keep, but are welcome to contribute. There are a lot of great things to being associated with a family business and we'd like to ensure that continues."
For more information on Kamik, visit www.kamik.com.  To purchase Kamik products, click here.