Just over two weeks into their crowdfunding campaign via Indiegogo and Snowfoot shows no sign of slowing down in support and sales. From the Italian mountains to the United States and all the way north to Canada, this innovative company is quickly gaining popularity. I had the opportunity to speak more with Robert and Marco about Snowfoot and what really makes this company stand out.
"For a small startup business like us, it is the passion for our sport and the outdoors that gives us the strength to dedicate eighteen hours a day to this project.  Besides the fact that we do everything, from design to manufacturing to communications, ourselves, the investment on our behalf goes way beyond time and money.  We've invested our lives, literally, in the pursuit of our happiness.  At a certain point, we went from amateurs to 'pros' when our little homemade solution to a universal problem reached the right level of maturity.  The need to walk up the mountains in deep snow was once a hobby, now it's a job. As they say, necessity is the mother of invention," said Robert.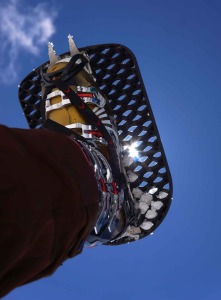 Italy produces some of the world's finest items and was the first choice for a small startup like Snowfoot. Allowing for close relationships with all of the manufacturing partners and material suppliers, working in "real-time" through the difficulties of making custom pieces in small batch numbers, and keep everything totally local were all important factors in deciding where to set up.  Starting a business in Italy is challenging at times.
Being one of the highest taxed countries in Europe–and the general level of wealth in the population is as low as its been in 40 years–is a tough time to propose a high-tech, custom-built, innovative snowshoe to a public still fully gripped by the global economic crisis.  But Italians love mountains and continue to enjoy them.
Italians get the concept of Snowfoot.  The terrain and the climate, the tight spaces, and the steep gradients support the Snowfoot concept.  People here love snowshoeing.  It's one of the few growing segments in the winter sports industry.  But traditional Canadian-styled snowshoes are simply too big and too directional for the normally twisting and climbing trails and wildernesses where people walk.
The outpouring of local support has been amazing. As Robert tells me: "I spent an hour on the phone with a 72-year old man today, trying to walk him through the ordering process on Indiegogo.  He is so excited about Snowfoot, he's been trying to buy everyday for the last 10 days, but can't figure out how to use Indiegogo. This guy doesn't even remember how he found out about our product… 'somebody must have e-mailed me a picture or something'… but he gets it!  And the last thing he said on the phone before we ended the call was, 'way to go boys.  It reminds me of the snowshoes we used back in the army, but obviously better.  We need ideas like this, and boys with courage like you!'"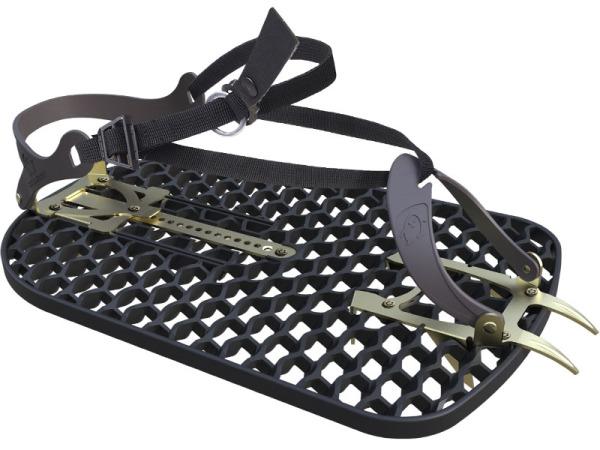 For the North Americans there has never been a better time to show your support for Snowfoot than now. Well aware that Snowfoot is expensive with the current dollar-to-euro exchange rates, they are offering some pretty amazing promotional discounts through the Indiegogo campaign.  Currently there are discounts of 52 percent, 40 percent, and 20 percent on single pairs, plus discounts of 52 percent and 33 percent on packages of five and three pairs (if you're going to try, you might as well bring a friend!).
To show your support and purchase your new pair of Snowfoot snowshoes, head to their Indiegogo campaign or check them out at their website.
To read our first article on Snowfoot and its debut, click here.