One of the many things I love about Stratton (http://www.stratton.com) is the variety of activities at the base and up on top. That includes snowshoeing big-time.
You could spend days exploring Stratton's varied "on-property" options, as well as nearby possibilities just a short four-wheel drive off the mountain. Quite simply, Stratton has to be one of the top snowshoeing destinations in the Northeast.
Stratton was one of the nation's first mountain resorts to offer snowshoe rentals and tours (1990) and has also had a long-time relationship with Vermont-based Tubbs Snowshoes (through their Winter Adventure Center). That includes several locations, scheduled activities, and much more.
Highlights of my snowshoeing experience at Stratton last winter included: A moonlight trek by headlamp to the historic Pearl South Buck Stone House (including hot chocolate); a summit hike (including a gondola ride) out to the mountain's old fire tower; and more than 30 kilometers of groomed trails.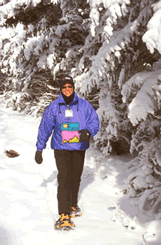 The Nordic Center at the Country Club features rolling trails and stunning mountain views. The area is great for beginners and it's also the base for the moonlight trips.
The Nordic Center at the Sun Bowl offers both easy and tougher terrain, with lots of trees, streams, and stone walls. The Sun Bowl's Base Lodge and all the standard amenities are a great reward at the end of a trek.
For those who haven't experienced a Tubbs Snowshoe Center, this is a great place to start. Highlights include: Top-of-the-line rentals ($18/$13 full/half day for adults; $11/$9 full/half day for children), expert advice from those in the know, and a trail fee that's included in the price of your Stratton lift ticket.
Stratton Mountain Resort also hosts the Tubbs Romp to Stomp Out Breast Cancer Winter Walk Series, Jan. 22, 2005, where all proceeds and pledges are donated to the Susan G. Komen Breast Cancer Foundation. Join Tubbs Snowshoes and the Komen Vermont-New Hampshire Affiliate of the Susan G. Komen Breast Cancer Foundation for the annual "Romp to Stomp Out Breast Cancer" Snowshoe Series at beautiful Stratton Mountain in southern Vermont.
There's a fun 3K or 5K snowshoe walk on Stratton's gentle snow covered trails to benefit breast cancer research, education, and screening. According to sources, 100 percent of proceeds will go to the Komen Foundation and the Vermont Affiliate. An optional 3K snowshoe "Fun Run" will start at 9:30 a.m., allowing enough time for participants to join their friends for the walk as well. Registration begins at 8 a.m. and the walk starts at 10 a.m.
More than 350 pair of Tubbs snowshoes will be available free of charge for use by registered participants. Get there early, rent, or bring your own. All attendees with pledges receive raffle tickets for great outdoor gear from numerous product sponsors, plus a free t-shirt to all participants. To register, or for more information, visit http://www.tubbsromptostomp.com.
Whenever you choose to visit Stratton, a top snowshoe destination awaits.