White Pass in central Washington has been known for its skiing since Olympic medalists Phil and Steve Mahre put the resort on the world map in the mid 1980s. In addition to the recently-expanded ski resort, there's also some very good snowshoeing to be found, both right at the resort and in the nearby foothills, which includes several miles of the 2,663-mile Pacific Crest Trail.
Located on U.S. Highway 12 in the Cascade Mountain Range, White Pass straddles the 4,500 foot elevation mark. Nearby snowshoe trails can gain as much as several hundred feet in elevation. However, the several kilometers of trails maintained by the White Pass Nordic Center are not that drastic, but they are enjoyable for most snowshoeing abilities.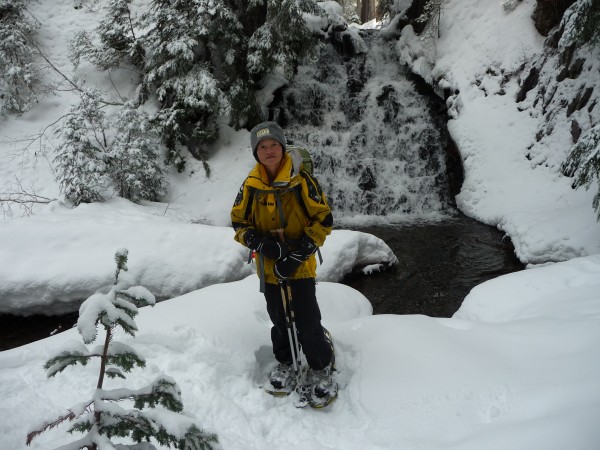 According to Richard Brooks, White Pass Nordic Center Director, the cross-country trail system consists of 18 Km of groomed double-tracked trails. "The trails encircle nearby Leech Lake and meander through forested rolling terrain with beautiful vistas along the way," says Brooks. "For snowshoers, there's a very nice trek through the woods with some elevation gain that eventually takes you to a picturesque waterfall. It's about an hour's walk from the Nordic Center Yurt to the falls."
First-time visitor to White Pass Lena Wang shared her thoughts on the experience. "I was pleasantly surprised that the snowshoe trail at White Pass was better than I thought it would be, considering I don't usually snowshoe developed or maintained trails or recreational areas. I did enjoy going through the trees and liked that the trail wasn't completely level, and the waterfall was certainly worthwhile."
For those wishing to explore the White Pass Nordic Center, Yukon Charlie's snowshoes are available for rent at a cost of $14 a day. Brooks shares that many visitors like to spend half the day on cross-country skis and the other half with snowshoes strapped on. "For the same price, visitors can mix up their routine and do a little snowshoeing and cross-country skiing," said Brooks. "It's a fun way to get a workout and experience the out of doors."
For those like Wang who prefer more challenging terrain, the Pacific Crest Trail offers lots of options. Brooks suggests parking about a half mile from the Nordic Center on Forest Road 1284, which is just east of White Pass on Highway 12 heading towards Seattle. Here, you can park your vehicle and jump on the trail heading toward Sand Lake. No parking pass need, or a trail pass. This is snowshoeing in its original form. This 6.6 mile trek takes roughly five hours, depending on your individual speed. By the time you reach Sand Lake, the elevation gain is 900 feet, with the highest point at 5,300 feet in elevation.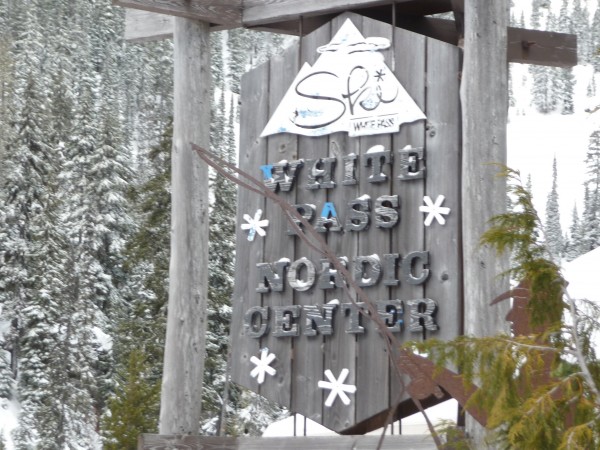 The Pacific Crest Trail crosses U.S. Hwy. 12 several hundred yards east of the ski area, and is accessible just past Leech Lake. From here, the trail gradually climbs in elevation through a thick stand of fir trees, and then it's an open meadow for more than a mile. You have a few options, like veering left and taking a trail for a mile and a half that leads to Dog Lake. You can also follow the trail towards Deer Lake, do a loop and head back towards the starting point. Continuing on to Sand Lake snowshoers will eventually discover the Sand Lake basin where the small ridge above it offers picturesque views of the surrounding peaks, including Cramer Mountain to the north, and on occasion, Mount Adams to the south.
Après-snowshoeing
The Day Lodge Café is the heart and soul of the White Pass ski resort. The café offers both buffet-style and cook-to-order fare for breakfast and lunch daily. You will find lots of hearty high energy breakfast foods, as well as soup, salad, sandwiches, pizza, and more. For those working extra hard on the snowshoe trail, don't miss the legendary Great White Burger. On Saturdays and evenings when there's night skiing, the White Pass Day Lodge Café is transformed into the After Dark Café and features prime rib dinner, along with chef specials and other grill menu items. Add a glass of Yakima Valley wine and your meal is complete!
For quenching your thirst, there's the Sitzmark Pub, which is located in the mezzanine level at base camp. You can find 10 Northwest microbrews on tap, in addition to a fine selection of Washington wines. This is a great place to relax, unwind, and watch skiers and snowboarders carve a turn or two through the spectacular slope side cathedral windows.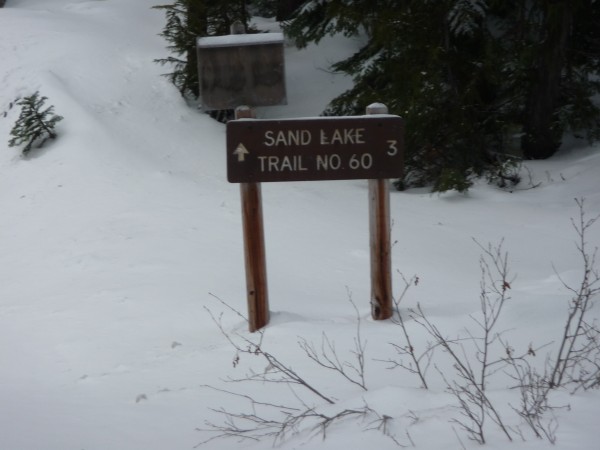 For snowshoers traveling from Yakima, there are numerous forest service roads that offer good terrain for snowshoeing. If you want to rent a pair of snowshoes closer to civilization, stop at the Tieton Sports & Country Story, 27160, U.S. Highway 12 in Naches. The all-purpose convenient is located 22 miles east of White Pass Ski Resort, and they rent snowshoes for $15 a day.
White Pass Area Facts
Location: 12 SE of Mt. Rainier National Park at the summit of U.S. Highway 12 (ele. 4,500 feet)
Driving distance from Tacoma: 111 miles
Driving distance from Yakima: 50 miles
Nordic Trails: 18 Kilometers of Nordic trails
Average annual snowfall: 380 inches
Website: www.skiwhitepass.com
Ski-in, ski-out lodging available at the Village Inn Condominiums
Upcoming Events: On March 3-4, 2012 is the 26th annual White Pass Winter Carnival celebration marking the last weeks of winter. The event centerpiece is a gigantic snow castle located right at the base of the ski area. Other activities include carnival games and races, snow sculptures, fireworks, and live music. The event supports the Children's Miracle Network Hospitals and the White Pass Volunteer Ski Patrol.