Mt. Adams, located in Washington, is the state's second-highest mountain and one of the Cascade's largest volcanoes. With a summit rising to well over 12,000 feet (3658 m), it's a close contender to California's Mt. Shasta in eruptive force. Furthermore, the area is a hub for winter sports, including snowshoeing. Discover snowshoeing opportunities, sno parks, and cabins on Mt Adams for a spectacular adventure!
About Mt Adams
The peak of Mt Adams lies almost 31 miles (50 km) east of Mount St. Helens in the Gifford Pinchot National Forest and is often mistaken for Mount Rainier owing to its flattened summit. Mt Adams, the forgotten giant, rises from Yakima County, one of the most beautiful and diverse areas in Washington State.  Its glaciers, wildlife, tumbling streams, trails, alpine meadows and wildflowers scattered among its lava flows offer quite a mix to make that great escape.
And escape is the word, as there are few crowds, clearer skies, and generally good snow cover to enjoy the scenery and solitude. For climbers, Mt. Adams is a superb training ground for other Cascade volcanoes. Additionally, its scenic routes on the Mazama Glacier provide some spectacular views of Rainier, St. Helens and Oregon's Mt. Hood. For cross-country skiing and snowshoeing, there are a number of groomed trails to get the blood pumping and senses tingling.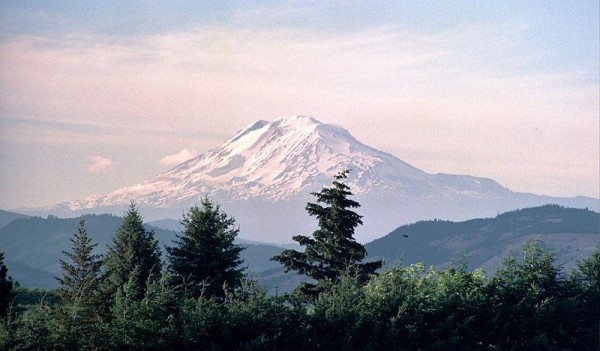 Snowshoeing at Sno-Parks near Mt Adams
The small town of Trout Lake is a good place to start your snowshoe outings, not just because the town offers wide choices of restaurants and cafés.
Mt. Adams sno-parks and snowshoeing opportunities are only a few miles north of Trout Lake. Pineside Sno-Park is only 5 miles (8 km) north of town, with 20 miles (32 km) of trails. For beginners, try the 5-mile (8 km) Big Tree Loop, which has 200 feet of elevation gain. For the more seasoned snowshoers, Hole in the Ground Loop (6.1 miles/ 9.8 km, 600 feet/ 183 m elevation gain) presents more of a challenge with its rises and dips.  See the Pineside Sno-Park map for more details.
Just 1.5 miles (2.4 km) north of Pineside is SnowKing Sno-Park. This park also has 20 miles (32 km) of trails, many of which include hillier terrain. However, beginners will enjoy the 1-mile (1.6 km) Princess Loop which is relatively flat with only 50 feet (15 m) of gain. Lava Loop is an option for intermediate snowshoers, at 4.7 miles (7.6 km) with 400 feet (122 m) of gain. See the SnowKing Sno-Park map for more details.
Located 6 miles southwest of Trout Lake, Atkisson Sno-Park provides access to remote lakes and spectacular scenery. Over 10 miles (16 km) of ski and snowshoe trails are available, though not groomed. Ice Caves Loop (more info below) is an easy 4.1 mile (6.6 km) loop on relatively flat terrain. Or for a more challenging outing, snowshoe the Peterson Ridge Trail, which has 1100 feet (335 m) of gain over the course of 10.6 miles (17 km) round-trip. See the Atkisson Sno-Park map for more details.
Finally, Smith Butte Sno-Park – at 4,000 feet (1219 m) – offers more difficult terrain. This park is open intermittently depending on snowpack and funds. The road to this park is no longer plowed and no groomed trails are available. However, when open, motorized and non-motorized winter enthusiasts can enjoy the remoteness of this park.
Please note: For all the sno-parks listed above, a valid Washington State Sno-Park Permit is required for entry. In Trout Lake, you can purchase a permit at Trout Lake Grocery on Highway 141.
Additional Sights & Events
In addition to the sno-parks, the Guler Ice Caves are close to Trout Lake. These stunning formations are more than 600 feet (183 m) long and a stairway provides access. In the snowy winter months, you can hike to the caves from Atkisson Sno-Park (listed above). The exercise is worth every step! Inside, there are amazing ice columns shaped like stalagmites and stalactites, most of which are close to the caves' entrance. When visiting the caves, be sure to wear warm, layered clothing, safety helmet and sturdy boots with grips or crampons. For additional safety, bring torches. The caves are open from Memorial Day to mid-November during daylight hours.
Plus, Trout Lake's Cabin Fever Festival is an annual event not to miss. Typically held in late January or early February, the festival brings the wider community together.  The whole family can get involved and there really is something to suit all. Past events have an 8 km Nordic ski race, crafting, and Snowball Costume Party. Visit the Trout Lake Cabin Fever Facebook for additional details about this year's event!
Mt Adams Accommodation In Trout Lake
The warm and friendly Trout Lake Valley Inn has been welcoming guests since 2002. Quiet rooms with living-flame log stoves, hot tubs, and queen beds will help you relax, and a Continental Breakfast kick-start your day. The Inn is pet-friendly and snowshoes are available to rent. For more information call (509)-395-2300.
Trout Lake Cozy Cabins offer a convenient and cozy getaway with views of Mt Adams from the hotel grounds. The cabins come with queen-sized beds, satellite TV, and free Wifi. For those chilly nights, rustic propane fireplaces are available in each cabin as well.
If traveling with friends or family, vacation homes in the Trout Lake area, such as the Riverwood Lodge and Guesthouse or the Adventure Lodge on Plenty Pines are available to rent.
Visit The Sno-Parks For Snowshoeing Near Mt Adams!
Vulcanologists love the fact Mt. Adams is still considered active, despite no eruptions in more than 1,400 years. Its remote location makes it a challenging destination for both vehicles and snowshoe enthusiasts. The fresh mountain air, the great outdoors and unforgettable views will keep Mt. Adams at the top of many a "to do" list.
Have you visited the sno-parks near Mt Adams? What was your snowshoeing experience?
---
Article updated December 2019
Some of the links in this article may contain affiliate links. When you make a purchase using these links, part of the proceeds go to Snowshoe Mag. These proceeds help us pay for site maintenance and article contributions. Additionally, as an Amazon Associate, we earn from qualifying purchases. Please see our disclosure for more details.