Lake Tahoe splits California and Nevada straight down the middle. So depending on where in the high country you are snowshoeing, you will have spectacular views all around. Lake Tahoe is in the Sierra Nevada Mountains at elevations ranging from approximately 6,800 feet to just over 9,000 feet.
If you are a flatlander heading up here for the first time, expect to be a bit breathless, but the incomparable views of the surrounding mountain peaks, sweeping valleys and the vast lake below are worth the effort. And you can bring your pup on several of these trails!
DIAMOND PEAK SKI RESORT
Diamond Peak Ski Resort is a family friendly place founded in 1966 as a downhill ski area, called Ski Incline because of its proximity to Incline Village. In 1985, the top side of the mountain was opened, and Ski Incline was renamed Diamond Peak at Ski Incline, now Diamond Peak. This is an upscale full resort with summit elevation at 8,540 feet with snowmaking on 75% of the mountain. The season typically runs mid-November to April.
The cross-country and snowshoe area covers 22 miles, with track and skating lanes, located off Nevada 431. Snowshoe events can be found at the resort, including Moonlight Snowshoe Hikes, which are available Feb 15 and Mar 15, 2019. Pre-registration is required with a fee of $25 or $20 with a pass.
In addition to events, FOLSOM CAMP LOOP trailhead on Diamond Peak lies at 6,829 feet and is a 6.2-mile loop that will take you about 3-4 hours to complete. In spite of the elevation this is a fairly easy trail, running along a historic flume that used to deliver timber to the Washoe Valley. Aside from a few short, steep sections, the total elevation gain is 800 feet, with the middle three miles being mostly flat. This loop begins at the Base Lodge in Diamond Peak, in front of the kids' ski school.
SPOONER LAKE & BACKCOUNTRY
In winter time, the 13,000 acres of Spooner Lake and Backcountry becomes a snowshoer's paradise, featuring multiple trail options. Lake Tahoe Nevada State Park manages this area of the park, which requires an entrance fee of $10.
Recently, Spooner Lake & Backcountry entered into a partnership with Nevada Nordic, a non-profit group whose goal is to bring groomed ski trails to Nevada. The trail grooming is free to the public, and supported entirely by donations. Snowshoers are welcome as well as cross-country skiers. However, snowshoers are asked not to damage the skiing surface or tracks.
Shorter, Less Strenuous Meadow Trails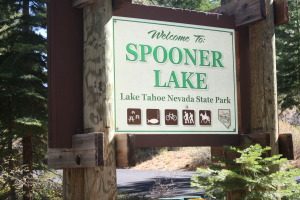 SPOONER LAKE TRAIL runs 2.5 miles along the lake perimeter. This is a fairly flat trail and a great beginner trail for snowshoers. The trail also offers great views of the aspens and the lake.
SPOONER MEADOW is on the south side of Spooner Lake and is an area groomed by Nevada Nordic. The trail is less than 2 miles and offers views of the east shore of Lake Tahoe. It crosses the meadow overlooking Nevada 28 and the east lake shore, before ending in aspen trees.
More Challenging High Country Trails
The High-Country trails are longer, at higher elevation, and more challenging overall. Park at the Spooner Lake parking lot to access NORTH CANYON to Snow Valley Peak. The trail runs approx 3 miles through the gully on the west side of Snow Valley Peak to the tree line at Snow Valley. You can continue up to Snow Valley Peak another 1.5 miles. Instead of using North Canyon, Snow Valley Peak can be reached via a segment of the TAHOE RIM TRAIL. Park at the Spooner Summit parking area to access this route. The total distance is 11.5 miles. 
As an alternative destination to Snow Valley Peak, take the Spooner Lake Trail (above) to access North Canyon and the Marlette Lake Trail. The trip is 5 miles one way and according to Nevada Parks, is the most popular backcountry trail. Snow permitting, Nevada Nordic grooms this trail in the winter for skiers and snowshoers. Be sure to check for conditions before heading out on any of the trails in the Spooner Lake area and pack your full winter essentials.
RENO TAHOE
The Reno Tahoe region is a great area to get out on the snowshoes, whether following established trails or striking out on your own. Visit www.renotahoe.com to watch a video of snowshoeing Tahoe Meadows to get the flavor of this dramatic area.
CHICKADEE RIDGE offers a scenic adventure with views of Desolation Wilderness and Lake Tahoe. It's pup-friendly, and is accessed from Tahoe Meadows on the south side of Mount Rose Highway (Hwy 431). You will take the Tahoe Rim Trail approximately 2 miles to Chickadee Ridge. This trail is 4.5 miles with moderate terrain, making it a popular snowshoe trail.
The MOUNT ROSE TRAIL located near Incline Village retains snow all summer. The trail provides views of waterfalls, alpine lakes and Lake Tahoe. The trailhead is located at Mount Rose Summit and is a little over 5 miles one-way.
GALENA CREEK trail is a short 1 mile easy-moderate nature trail, located off the BITTERBRUSH TRAIL in Galena Creek Regional Park. The Bitterbrush trail is an easy 4 mile trail that runs from the north to south end in Galena Creek Regional Park. Snowshoeing is available on both trails. Pup can come along on these too. More info can be found at the Galena Creek Visitor Center.
LAKE TAHOE AREA RESORTS
On the California side of the lake, Lake Tahoe Area Ski Resorts include snowshoe areas offering guided tours and winter packages. The following routes include equipment rentals, lessons, day and night tours and groomed surfaces.
THE RESORT AT SQUAW CREEK offers snowshoeing on the meadow and in the backcountry, with rentals and tours for those who want them.
KIRKWOOD cross country offers 50 kilometers of open track for all levels, with three interconnected trail systems and terrific views. Bring the pups!
NORTHSTAR AT TAHOE features 35 kilometers of groomed trails, rentals, lessons, day and nighttime tours. You can take the Village Express Chairlift from the Village right to this trail system. Northstar was also rated as the No. 5 Snowshoe Friendly Ski Resort by Snowshoe Mag!
More trail recommendations can be found in "Favorite Fall Trails at Lake Tahoe". ENJOY!