The Portes du Soleil is a perfect resort for snowshoeing. It has a lower altitude than many resorts in the Alps, meaning it has more trees and less wind.  Due to its northerly latitude it maintains an excellent snow record. The Portes du Soleil resort management is keen to promote non-skiing activities.  They place a lot of effort into maintaining groomed paths for ski-de-fond and snowshoeing.  Additionally, they are very amenable to allowing snowshoers onto the ski lifts. This makes it easy to gain altitude and access the higher snowshoe trails. They also offer a special walker's lift pass, which is much cheaper than a ski pass.
There is a great variety of snowshoe walks available in the Portes du Soleil.  This is a breathtakingly beautiful one-hour walk round lac de Montriond to the six-hour trek up the wild Vallée de la Manche to the Col de Cou (1,920m/6,299ft). There are beginner's walks along well-groomed tracks, such as the Sentier de Renard (the Fox's Track).  This passes by the Nyon waterfall and the Pleney circuit, which tours the top of the Pleney ski area (1,505m/4,937ft).
The Pleney walk gives you marvelous views of the Morzine and les Gets valleys as it winds in and out of the trees. There are also much wilder and more serious walks just round the corner in Samöens where you are more likely to bump into a chamoix or wild boar than another person. These trails are also perfect for spotting tracks in the snow because so few walkers are seen here; the animals happily trek up and down the path leaving perfect paw prints in the otherwise undisturbed snow.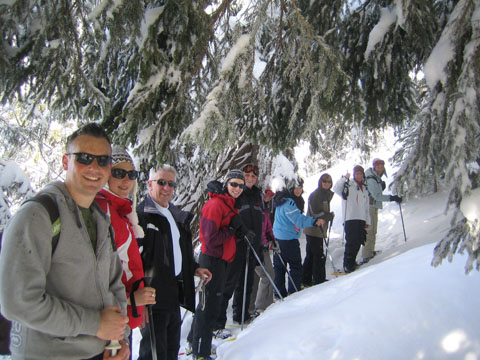 The geography of the Portes du Soleil lends itself to snowshoeing because many of the mountains and ridges have rounded tops allowing you to walk safely in high areas with panoramic views in all directions. Many of these rounded mountain tops are effectively avalanche-free, meaning there are always plenty of safe places to walk. The mountains of the Portes du Soleil are cloaked in forest.  When the trees are draped in snow they become silent and magical; the perfect place to escape the crowds.
The Portes du Soleil is easy to get to as it's only a one-hour transfer from Geneva airport. Once you're at the resort, free shuttle buses give you access to all the chairlifts and cable cars (as well as lac de Montriond and the Vallée de la Manche). Morzine is right on the border with Switzerland and it's easy to ski or walk across the border. Chamonix is a two-hour drive away.  Mont Blanc can be seen from the Les Gets side of the resort and when walking on Mont Chery.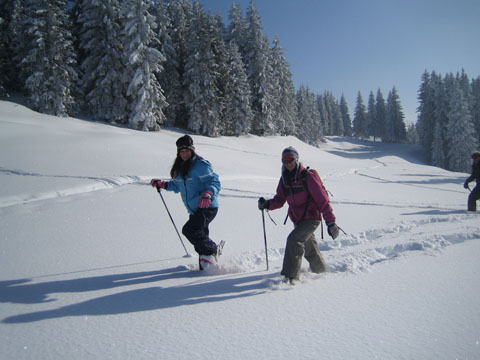 Morzine itself is a fully functioning French Alpine town, rather than a purpose built ski resort. The town dates back at least 700 years.  In fact, you can stay in the oldest building in Morzine, which is a bed and breakfast.  It has a real sense of a community and history. It also has everything you could need, from a cinema and a supermarket to pubs, clubs and restaurants.
The many little hamlets and villages in the area have real Savoyard charm.  Coming across a tiny snowbound cluster of houses high up in the mountains has an almost mystical feel to it. The Portes du Soleil's culinary traditions are known as Savoyard.  They are rich in local meat, potatoes, cheese and cream to keep you warm and satisfied on the cold winter nights. If that's not to your taste, you can easily find excellent pizza, pasta, homemade burgers, and dishes from other French traditions. There's even a fish a chip shop in the high street (then round it all off with a glass of vin chaud).
Think about hiring a guide when planning a snowshoeing holiday in the Alps.  It's not a requirement if you stick to the paths, which have been posted for snowshoeing and ski-de-fond.  Of course, avoid going out if the weather forecast is bad.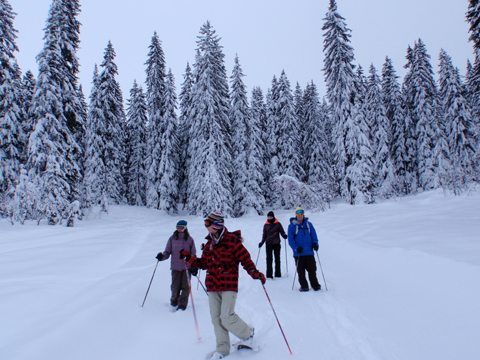 You will need to visit the tourist offices in Morzine, Montriond, Les Gets or Samöens, depending on where you'd like to walk.  Ask for their mountain activities guide (guide de activités de montagne) or snowshoeing guide (guide de promenade en raquette). However, it is not easy to follow these guides and many people we have spoken to have said they wasted a lot of time looking for the trails. Therefore, if you want to make the most of your snowshoeing time (or would like to explore off the beaten track in safety) it is advisable to hire a guide. Your guide should hold one of two qualifications in France: the International Mountain Leader qualification (IML) or the UIAGM Mountain Guide qualification.
Snowshoeing holidays offer guided snowshoeing and winter walking in the Portes du Soleil region of the French Alps.
For more information, visit www.snowshoeingholidays.co.uk (or e-mail indie@indieoutdoors.co.uk).