One trail pass. Three Nordic centers. Unlimited snowshoeing fun. That's what you can expect in Summit County, Colorado. All of this is conveniently located in a ten mile area about 80 miles west of Denver. The scenery is spectacular, the people are friendly, and the snowshoeing is first rate. What more could a couple of Texas snowshoers ask for?
Having visited Summit County on several previous occasions, my wife and I decided to go there for a dedicated snowshoeing trip in February of 2005. We arrived on a Monday afternoon and checked into (get this!) the Snowshoe Motel in Frisco. On a previous summer trip, we had checked it out and it seemed to fit the bill for our five-night stay. Our room, while not fancy, was clean, comfortable, affordable, and included a fine Continental breakfast. Wireless wi-fi was available in the office, as well as free Internet access for the less than wireless crowd. Frisco is just south of Interstate 70. If you are looking for more luxurious accommodations, a wide selection is available in Frisco and Breckenridge. Just Google Summit County, Colorado in a search. This area also offers and abundance of eating establishments, ranging from fast food to upscale cuisine.
We focused on three Summit County Nordic Centers this trip- Frisco, Breckenridge, and Gold run. The first two are well-established in the area and are owned by Gene and Therese Dayton. Gold Run is owned and operated by the City of Breckenridge. All three centers work in a coordinated effort to promote cross-country skiing and snowshoeing. One trail pass, at $14 per day, is good at all three centers. Kids 6 and under are free. Youth 7-17 pay $10 daily, as do seniors 60-69. "Super Seniors" (70+) can ski or snowshoe for only $4. Who says getting older doesn't have its advantages? Season and multi-day passes are available at additional savings. Log onto their web site (www.breckenridgenordic.com) for more specific information.
Rentals, like trail passes, are also $14 a day at all three centers. This applies to cross country ski equipment or snowshoes. Customers are allowed to exchange skis for snowshoes during the day at no additional charge. This encourages more people to try snowshoeing, a real plus for our sport. Snowshoers may exchange their snowshoes for skis, too. Various types of lessons are available for cross-country skiing. A snowshoeing lesson involves learning how to attach the bindings to your boots and walking with your feet slightly further apart. It takes ten minutes at the most.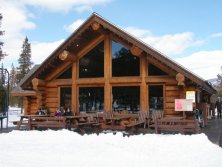 FRISCO NORDIC CENTER
Located about two miles south of Interstate 70, just off Highway 9, Frisco Nordic Center is situated on a beautiful peninsula that protrudes into Lake Dillon. A large and attractive log structure serves as a day lodge for the center. A friendly and knowledgeable staff will sell you a trail pass, rent you proper snowshoe or ski equipment, and provide you with a trail map. Cross-country ski lessons are also available there. The web site gives prices for the various types of lessons.
The Frisco Center has 46 kilometers of ski trails, which are groomed for both classical and skating styles. In addition, there are 14 kilometers of dedicated snowshoeing trails. Snowshoers are not allowed on the ski trails, except to cross them . Snowshoers must observe proper etiquette and not trample tracks that are set for classical skiers.
Most of the snowshoe trails are in forested areas. They vary in length and level of difficulty (steepness). One trail goes all the way to the end of the peninsula and it provides some rewarding views of Lake Dillon. The many forested single track trails are attractive to snowshoers looking to get away from it all. According to owner Therese Dayton, snowshoeing now accounts for about 35% of their customers and is increasing. After two visits, we can certainly see why.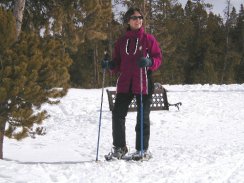 BRECKENRIDGE NORDIC CENTER
If you continue south on Highway 9 for about ten miles, you will arrive in the historic town of Breckenridge. While best known as a major downhill ski area, Breckenridge also offers some top quality snowshoeing and cross-country skiing.
This center has a higher elevation than the one in Frisco, so it typically has more snow and a longer season. There are 32 kilometers of cross-country ski trails and 16 kilometers of dedicated snowshoe trails at Breckenridge. The newly remodeled day lodge provides the necessary trail passes, rentals, and lessons. It's a cozy place for a snack, hot beverage, or just relaxing by the fire.
Manager Claudia Wiley says that she has seen a significant spike in snowshoeing interest in recent years. According to Wiley, approximately a third of their customers are now snowshoers with up to half on weekends. Their policy of allowing a ski-for-snowshoe swap during the day has helped to introduce more people to snowshoeing.
We found the trails at Breckenridge to be a good combination of wooded and open areas. Trails were well-marked and some provided good views of Breckenridge itself and the surrounding mountain ranges.
An added feature at Breckenridge Nordic Center is the opportunity for guided snowshoeing tours conducted by Tom Dayton, brother of co-owner Gene Dayton. 'S NO Wonder Tours offers half-day, full day, and moonlight tours. We took one of the half-day tours last season and had a wonderful experience. Tom provides a lot of interesting information about the forests and wildlife that inhabit them. He also provided a healthy and delicious snack midway through the tour. For a more complete review of 'S NO Wonder Tours, go to the archives section of this site and click on March, 2005. You can't miss the article.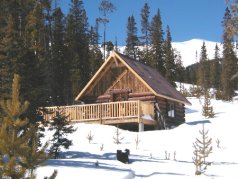 GOLD RUN NORDIC CENTER
The City of Breckenridge owns Gold Run Nordic Center. It is located at the golf course just north of town. There are 22 kilometers of ski trails and 12 kilometers of snowshoeing trails. While more of those trails are in the open than at the other two centers, some are wooded and also provide access to back country trails. The golf clubhouse serves as a hub for Gold Run's activities during the winter. An Internet link to Gold Run is on the web site www.breckenridge.nordic.com.
KEYSTONE RESORT
While we have not yet visited Keystone, it is another Summit County area that offers snowshoeing and cross-country skiing. Information about the trails, rentals, and guided tours can be obtained by logging on to their web site at http://www.keystoneresort.com
FREELANCING IT
For those hardy snowshoers interested in totally getting away from it all, Summit County offers numerous back country trails of varying degrees of difficulty. An excellent source for finding good trails is Claire Walter's book Snowshoeing Colorado. She gives detailed information about length, difficulty, scenic attractions, and avalanche danger. You can also check on the Tubbs Trailnet (www.tubbssnowshoes.com) or do a search of snowshoeing in Summit County, Colorado. Just remember to exercise extreme caution when venturing off the beaten path.
If you're looking for a place to experience good snowshoeing at a variety of venues, give Summit County a try. I don't think you'll leave disappointed.
Happy Snowshoeing!