Rising above the skyline from 54 miles southeast of Seattle, Washington State's highest and most prominent volcano in the Cascade Arc, is still considered one of the world's most dangerous. Reaching an elevation of more than 14,000 feet, makes it an unforgettable sight from almost any vantage point in this vibrant city.
On exceptionally clear days, "The Mountain," such an indigenous state landmark, is instantly recognizable from Victoria, British Columbia to as far south as Portland, Oregon. With the first winter's snowfall in late October, this spectacular peak sets new challenges. Its National Park wears a deep robe of snow that turns it, literally, into a snowshoeing paradise. Its network of trails are widely scattered and while some of the Park's eastern side roads remain unploughed, they still provide great opportunities for snowshoeing.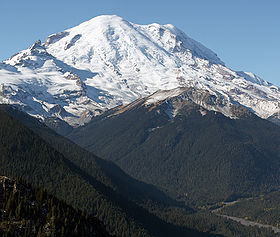 With 26 named glaciers – the largest glacier system on any peak in the U.S. and 36 square miles of permanent snowfields, Rainier dominates a National Park sprawling across 378 square miles. Backcountry skiing, photography, climbing, camping and hiking are immensely popular here, but the most effective way of beating those winter blues, taking in that crisp, clean air and awesome scenery has to be snowshoeing. More than 16 superb trails may seem a daunting choice, but there are plenty of options no matter your skill or fitness levels.
Paradise, on the southern slopes of Mt. Rainier, has become one of the National Park's most popular destinations. According to Mount Rainier Guest Services, "Visitors can stay at the National Park Inn, which is open year-round and located at Longmire, six miles inside the Nisqually Entrance." If snowshoeing in the spring, the historic Paradise Inn provides perfect accommodation right on the doorstep of trails for exploring the great outdoors well away from life's stresses and strains.
The area is a haven where snowfall rules the roost and where its white cloak attracts winter visitors year in, year out. The National Park's open meadows and snowfields above Paradise Valley attract snowboarders and skiers in droves. But strap on a pair of snowshoes and you certainly have the advantage. Steep slopes are far easier to climb with a stout pair of snowshoes. Snowboarders and skiers will often leave snowshoers standing as they shoot past the breathtaking views of Mt. Rainier. Breathtaking views that snowshoers can admire far more leisurely.
Because the Paradise area is essentially one large snowshoe trail and receives over 16 metres of snow annually, Paradise Valley Road is one of the more popular and follows the Paradise Valley and Stevens Canyon road ending at the stunning Reflection and Louise Lakes. This well-groomed trail passes snow covered winter meadows and frozen alpine lakes. It offers views of Rainier and the Mazama Ridge which are so stunning that even photographs don't do them justice.
To witness an amazing sunrise, why not plan an onward journey east and camp overnight at Louise Lake. This gives a great vantage point to watch for climbers on Rainier and take in the spectacle of those snowy peaks. The Paradise Valley trail is a 7-mile round trip and while avalanches can't be ruled out completely, the chances are slim. It's always best to check conditions well in advance.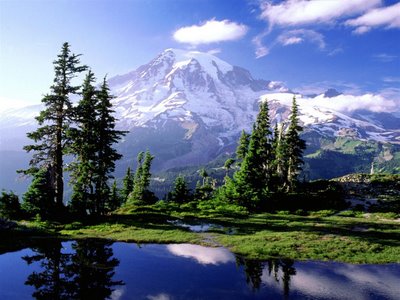 For beginners to the sport, Ranger-led snowshoe walks offer a great opportunity. The Paradise area offers walks which cover 1.5 miles in around two hours. If you don't have your own, snowshoes can be hired from the National Park for a donation of $4 per pair. Group sizes are limited to 25 people, from age 8 years upwards, on a strictly first-come first-served basis. The snowshoe walks are an ideal way to learn, first hand, about how nature adapts to the challenge of winter in the National Park.
To take part, visit the Henry M. Jackson Visitor Centre information desk at Paradise and sign up an hour before starting time. These guided public snowshoe walks are presented twice daily from January 7 through March 25 -12.30pm and 2.30pm – at weekends and holiday times only.
For more information call (360)-569-6575 and remember warm, layered clothing, gloves, hat, boots, sunglasses and sunscreen are a must.
In a National Park with 260 miles of managed trails and 147 miles of roads, it's not surprising that visitor numbers average over 2 million annually. Marriages have been blessed here and loved ones ashes scattered. For the first time visitor it's a definite must see. And once seen, it's never forgotten.
For more information please go to www.mount.rainier.national-park.com.