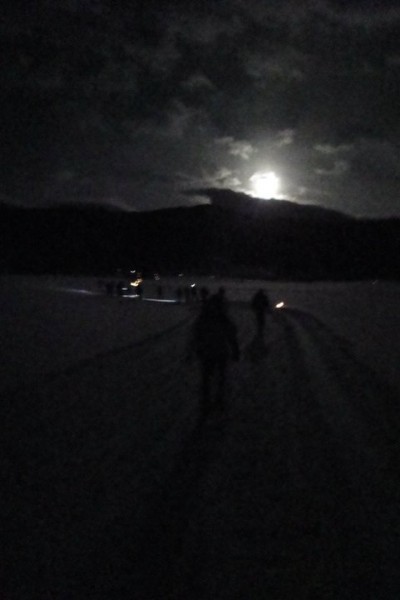 Clement C. Moore expressed it poetically in The Night before Christmas when he wrote, "The moon on the breast of the new-fallen snow gave the luster of midday to objects below."  I think of this passage just about every time I snowshoe on a moonlit night.  When the moon casts its light against snow and nature's objects, it displays an intriguing luster and creates enchanting shadows. The moonlight surely enhances a snowshoe hike.
Moonlight hikes were popular in New England during the early 1900's and into the late 1920's. Many people in a community would informally gather in groups and organize nighttime snowshoe hikes involving as many as 30 to 100 participants.
In a 1985 third edition of "The Snowshoe Book" by authors Osgood and Hurley, they wrote about such hiking events. Usually after the Christmas season when ample snow was on the ground, a few leaders would organize the hike, select a route and arrange refreshments at someone's family farm. A notice in the local paper would invite people to meet at the village square on a certain day and hour…..and then the event began.
After an invigorating hike on snowshoes, the group was ready for refreshments. As Osgood and Hurley described, "appetites would be whetted for the fresh-baked biscuits and homemade preserves, oyster stew, sandwiches, doughnuts, cider and coffee that would be waiting at the destination." The farmer was reimbursed about 25 cents for the meal.
Following fun and camaraderie, the group returned via another route that would take them to some steep hills for climbing and sliding down. Eventually, they hiked back to the original destination arriving sometime about ten-thirty in the evening.
Another story included a New England tradition called the family breakfast hikes. The first part of the adventure began with a moonlight snowshoe hike on a Saturday evening into a pine forest where the family would build a campfire. Oatmeal would slow cook in a large kettle. Leaving the oatmeal packed to keep warm for the night, the family would snowshoe back to their house by moonlight again. On Sunday morning they would load up a toboggan with food and cooking gear, then hike once again to the site and have a full breakfast with eggs, bacon, sausage and oatmeal.
I have never prepared a full breakfast as did the New Englanders, nor have I had such a delightful feast at a farmhouse while snowshoeing at night. But I have culminated an eight-week snowshoeing course by grilling out bratwurst with all the fixings for a small group of college students following an exhilarating moonlight hike. Note that grilling bratwurst, or "brats" as we call them in Wisconsin, is a tradition in our state.
Every year through the University of Wisconsin Stevens Point where I work, I lead college students on night hikes as part of a one-credit snowshoeing course. We often hike on a clear night when the moon and stars light the trails. One time a student exclaimed that he never experienced hiking on a trail at night before and coined it as "awesome!"
As part of the course, I would lead students on a night hike to howl for wolves. Every now and then we would luck out and hike on a moonlit night to a ridge for the howl. In a reflection paper, one student stated "Howling for wolves and watching the wispy, winter clouds pass over the silver moon during our evening snowshoe hike were some of my favorite trip experiences." The combined experience of a moonlight snowshoe hike and wolf howling leaves students with enriched memories.
"By the light of the silvery moon"
Moonlight snowshoeing should not be confused with candlelight snowshoeing. The latter is an organized community event that has become quite popular in some northern areas. The candlelight snowshoe event involves the use of illumination via candles in a clear container to light the way along a snowshoe path. For several years I volunteered lighting a three-mile trail with candles at a nearby state park. About 200 people from our community attended this festive winter event annually.
On the other hand, moonlight snowshoeing is an activity, be it in a small group or as an organized event, where you snowshoe by light provided by the moon. Your eyes acclimate to the small amount of light that is cast on the snow. Often, especially when there is a full moon, the illumination is sufficient to light the way for nighttime travel.
The moonlight offers a special ambiance for a night hike that no other light can offer, not even a lantern or a headlamp. A clear night with a bright moon provides an optimal hiking experience. And when your eyes adjust to nature's dim light and the surrounding darkness, a moonlight snowshoe hike can be a most extraordinary outdoors experience. For those taking the challenge of a moonlight hike on snowshoes, I recommend listening to the sounds of nature, enjoying views of the surroundings, taking in the night sky including the moon, stars, constellations and perhaps a rare aurora borealis, and experiencing the wondrous ambiance of a winter trail at night.
Also, pay attention to mother-nature's shadows. A few years ago, my own mother and I sat on our deck looking down on the shadows cast from a white ash and a white pine in our back yard. She pointed out her appreciation of what shadows from the sun and moon do in nature.
"Blue moon, you saw me standing alone"
While out there be safe.  Safety is at the top of my list when snowshoeing, and especially at night. Travel in pairs or a small group, because potential for danger increases at night. Therefore, it is good to use a buddy-system. When hiking by moonlight, always carry a flashlight or headlamp for when overcast creates darkness, or in the event of an emergency. The moon provides just enough light for snowshoe travel, but not enough should someone sustain an injury and need medical attention.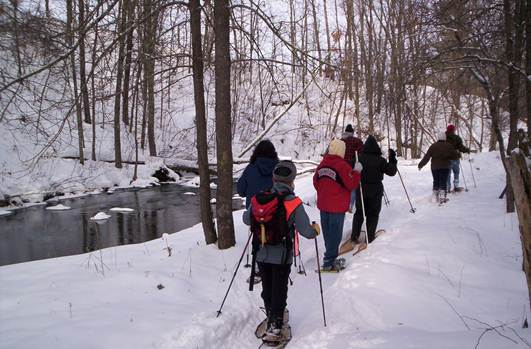 Also, carry a daypack. In it, pack a first aid kit, water, some food, extra socks, mittens or gloves and cap, compass and map, whistle, matches, fire starter, and a space blanket. It is good to take along these items in the event of an emergency or should you get lost.
"There's a moon in the sky"
How do you take full advantage of a full moon? Searching for the perfect moonlight snowshoeing night is a gamble…some nights are clear and some are not. And a bright moon only occurs for a few days each month. But when you find a night that has a clear sky, a bright moon and lots of snow, it is time to take in a moonlight snowshoe hike.
Roughly every month (twenty-nine and a half days), the moon completes a cycle of orbiting around the earth. The lighted part of the moon first appears as a sliver and increases daily through the cycle. It then decreases after it has maxed out its full light.  When the moon is at a position across from the sun with the earth in the middle, it has reached a point where we see a full moon. Mainly because the lit side of the moon faces the earth.
At that point, the full moon is the optimal moment in time for a moonlight snowshoe hike, provided the night skies are clear of course. During the winter season, we have only one night a month in December through March to snowshoe under a full moon, as long as we have snow. A few days preceding and following a full moon also offer good lighting for a hike.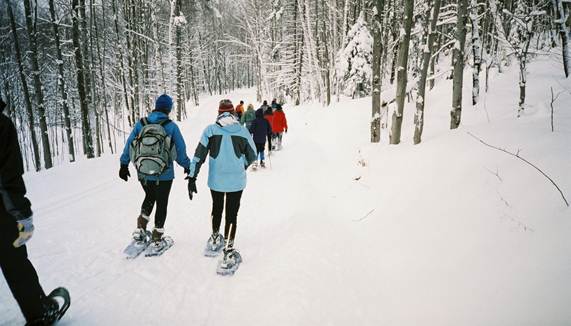 To find these moonlight snowshoe opportunities, consult your wall calendar. Many calendars will have drawings depicting four circles that indicate a quarter, half, and three-quarter moon by shading in parts of the circle accordingly. The empty circle on the 29th day identifies a full moon. In the remaining 2012 snowshoe season, full moons should be marked on your calendar for February 7, and March 8. And if there is snow in early April, the full moon falls on the 6th.
"Mr. Moonlight, come again please"
Watch for moonlight snowshoeing community events in your area. Check local newspapers and inquire at parks and nature centers for such events. Although not as popular as the candlelight snowshoeing, every now and then you may find an organized moonlight snowshoe hike.
Or, do as the New Englanders did in the early 1900's and organize your own moonlight snowshoe hike with family and friends. You could even go the extra mile and bring a meal for a winter picnic. It would not take much planning. All you need besides food and snowshoes for the activity would be snow and the moon.
Nineteenth century novelist Nathaniel Hawthorne once wrote, "Moonlight is sculpture."  Most definitely, moonlight offers us a comforting ambiance that is manifested by the wonders that it does when it interacts with a winter's snow. The next opportunity you have to go out snowshoeing on a moonlit night….do so.