I have lived in Wisconsin for nearly 30 years. But Escanaba, located in Northern Michigan is my home town. I grew up there and left the state at age 22 to attend graduate school. Northern Michigan sits above the Mackinac Bridge connecting the top of the state to the bottom, because Michigan is divided by the Straits of Mackinac that runs between Lake Michigan and Lake Huron.
For those of us from Northern Michigan (also called Upper Michigan, Upper Peninsula or the U.P.) we are referred to as "Yoopers," a slang derivative of "U.P." What puts the Yooper in my blood is genetics, in that both my parents were also born and raised in the U.P. and my father's ancestry goes back to the Ojibwa Native Americans in the area.
Snow has always been an integral part of growing up a Yooper, as well and now being a "Cheesehead" which is what folks from Wisconsin are sometimes called. Snow has beckoned me to do such things as winter camp, ice fish, downhill ski, cross-country ski, ice skate, sled and snowshoe.
Out of all the winter activities I grew up with, I have come to value snowshoeing since it gets me to locations that I never would have gotten to otherwise…. places that I treasure. In my region being the Midwest, there are many trails that offer wonderful opportunities to explore on snowshoes. To follow, are but a few I have discovered and enjoyed near where I lived in Wisconsin and in Upper Michigan. Some are known and popular, and some are not.
Yooper Snowshoeing Treasures
Porcupine Mountains – Bordering a 21-mile stretch of Lake Superior and nestled among a 60,000-acre old growth virgin pine, hemlock and hardwood forest of Northern Michigan's Porcupine Mountains Wilderness State Park rests an extraordinary Kodak moment. The 300-acre Lake of the Clouds lay 400 feet below the Escarpment Trail and is a highly popular location among photographers in all seasons. Author Jim DuFresne published a book about the park and wrote that the Escarpment Trail overlooking this picturesque lake is the "crowning jewel of trails, not only in the Porkies but in all of Michigan and possibly the Midwest."
Although not quite technically mountains with its highest point at 1,958 feet above sea level, this range that we fondly call the "Porkies" is located in the northwest corner of the U.P. and is definitely a jewel in winter. Following a hearty lunch of cheese, venison sausage and crackers, six of my friend and I left the rented rustic cabin located just yards away from the icy shores of the great lake. Our snowshoe trek for the day was to hike up to the Escarpment and view Lake of the Clouds.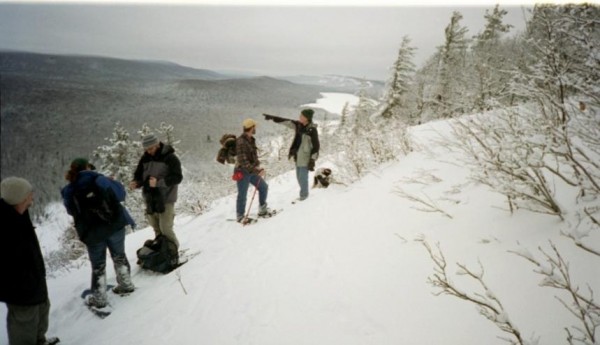 As we began the ascent, the snow deepened. It became an increasing challenge the higher we climbed. As we rounded a forested curve, we got our first surprising glimpse of the frozen lake below. The surrounding landscape was draped in white as far as we could see in all directions. And Lake of Clouds in all its majesty was definitely worth the effort. This was truly a wondrous place to visit that winter. The Escarpment Trail is just one of the 87 miles of trails in the park.
Trap Hills – About 15 miles south and then east of the Porcupine Mountains runs a 34 mile-long ridge formed by a basaltic lava flow about 1.1 billion year ago, called the Trap Hills. Located in the Ottawa National Forest of western Upper Michigan, this ridge offers panoramic views of the northwoods for what seems an eternity.
Made up of a mixed hardwood and conifer forest with elevation rises and drops in short distances, a topographic map of the region resembles a rollercoaster ride with dips in the landscape of 100 to 600 feet in certain areas. So, snowshoeing on the North Country Trail that runs along much of this east-to-west ridge offers quite an aerobic challenge.
Trap Hills is known for its lack of visitors since it is so remote. It is also known for its impressive rock outcroppings. The views can be magnificent anywhere there is an opening to the landscape below. On the east end along the NCT at Lookout Mountain, the scenic Victoria Reservoir lies below. Eric Hanson wrote about the Trap Hills in a 2002 issue of Backpacker magazine, saying it is, "one of the hidden gems of Michigan's Upper Peninsula backcountry."
Sylvania Wilderness Area – Roughly 30 miles south of the Trap Hills is one of my most frequented backcountry areas in all seasons. It is the 18,327-acre Sylvania Wilderness and Recreation Area of the Ottawa National Forest. I led college students on canoe trips in the summer and on snowshoe and camping trips in the winter. This pristine location, home to 34 scenic glacial landlocked lakes is by far one of my all-time favorite locations.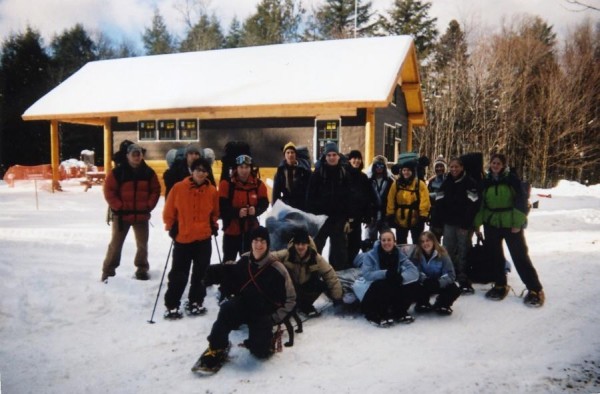 "Sylvania" is a word meaning woods or forest. Stately hemlocks are the dominant evergreen in this area with many trees over 200 years old. A mix of hardwoods and pines also fill this old growth forest. Snowshoeing Sylvania's trails take you past scenic lakes, through plush woodlands, up and down gentle rolling hills and past icy bogs. More than 25 miles of trails connect most of the major lakes, and there are designated campsites along many of the lakes that are ideal for winter camping.
For the beginner winter camper, snowshoe in about a half-mile from the ranger station and set up camp in the Sylvania Campground. The nine-mile Clark Lake Trail circumnavigates the popular and picturesque Clark Lake, and begins not far from the campground. Take a couple-mile hike on the trail along the lake and return, or plan to make the full circle around the lake and camp half way. Whichever option you choose, I am sure you will find delight in snowshoeing within this national wilderness area.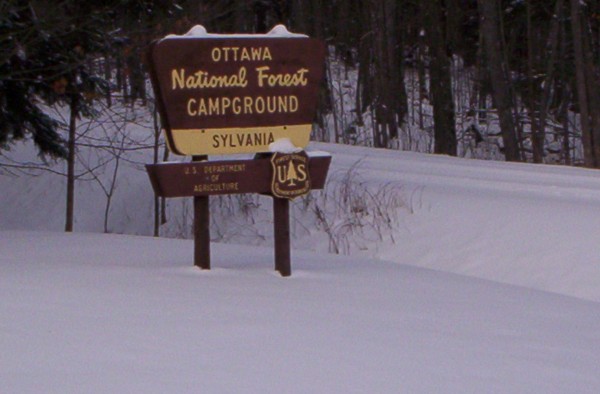 Wisconsin Snowshoeing Treasures
Timm's Hill – Alaska has Mount McKinley at 20,320 feet. In Wisconsin, we have Timm's Hill at a tad over 1,951 feet. It is the highest natural point in the state. Although a big difference in height between the two, Timm's hills still offers a setting of northwoods beauty for the winter hiker seeking to enjoy an afternoon of snowshoeing.
Located in northwest Wisconsin near the small town of Ogema, this hilltop sits on Timm's Hill County Park made up of 220 acres of mixed hardwood and conifers. At the summit is a 50-foot wooden observation tower offering a vista of the surrounding area with the Wisconsin River lying about 800 feet below. The park has a 1¼-mile enjoyable trail that circles around the tower. Within the vicinity there is an enjoyable trail that runs along Bass Lake on the south side of the hill. I snowshoed along the lake's edge sheltered by snow covered hemlocks. It was a leisure afternoon hike.
However, there is more to this little winter wonderland than what meets the eye. Timm's Hill National Trail connects with the Ice Age Trail National Scenic Trail and offers a 10-mile stretch of snowshoeing and cross-country skiing for the ambitious winter enthusiast.
Rib Mountain State Park – I live only 20 miles from Rib Mountain State Park located in north central Wisconsin near Wausau. I frequent the park in all four season. During winter I would lead my college snowshoeing class in hikes up to the summit to have a brat (not a nasty child, but rather a beef or pork bratwurst) cookout. Grilling brats over a charcoal grill is definitely a Wisconsin tradition. It is one used at "tail-gaiting" parties when attending Green Bay Packer or Milwaukee Brewer games.
Rib Mountain is 1,940 feet above sea level….again, technically not a mountain by western standards. But it is home to Granite Peak, Wisconsin's largest ski hill with 74 ski and snowboard runs. Despite the hustle and bustle noises of ski activity on the north side, you hear only the swishing of snowshoes traversing across the snow-covered landscape on the south side. The 1,172-acre state park is 4.5 miles long and has about nine miles of trails for snowshoeing.
Unique to Rib Mountain are the angled slopes requiring mild to steep climbs and many rock formations of varying sizes. Quartzite from the size of pebbles to boulders larger than your garage, make up the geological foundation of this enormous hill. Outcroppings such as Sunrise Lookout offer panoramic views of the forest below. From the north side of the mountain, you can see much of Wausau. Every winter, the Friend of Rib Mountain sponsor a community candlelight snowshoe hike where hundreds of candles dot the trails for three miles, and many snowshoeing enthusiasts participate.
Door Peninsula's State Parks – Door County in Wisconsin is 70 miles long and 2 to 18 miles wide with about 300 miles of beach along both Green Bay and Lake Michigan. It is the thumb of your hand, if you hold your right hand facing you to depict Wisconsin. I found many exciting locations to snowshoe in this vast thumb, but two locations were of exceptional interest to me.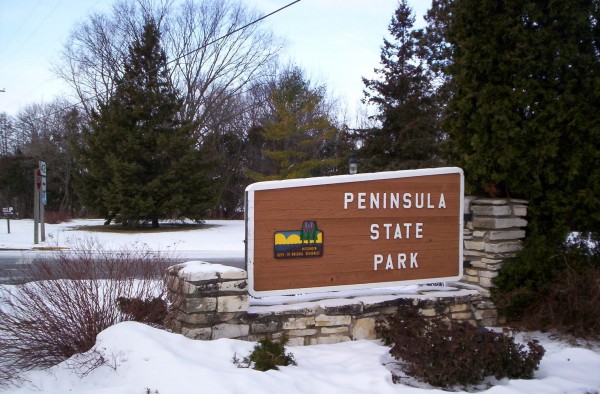 The first was Newport State Park, located on the far northeast end of the peninsula. The 2,400-acre park is somewhat remote and has fewer visitors than the other parks in the area. There are six miles of snowshoeing trails, with some of the hike along Lake Michigan's shoreline. The time some friends and I hiked the area, waves were wildly crashing up against the icy coast, demonstrating the power of the water. It was an exceptional view. Newport also offers some nice winter camping sites located in this northern forest and not far from the beach.
The other location that offered excellent snowshoeing and scenic vistas was Peninsula State Park. This park is located on the Green Bay side of the peninsula, southwest of Newport. It is the most popular park on the thumb. With 3,776 acres, snowshoeing, cross-country skiing, sledding, tubing and snowmobiling are all part of the excitement there. Two-thirds of the park is beachfront, and a 75-foot observation tower offers a great view of the forested landscape, small towns and Green Bay. That is, if the tower is free of snow and ice.
Minnehaha and Eagle Trails are designated for snowshoeing and offers nearly 4 miles of scenic trails that lead up to the tower. It was quit an exhilarating climb, but well worth it considering the view.
An Open Invitation
The above are just a few of the many snowshoeing location treasures that exist in northern Wisconsin and northern Michigan. For those who are from the Midwest (and those who are not), feel free to visit these areas for some fine snowshoeing adventures. And maybe you will find other hidden snowshoeing treasures along the way.
When looking for special locations, consider the following five suggestions. First, search the literature and review regional books on snowshoeing trails in your local bookstores and library. Some good reference books for hiking in these regions include "Hiking Wisconsin" and "Hiking Michigan's Upper Peninsula" by Eric Hansen, "Wisconsin Winter Trails" by Phil Van Valkenberg, and "Michigan Winter Trails" by William Semion.
Second, ask people who snowshoe in your area about unique and preferable locations where they have gone. Word-of-mouth is sometimes the best resource for a best trail find. Third, plan out your trip. Gather trail information, maps and travel guides by contacting parks, state or national forest services, and agencies or organizations such as the Chamber of Commerce and visitor centers.
Fourth, go online and Google "snowshoeing trails." For example, look for MI and WI trail information for The North Country Trail (Association website http://northcountrytrail.org/). The Ice Age National Scenic Trail runs end-to-end in Wisconsin (check out the IAT Alliance at http://www.iceagetrail.org/). And Wisconsin State Parks has a snowshoe trails site http://dnr.wi.gov/org/land/parks/trails/snowshoe.html. Finally, implement the plan and go snowshoeing in Wisconsin and the Upper Peninsula.
Both states offer lots of opportunity for fun in the snow. And there seems to almost always be snow during winter in these areas. Sometimes, it comes with a little help from regional fables. The rock-and-roll comedy music group called The Yoopers is an Upper Peninsula hallmark. They are a popular band that originated in 1975 and still performs today. One of their songs titled "Heikki Lunta," is about a fictional Finnish-American character who would dance so that the Finnish snow-god would bring snow. A verse and chorus in the song goes like this.

I remember it was Christmas Eve fifteen years ago.
All the kids were crying cause' they didn't have no show.
According to the weather man, they didn't have a chance.
But the weather-man don't know about the Heikki Lunta Dance.
Heikki put his snowshoes on and grabbed a can of beer.
He put on his giant partridge wings and antlers from a deer.
Then he grabbed a cedar branch and danced around the yard.
Everybody said they never seen it snow so hard.
Dance, dance, dance, Heikki Lunta dance.
Make it snow, snow, snow, Heikki Lunta snow.
Dance, dance, dance, Heikki Lunta dance.