This is the first in a series of interviews with notable snowshoe personalities that we will be presenting throughout the season.
Mark Elmore is the sports director for the United States Snowshoe Association (USSSA) and a familiar face in the U.S. and International snowshoe running scene.
SnowshoeMag: People know you from USSSA races, but what is your own background in snowshoeing?
Mark Elmore: I was a sprinter/hurdler in high school but started running long distance by the end of my senior year in 1978. I ran my first marathon in August of 1978 in Vermont. Over the next 4 years I set my marathon pr of 2:48.32 and ran two 50km events, my best in 1982 was a 3:13.20, which ranked me 13th in North America that year. I was internationally ranked at the 50km in 1981-1983. I've served as a head coach of Track & Field/Cross Country at numerous high schools, NCAA Division III Colleges and an NCAA Division I University.
In 1989, I began racing snowshoes at Paul Smiths College near Saranac Lake, NY. From 1989 to 2003, I was the 4 time winner of the North American Snowshoe Classic (a one day 5 event competition – 8km Cross Country Run, 1500m Race Walk, and Sprints of 100m, 200m and 400m all on snowshoes) and 4 times I was named as the "Athlete of the Day" at the International Snowshoe Championships in Montreal Canada, Lewiston Maine, St. Jean Sur Richelieu Canada and Biddeford, Maine. This event, conducted for over 100 years, is the annual championship event conducted between the Canadian Snowshoe Union Snowshoe Clubs and the Clubs of the American Fraternal Union of Snowshoe Clubs.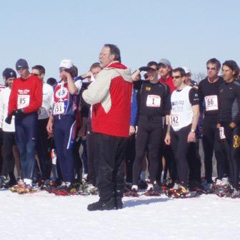 I have also served as a Sports Coordinator for the New York State Empire State Winter Games; where we conduct two days of snowshoe races, the inaugural 2000 Goodwill Winter Games and the 2000 Senior Games Winter Olympics (all in Lake Placid, NY). I founded and directed the Beekmantown "Snowshoe" Eagles Racing Club in 1991. The club earned the team championship at the 1999, 2000, 2001 and 2002 International Snowshoe Championships. I was a founding member of the Empire State Snowshoe Racing Association (ESSRA), which coordinates the Sport in New York State and conducts two days of snowshoe events at the annual Empire State Games in Lake Placid, NY. I was named as the United States Snowshoe Association Sports Director in 2001 and conducted the first ever US National Snowshoe Championship that year in Plattsburgh, NY.
SSM: What is it that brought you to the sport, both personally and professionally?
ME:  Personally…The physical benefits and the long colorful history of the Sport, particularly in the northeastern US and southeastern Canada region where it has been a popular winter activity for well over 100 years. Professionally…I enjoy conducting events and coordinating international trips where folks of all ages and abilities can enjoy the spirit of camaraderie that I've enjoyed from within the Sport for so many years.
What is your best snowshoeing memory or place?
ME:  I competed in the Lapland Snowshoe Cup Race in Lapland Finland in 2001 and had an incredible time with my friends Birger, Pasi, Sirpa and Illpo. It was an amazing adventure!
When you're not involved with snowshoeing, what are your other interests?
ME: I enjoy coaching, bicycling, flatwater kayaking and my son's basketball games.
What are some memories of your early years with USSSA?
ME: Very little has changed really…..the USSSA was, is and is likely to remain, a small tight knit volunteer group of snowshoe enthusiasts who are committed to bringing the Sport to the mainstream outdoor winter endurance enthusiast in one form or another.

How difficult was it to get the National Championships off the ground?
ME:  Actually, with the support and confidence of the USSSA, not as difficult as one might think.
What is your proudest achievement with USSSA so far?
ME: Thus far, not only seeing the Sport grow here in the US, but seeing it spread around the globe to places like; Finland, Italy, France, Canada, Japan, New Zealand, Turkey, Austria, Switzerland, Spain/Andorra, The Netherlands, Sweden, etc.
For snowshoeing to be an Olympic sport, what would it take?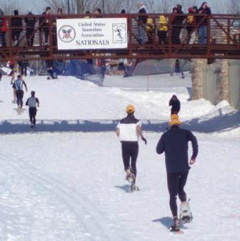 ME: In simple terms….major sponsorship and media involvement. Plus, at least 20 countries would need to have their National Olympic Organizations formally recognize a National Governing Body for the Sport within their individual countries.
There are pockets of very strong junior snowshoers in certain states. What is happening in those areas that are getting young people involved?
ME:  Coaches and fellow enthusiasts are introducing and encouraging young athletes to become involved with the Sport as a means of cross training during the winters. Once involved, the athletes quickly see the physical and psychological benefits of the Sport and become hooked.
How do the U.S. Championships and other races in the U.S. compare to races in Europe?
ME: There are far fewer races in Europe, but those that are held tend to be much larger than races held in the US. Many of the European races offer substantial prize money and have major sponsorship and television support. For example, the La Ciaspolada Snowshoe Race in northern Italy each January typically sees a field of 4000-6000+ participants and has been televised live on national television.  Most all of the races overseas offer competitive AND recreational categories, with the recreational fields usually being much larger than the competitive field. But, the races are very competitive up front!
What has been your favorite U.S. Championship so far, and why?
ME: My favorite US National Championship is always the "next one," because we are always looking for ways to improve the event. I have fond memories of each of our National Championship events;
2001 – Plattsburgh, NY – It was the FIRST!
2002 – Traverse City, MI – The first NC using regional qualifying events.
2003 – Salt Lake City, UT – Athletes from 24 different US States participated.
2004 – Squaw Valley, CA – Super press coverage in the New York Times helped to really put the Sport on the spot!
2005 – Anchorage, AK – Gave many folks the reason they had long searched for to visit a State they had wanted to visit for a long time.
2006 – Bolton Valley, VT – Home! The largest field ever!
2007 – Minneapolis, MN – Beautiful weather and a super fast race!
2008 – Ogden, UT – Partnered with the XTERRA folks! World-class organization!
2009 – Portland, OR – ??????
Quickie Questions
What snowshoes do you use?
ME: I did most of my distance racing on Crescent Moon Permagrin 12 Snowshoes. I did most of my snowshoe sprinting on a pair of Tubbs 10Ks. I also ran on Iverson Advantage wooden shoes, Alchemy carbon fiber shoes, Tubbs Katahdins, Northern Lite Elites, Sherpa Racers, Atlas Dual Tracs, etc.
My perfect snowshoe outing
ME: A crystal clear, calm, cold moonlit night after a light snow. Looking back at a single track of snowshoe prints crossing a meadow.
What was your most unique snowshoe experience?
ME: Snowshoeing to the top of Mount Kiilopaa in Sariselka Lapland Finland, among the herds of reindeer, 600 miles north of the Arctic Circle and within site of Russia with my friends from the Finnish Snowshoe Association.
Favorite post-snowshoe meal?
ME: Anything warm! A hearty soup is the best!
Your best snowshoeing tip?
ME: Dress appropriately in layers for any possible weather you might encounter and your average level of exertion.
For more information about the United States Snowshoe Association, visit www.snowshoeracing.com.