JAMES F. GRAUPNER
From the North Central Division of the United States Snowshoe Association, residing for 30 years in Lake Elmo, Minnesota.
The framed parchment award stating the following highlights of Jim's career in snowshoeing . . . thus far!
*For his extraordinary efforts to advance the sport of Snowshoeing
*For setting the high bar for the number of USSSA National Championship Qualifiers raced
in 2008
*For his frequent and poetic writing contributions to Snowshoe Magazine, sharing his joy and curiosity of the snow covered out-of-doors
*For excellence in winning four USSSA Class Gold Medals
*For his caring, giving way to all snowshoers and athletes, setting THE consummate example for everyone
Mark Elmore, Sports Director of the USSSA, made the following statement honoring Jim: "The U.S. Snowshoe Association is pleased to see Jim Graupner recognized as the Snowshoe Magazine 'Snowshoer of the Year.' Jim exudes everything that is great about our Sport. He is a dedicated athlete, outstanding snowshoe competitor (as his acheivement attest to), personable and friendly. A great ambassador of the Sport. The USSSA joins all our snowshoe members and friends in congratulating Jim on this honor."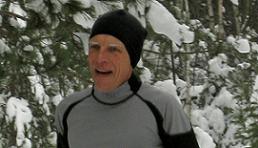 Ryan Alford, Owner and Publisher of Snowshoe Magazine, said, "This award recognizes the best in snowshoeing. As the recipient of only the second such designation as 'Snowshoe Person of the Year by Snowshoe Magazine,' Jim Graupner certainly wears that banner well and is a model for all who embrace this sport to follow."
Comments and congratulations for Jim Graupner can be forward to phillipgary@snowshoemag.com where they will be forwarded posthaste to Jim.
United States Snowshoe Association:  http://www.snowshoeracing.com/
Pictures at Award Ceremony to follow.